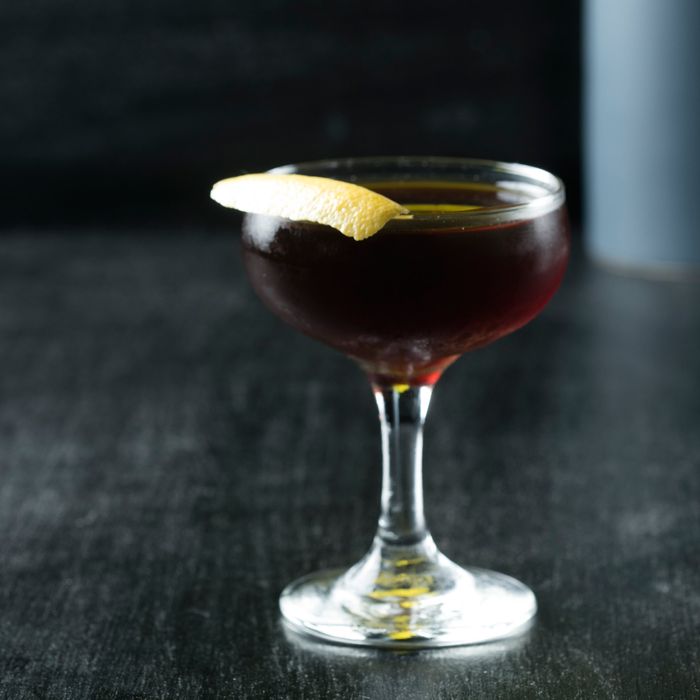 You will need three of these Brook Lopez cocktails at Lady's.
Photo: Melissa Hom
If you live in New York, you may have been feeling, oh, a constant stream of anxiety for the last two and a half months. Well, that was just the build-up. President-elect Donald Trump will become President Donald Trump on Friday, when your anxiety will, likely, correspondingly go through the roof. Maybe you're planning on protesting his Inauguration in Washington, D.C. or hitting the pavement here in New York. Whatever you end up doing, you're going to need a drink — and if you're drinking, you should drink well, right? Here are 12 new cocktails to try:
Fair Verona
Where: Donna
Price: $13
The handsome Williamsburg bar keeps things tropical-ish even in the winter, but this is the kind of cocktail you'll want to drink to pretend polar vortexes don't exist. A little fizzy and licorice-y, it's made with Perry's Tot gin, aperol, lemon, St. George absinthe, toasted fennel, and Kümmel, the caraway, cumin, and fennel-flavored liqueur.
Old Aunt Maple
Where: Gristmill
Price: $13
The Park Slope pizzeria gives this gin cocktail a New England touch with maple syrup, plus a little bit of warm spice with cloves, and brightens it with lime syrup and lemon.
Chanthany
Where: Freek's Mill
Price: $15
Try out the unusual combination of bourbon and Bolivian brandy Singani, which are mixed with white vermouth, lemon, and a wintery cranberry-spice purée.
Calypso Coffee
Where: Dante
Price: $14
Go beyond Irish Coffee with this rum-spiked espresso beverage, made with nutty Frangelico, honey, vanilla cream, and a spice tincture.
Truffle Shuffle
Where: The Cannibal Liquor House
Price: $14
The recently opened and boozier sister restaurant to meat-destination The Cannibal serves this smokey cocktail of blended scotch, Lagavulin, honey, and chestnut.
Wilma Jean
Where: Black Walnut
Price: $14
A recipe for warming up: Pair your east-coast fish muddle with this cocktail of Rittenhouse whiskey, black-walnut amaro, Koval honey liqueur, and lemon.
Autunno In Friuli
Where: Italienne
Price: $15
The luxe Flatiron restaurant pairs the great Italian amaro Nonino with Smith & Cross rum, allspice dram, and lime.
Burdock
Where: ROKC
Price: $12
The Japanese cocktail bar in Hamilton Heights pairs gin with white vermouth and burdock amaro.
DisaronNOT
Where: A&E Supply Co.
Price: $11
At this café-bar-market (and soon-to-be restaurant), they're shaking egg whites and lemon with Bulleit bourbon and high quality Caffo Amaretto.
Brook Lopez
Where: Lady's
Price: $14
Named for the Brooklyn Nets basketball player, this bitter, boozy cocktail will fortify you on cold nights. It's made with bourbon, earl grey tea, Campari, Fernet, and lemon to brighten it up
Buck Wild
Where: Amor y Amargo
Price: $15
The excellent East Village cocktail bar mixes French cherry-based aperitif Maurin Quina Fernet Branca and white vermouth, plus cherry-saffron bitters for good measure.
Groggnog
Where: Insa
Price: $12
Christmas is long gone now, but you can still get an eggnog or two in while, say, karaoking. At the Brooklyn Korean-barbecue spot, they're freezing eggnog and spiking it with cognac, rum, nutmeg, orange zest, and candied orange.