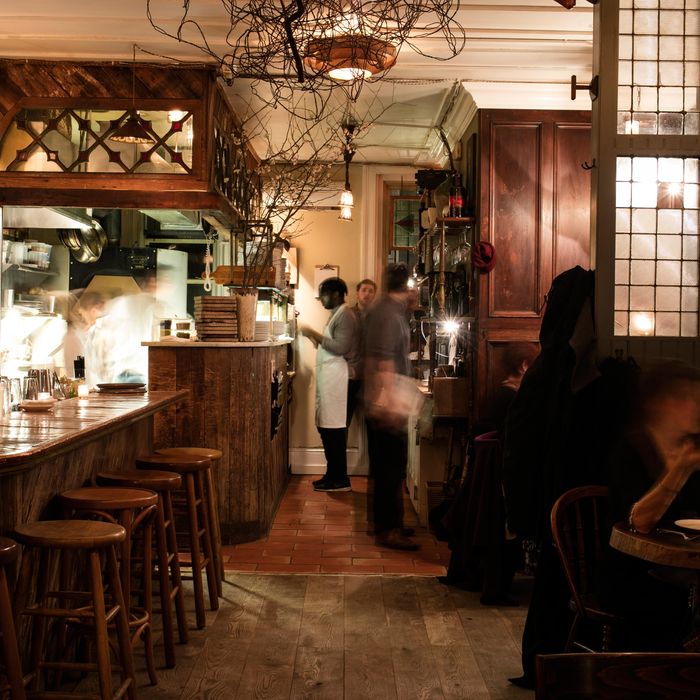 Zenkichi's booths were made for hiding.
Photo: Melissa Hom
The news these days could most charitably be called "depressing." Nobody is happy with anybody else, and there's really no end in sight. With this parade of alarming developments, everyone could use a spot to seek refuge for just a few hours and act like things are still normal. Here are a dozen such spots that fit the bill: bars, secluded restaurants, and so on — where you can pretend, briefly, the outside world doesn't exist.
Karasu
You access the Japanese boîte through a backdoor in Fort Greene's Walter's, so in many ways it feels as though you passed through a portal into another world. The handsome space will make you feel removed while you chow down on your tonkatsu with coleslaw and sake-steamed clams.
4 Charles Prime Rib
All dark colors and barely lit, the West Village chophouse is the kind of place you go to totally disappear. The food — slabs of beef, an excellent burger, and other hearty, classic dishes like carbonara and Dover sole — is the sort of pleasurable cooking that will make you instantly feel taken care of. The many excellent cocktail options don't hurt, either.
Le Boudoir
Basement bars are good for this kind of thing, considering you can't see the outside world even if you want to. Even better when someplace goes all-in on an escapist theme, like this ostentatious imitation of Marie Antoinette's glitzy living quarters (even though it's actually on Atlantic Avenue in Brooklyn). There are cocktails, naturally, and live jazz that will help remind you of a time when America was still civilized.
El Cortez
There's a semi-secret feeling to the front door of this Mexican-ish bar in industrial Bushwick, which lends itself to the feeling when you're inside that it's very much of a different time and place. The decor is thematic, but in a silly rather than serious way, which carries over into the food and drink: piña coladas and frozen mojitos and retro dishes like taco salads and hard-shell tacos.
Sammy's Roumanian
From the outside, the Chrystie Street restaurant looks like, well, a shithole. The sign is weathered and pocked with graffiti, the front door flanked by security gates rolled down in perpetuity. Inside, it's an alternative-universe adult bar mitzvah, where the vodka's in ice blocks, a keyboardist (fingers crossed for Dani Luv) plays all your favorite cheesy tracks, and it's a party all night long.
Ginny's Supper Club
If in need of refuge in Harlem, head to the Red Rooster's basement bar: It's lively and consistently busy, so it won't be right for you if you want to get away from the crowds. But the design is thoroughly retro, so you can pretend you're in another pre-Trump era, and the food is soulful. Think fried chicken with roasted yams, Swedish meatballs, and crab fritters.
Fort Defiance
Some bars feel thoroughly removed from the outside world not because of their physical structure, but because of their effectively conveyed aesthetic themes. Fort Defiance is one such place. A neighborhood stomping ground, it's vaguely tiki-ish, and the ultimate in New Orleans-style escapism. Plus it's in Red Hook, which itself always feels a world away from New York.
Vinegar Hill House
Like Red Hook, Vinegar Hill is the rare neighborhood that feels completely insulated from the rest of New York. That's especially true of the block that's home to Vinegar Hill House, which is itself cozy and insulated, specializing in homey food and toasty vibes.
Jimmy's No. 43
Like several other places on this list, Jimmy's is a basement bar that, once you enter, doesn't reveal much about what's going on beyond its door. That's good. The beer is fancy but the place isn't pretentious, and it has that sort of muted lighting characteristic of the world's best pubs.
Zenkichi
Dull your senses with a little sake, and you'll feel even more secluded in the Williamsburg restaurant than you would at your own home. Not only are there no windows whatsoever, but you eat in semi-private booths guarded by rattan blinds.
Achilles Heel
During the winter, the Greenpoint bar is perfumed by its wood-burning fireplace, so that it feels like an upstate retreat. The lights are always dim at night, strong cocktails are always within reach, and when it's a quiet weeknight it's easy to feel ensconced in your own conversation.
Ops
Pizza and wine together are comforting enough, but especially so in a place as snug as this Bushwick pizzeria. It's cozy and on a relatively quiet block, dimly lit in just the right way, and has a rustic ambiance that warms you right up. Plus: There's a pizza blanketed in mortadella, and every bottle on the well-curated wine list costs $42.