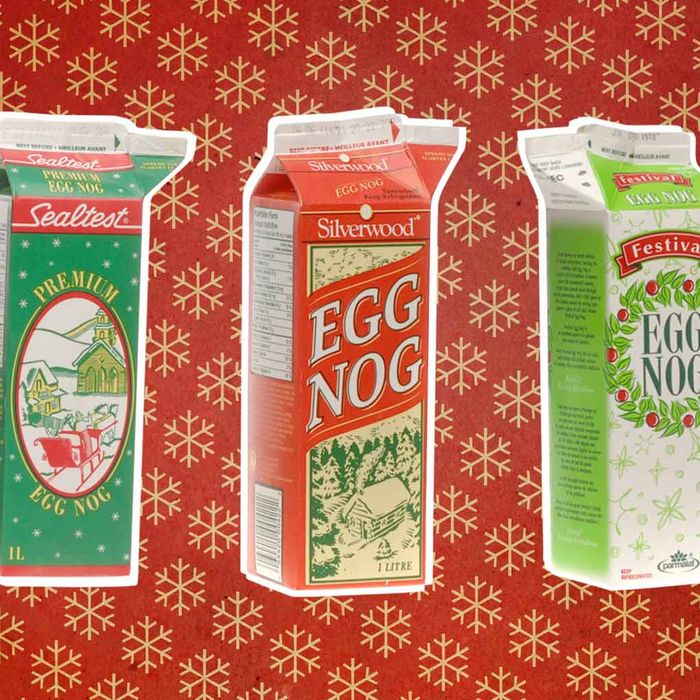 Get into the holiday spirit … and go to your supermarket.
Photo-Illustration: Grub Street. Photos: Keith Beaty/Toronto Star (Eggnog); Bill Noll/Getty Images (Background)
Like peach schnapps and wine coolers, store-bought eggnog — the kind that sits by the milk this time of year and comes in festive little cartons — is forever on the list of products you're supposed to feel bad about enjoying. This time of year, the world is inundated with guides that insist homemade eggnog is the only way to go. It's frothier and lighter, these guides maintain, and doesn't just taste like sweetened nutmeg milk. But this thinking is wrongheaded. Supermarket eggnog, maligned as it is, deserves to be taken seriously.
Homemade eggnog is fine — here's a good recipe — and it does give you a chance to show off at your Christmas party. Yet your friends are going to have one, maybe two, cups to be polite, then move onto something else. Eggnog isn't for session drinking. Objectively, even well-made eggnog is, at its best, fine. If it were actually good, people would drink it more often than the three weeks a year leading up to Christmas. (Imagine if people only drank Manhattans for one month a year.) I'm not opposed to DIY projects, even if my cooking style is best described as haphazard. I've made mole poblano from scratch using Diana Kennedy's laborious recipe, as well as completing the insane project of Kenji López-Alt's chocolate-chip cookies. But for the amount of work homemade eggnog takes, the trade-off is minimal. It's worth doing once or twice, if you've got the time, but it's hardly necessary.
Some of the really mass-market stuff you find at the store is admittedly not great. But in these grand days of artisanal everything, there are companies that make a better product. Ronnybrook's ready-made 'nog is sweet without being cloying, with a noticeable dairy richness. (It also comes in individual bottles, if you want to go solo.) Trickling Springs Creamery, from Pennsylvania, makes a 'nog mixture that's particularly thick and rich, with subtle vanilla and nutmeg flavors. Wherever you live, you probably have one or two local dairies that make a decent product.
Whatever brand you go with, it's easy enough to doctor it to the point of being almost great. First, the booze. You've got some choices here. Whiskey is good. Brandy and rum are even better. And some avant-garde 'noggers have been said to take it with smoky mezcal — feliz navidad. As with all things in life, the final product will be noticeably improved with the addition of decent liquor, and store-bought cartons of 'nog allow you to mix and match (and easily put together multiple batches). Then, the final flourish: Grate a little fresh nutmeg over it and you're good to go. This stuff is so heavy that people are still going to have a cup or two, which will be about right considering the amount of effort you've put into your eggnog this year.