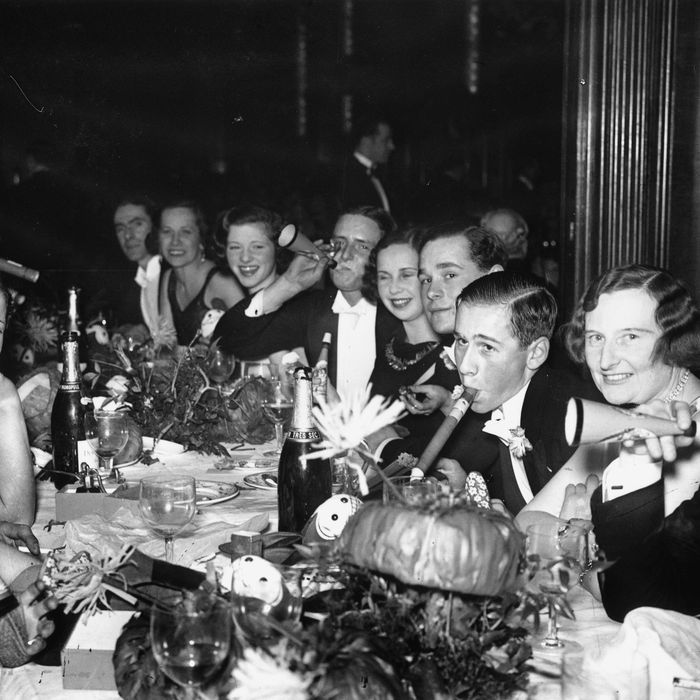 Don't spend your savings on a magnum of Champagne.
Photo: Sasha/Getty Images
New Year's Eve is supposed to be fun, but in reality, it's usually a night filled with social anxiety, scrambling to make decent plans, or resigning yourself to ridiculous cover charges at overpacked bars. But rest assured: You can have a great night, even if you still have no idea what to do. Here, Grub has assembled a list of 16 places that are low-key, not outlandishly expensive, and have space left. Here's to procrastinating again in 2017.
Buvette
Availability: Walk-ins only.
Looking to drop in somewhere? It won't get cozier than Jody Williams's West Village restaurant, which is open for New Year's and is serving the French menu its many regulars know and love.
Eli's Night Shift
Availability: Walk-ins only.
At the Upper East Side bar, there will be a Champagne toast and projector screening of Times Square. You won't have to pay an outrageously inflated cover, either.
Faun
Availability: There are lots of tables for parties of two to four from 5:30 p.m. to as late as 10:45 p.m. Larger parties of five or six have fewer options, with tables at 5:30 p.m., 6 p.m., and 10 p.m.
For its $100 prix fixe, the Prospect Heights restaurant will serve specials like roasted oysters with Parmesan cream, pumpkin tortelli, and duck-liver ravioli, and beef cheek with polenta popover.
Flora Bar
Availability: During dinner, parties of two, three, and four will find plenty of tables all night long. There's less availability but still a good amount for parties of five and six until 9:30 p.m. and 9 p.m., respectively.
The uptown branch of Estela will serve a six-course dinner ($165) with dishes including a sea-urchin-and-lobster wrap, duck breast with greens and chestnut, and date cake with sabayon. It'll also be open for lunch.
Fort Defiance
Availability: You're in luck if you're a party of four, as there's a table at 7:15 p.m. and two more at 9:30 p.m.
The Red Hook restaurant is ditching its usual New Year's party to say good riddance to 2016. Along with the regular dinner menu for walk-ins and those who make reservations, there's a prix fixe meal ($50 or $95 with cocktails and wine) with dishes like duck confit with shaved fennel and a roasted "Newport" steak with sauce Bordelaise.
F.O.B.
Availability: The restaurant can still book parties of three to five from 5:30 p.m. to 7 p.m., and parties of two can sneak in from 5:30 p.m. to 8 p.m.
Go à la carte at the Filipeno barbecue spot, which will serve its skewers, overnight adobo chicken, and grilled spare ribs until 10:30 p.m.
Freud
Availability: There are tables for two available pretty much all night long, and lots still available until 7:30 p.m. and at 10 p.m. for parties of three and four. Parties of five and six will still find some options earlier in the night.
The Austrian brasserie will serve a four-course prix fixe ($60) with dishes like foie gras mousse with Yorkshire popovers, seared scallops with celery-root entrée, Icelandic cod, and sachertorte.
Harold's Meat & Three
Availability: There's still tons of tables available for parties of two to eight, so find what's best for you.
Ring in the New Year at Harold Moore's Southern restaurant, which will serve appetizers like shrimp cocktail and seared foie gras, prime rib for an entrée, and holiday cookies and cake for dessert.
Le Coq Rico
Availability: There are some reservations for two at 6:15 p.m. and 7 p.m., as well as from 9:45 p.m. on. Parties of three or four can still get a table at 10:15 p.m. or 10:30 p.m.
If you come early, you'll be able to eat the restaurant's regular menu (including that l'Ile Flottante, one of 2016's best new dishes). Afterwards, there will be a six-course meal with foie gras tartine, chicken and lobster bisque, a stuffed goose, a chestnut-ice-cream yule log, and more.
Massoni
Availability: There's still availability from 6 p.m. to 7:30 p.m. for groups of all sizes, as well as a few spaces availables for the after-party from 11:30 p.m. to 2 a.m.
Dale Talde's newest restaurant will serve a prix fixe dinner ($150, drink pairing included) with high-low dishes like tater tots with mascarpone and caviar, mafalde black-truffle carbonara, rigatoni with king crab alla vodka, 30-day-dry-aged New York strips, and sundaes for two.
Mission Chinese Food
Availability: There are still $50 tickets available for the restaurant's party, "Club Mission NYE," and early reservation spots (around 5:30 p.m.) before it starts.
If you're looking to go hard on New Year's, this is a good place to do it — there will be three DJs, an art installation, and a Champagne toast at midnight.

Ops
Availability: There are still a few reservations available throughout the night for parties of 6 up to 15 people. For smaller parties, though, the restaurant is walk-in only.
Say goodbye to 2016 with pizza and wine. The Bushwick restaurant will serve food specials on oysters, calzones, pizzas, and beef stew, but also wines by the glass like a Nathalie Falmet Brut Nature Champagne.
Porchlight
Availability: Tickets are still up for grabs.
Danny Meyer's Chelsea bar will throw a camp-themed party from 9 p.m. to 2 a.m., with throwback food like hot dogs and packed lunches and camp-inspired drinks like the Adults Only Hot Chocolate. There will be live bluegrass, games, and more.
Wildair
Availability: Just show up — walk-ins only.
New York's favorite wine bar will stick to what it knows best, and keep things à la carte for the holiday. It'd be a great place to kick off the evening with some excellent wine, fried squid with lemon, and a top-flight wagyu steak for two if you're feeling fancy.
White Gold
Availability: There are reservations for parties of two to six from 5:30 p.m. to 10:30 p.m, but if you're making a really last-minute call, 50 percent of tables will be reserved for walk-ins.
For $65 a head, April Bloomfield's Upper West Side restaurant will serve you a prix fixe dinner with dishes like oyster with beef tartare, smoked fingerling potatoes with sour onion, grilled short rib with orange, and olive-oil cake with burnt cream and boozy currant.