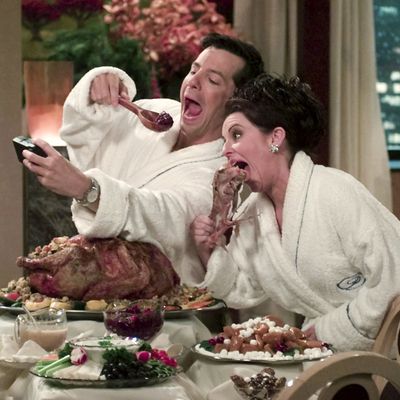 Don't know where you're eating? Don't worry.
Photo: NBC via Getty Images
Christmas is coming. If you're staying in the city and forgot to make plans, time is running out. But don't worry. Grub has done the work for you of finding out what great restaurants are open and still have reservations. Some have plenty, sure, but act quick or you might lose out on the one you'd really like to go to. Here, your planning-free guide to a special meal.
Christmas Eve
Atoboy
Availability: For two, there are tables every 30 minutes from 5:30 p.m. to 9:30 p.m. For four, there are reservations at 5:30 p.m. and from 8 p.m. to 9 p.m.
Been meaning to check out this Korean hot spot since the Underground Gourmet reviewed it? They'll serve their normal menu on Christmas Eve, so you can eat the fried chicken with peanut butter, corn with Taleggio and bacon, and other modern banchan you've been craving.
The Breslin Bar & Dining Room
Availability: There are tons of tables for two and four during brunch on Christmas Eve and a few from 10:15 p.m. on. It looks all booked up on Christmas.
Head here for a Christmas Eve brunch, or a late dinner of roast beef with Yorkshire pudding and pear parfait with cranberries.
Hearth
Availability: There are some tables for two and four around 5 p.m. and 9 to 9:30 p.m.
You can still get in on Marco Canora's Feast of the Seven Fishes, which will feature dishes like marinated-seafood salad, the fish stew known as cacciucco, and toffee-date cake.
Indian Accent
Availability: There are lots of options from noon through 10:30 p.m.
During lunch, the New Delhi import will serve its regular menu. At dinner, it's doing a family-style meal with roast beef tenderloin with black-pepper kurma, tava bacon potatoes, butter-chicken kulcha, and more. There will be desserts like the fruit-cake shahi tukda, a variation of Indian bread pudding.
Fancy Nancy
Availability: There are still tables up for grabs for all parties from 6:30 to 9:30.
The tasting menu here includes smoked-pumpkin soup with ricotta toast, half a roast duck with miso-date purée, and eggnog ice cream with Nutella and gingersnaps.
Kingsley
Availability: You can still find a table all night long.
The modern American restaurant will serve specials like goose with chestnuts, a fish feast, roast lamb, and house eggnog.
L'Amico
Availability: For two and four every 15 minutes from 11:30 to 3, then same from 5:30 to 10:45.
The restaurant's four-course prix fixe will include dishes like roast filet mignon, lobster with burrata, and chestnut pavlova.
Marlow & Sons
Availability: For Christmas Eve, there are tables for parties of two and five to six at 10 p.m. Parties of three or four can get one at 8:30 p.m., and parties of eight to ten can still snag one at 10:30 or 11 p.m.
You can still snag a seat at the Williamsburg spot's special Indo-Malaysian dinner, where you'll eat lamb satay, grilled shrimp sambal, and potato rendang while drinking tiki cocktails.
Paowalla
Availability: There are lots of tables during brunch, and some for dinner from 9:30 p.m. on.
Chef Floyd Cardoz will serve a four-course menu of Goan dishes like lamb-shank xacutti, a type of curry; shrimp pilaf, and Barkha's Goan Bibinca, a type of layered cake made with port plums and candied ginger.
Christmas Eve and Christmas Day
Bessou
Availability: There are plenty of tables for parties of two and four from noon to 2:30 p.m. for Christmas Eve brunch, and all night long during dinner both days.
The charming restaurant's Japanese Christmas dinner, for $80 a person, will feature dishes like grilled romaine with creamy sesame dressing, pan-fried lamb and mint gyoza, spicy-lobster nabe hot pot, and a hand-roll platter from the owner's father, a former New York sushi chef.
Chef's Club
Availability: There are still some tables for two and four available on both days, mostly from around 10 p.m. to 11 p.m.
Head here for holiday-themed specials including chestnut velouté with black truffle and pear and lobster with apple, beet, and tardivo.
Hao Noodle and Tea by Madam Zhu's Kitchen
Availability: You can still easily score a table during Christmas Eve brunch, and there is still a good amount of tables available for parties of two, four, and six throughout dinner.
The West Village restaurant will serve specials like Sake-marinated foie gras, sweet-and-sour crispy meatballs, Shanghainese fried-pork-chop noodle soup, and tea-smoked silver cod.
Le Coq Rico
Availability: There are reservations on Christmas Eve for tables of two and four between from 5:30 p.m. to 6:15 p.m., as well around 10 p.m. to 10:30 p.m. For Christmas day, there are some at 9:15 p.m. and 9:30 p.m.
Along with its regular menu, the poultry-themed bistro will serve a special dinner of oysters baked with truffle butter, giblets and pork-loin-stuffed goose, a chestnut-ice-cream yule log, and more.
Marta
Availability: If you want breakfast or brunch on Christmas Eve or Christmas Day, there are lots of tables from 8:30 a.m. to 2:45 on both days. There are less at dinner on both days, but still some from 5 p.m. to 8 p.m. on Christmas Eve and 5 p.m. to 9 p.m. on the Christmas.
If you can go without specials, hit up Danny Meyer's restaurant in the Martha Washington hotel for pizzas and wood-fired meats like a dry-aged sirloin.
Reynard
Availability: They're still taking reservations parties of 4 to 7 and 8 to 12 people on Christmas Eve. On Christmas day, there are still tables for parties of two, three, four to seven, and six to ten during the afternoon through 8 p.m
The Wythe Hotel will serve à la carte specials on Christmas Eve, and a special prix-fixe menu on Christmas. There will be smoked haddock with curried rice, roast lamb with brandied prunes, and figgy pudding for dessert.
Tuome
Availability: On Christmas Eve, there's a lot of availability for tables of two and four all night long. On Christmas, there are tables from 9:15 p.m. to 10 p.m.
Dinner here is à la carte. Along with the regular dishes, there will be specials like quail stuffed with squash and cranberry jus, a coconut milk and cured-pork-belly bouillabaisse, and a chestnut-mousse tart.