So what's new in the great roiling galaxy of New York dining, as we bid adieu to the stately Age of Obama and prepare to enter the perplexing, possibly-slightly-less-stately Age of Donald Trump? Plenty of delectable and comforting things, your weary, calorie-addled restaurant correspondent is relieved to report. In the upper realms of what used to be called haute cuisine, many of the trendiest kitchens of the city have lately been invaded by platoons of toque-wearing cooks who specialize in the kind of timeless, satisfying French-bistro classics that would please even the most discerning Parisian gourmand. There's also been a recent influx of talented Indian chefs and restaurateurs who've set up for business all over the dining map, including up on Lenox Avenue in Harlem, in midtown, and among the boutiques of Soho. New York has long been a hotbed of Chinese cooking, but if you have a craving for authentic regional delicacies, like Sichuanese "dry pot" or the grapefruit-size mantou buns of Northern China, there are more to choose from than ever before. As always, there are also plenty of new places in town where you can blow a sizable chunk of your paycheck on giant beefsteaks and furtive sushi feasts, although as the cost of opening a restaurant in the city creeps ever skyward, a whole generation of enterprising young cooks is learning how to work all sorts of culinary miracles using less and less.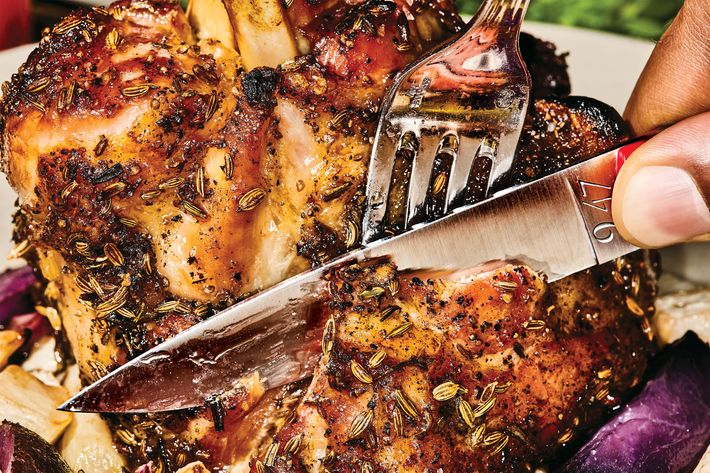 We explore these trends, and many more, in this, our annual jaunt through the best new noodle joints, haute bistros, Brooklyn pizza dens, and abstruse Scandinavian tasting rooms all around this food-obsessed metropolis. In accordance with what has become a time-honored holiday ritual, we've dutifully compiled listicles, for your debating and retweeting pleasure, of our favorite new restaurants in town and all the seriously annoying quirks and trendlets we've noticed during the course of our endless gastronomic rounds. What's the best venue to enjoy half a pig's head, deboned and crisped in the traditional French manner, if you find yourself wandering the wilds of Greenpoint? We have that information for you, along with where to obtain the finest goat samosas in the Flatiron District, the most satisfying triple-patty faux-speakeasy-bar burger in the West Village, and the most nourishing bowl of spaghetti offered at the new crop of high-angled pasta joints that have popped up suddenly all around Brooklyn. As usual, the views expressed here are the opinion of one overfed, slightly crotchety critic. So consider this a road map, a guide, even a highly subjective self-help manual, whenever you feel the urge, during these increasingly curious, unsteady times, to smother your mounting sense of foreboding and anxiety with a soothing restaurant dinner and a stiff drink.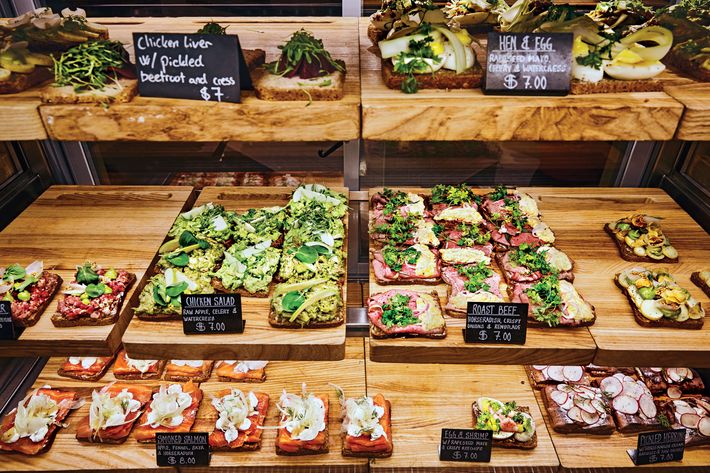 1. Back to Bistros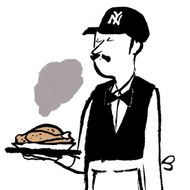 Thanks to the rise of random, social-media-fueled "Best Restaurants" lists, the gospel of ambitious, experimental haute cuisine has spread around the globe. When I visited Paris not so long ago, though, the real dining sophisticates all seemed to be obsessed with simpler, more comforting pleasures, like terrine de veau, celery-root rémoulade, and country chicken cooked with vegetables in a pot for two. And so it is right here in New York City. All of the trendiest, most fashion-conscious food groupies I know are clamoring for tables at a whole crop of new haute bistro establishments, where the chefs trained for long years in places like Paris and Lyon and the carefully scripted menus are filled with pleasing, formerly vanished recipes with familiar poetic names, like tête de veau ravigote, canard à l'orange, and terrine de foie gras en croûte. You'll find an almost perfect (and, at $32, not inexpensive) example of the last dish on the menu of Antoine Westermann's new Flatiron District establishment, Le Coq Rico (30 E. 20th St.; 212-267-7426), which has been overrun with devout big-city Francophiles ever since opening its doors in a slightly awkward two-room space on East 20th Street last spring. Westermann pioneered his particular brand of poultry-themed cooking at the original Le Coq Rico in Paris, and although he dabbles at this New York outpost in duck livers, squab, and even giant guinea fowl, the specialty of the house is that most reliably delicious of all dining birds, the barnyard chicken. Westermann cooks his birds in myriad ways, including roasted whole on spits, braised in pots of wine (the fine lunchtime coq au vin), or fricasséed in the Baeckeoffe style of his native Alsace in a great earthenware pot. All of these methods have their charms, but if you're used to the fatty American chicken, I suggest the Plymouth Barred Rock instead of the older, brawnier Brune Landaise, and whatever you do, save room for the classically French desserts, which include clouds of eggy île flottante poured with a rich crème anglaise; a crumbly, brick-size mille-feuille filled with layers of custard cream; and an impressive vanilla-and-strawberry Vacherin, which is crowned, like a festive spring hat, with a decorative feather of meringue.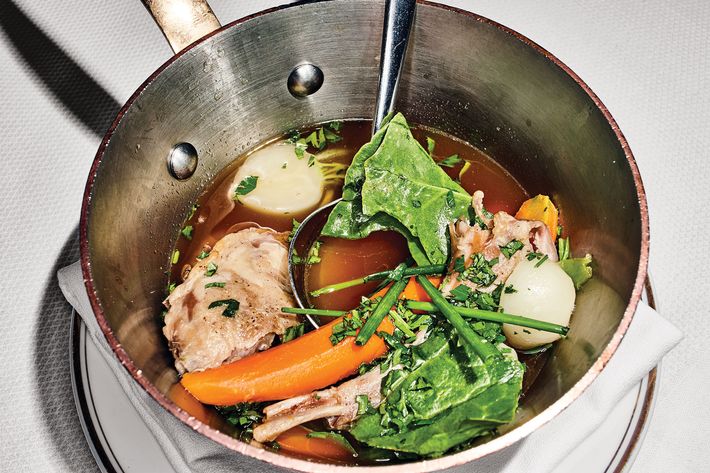 Devotees of similar Old World pleasures — duck à l'orange lit aflame tableside, pork rillettes pooled with fat on top and served in country jars, and little towers of puff pastry bedecked with creamy spoonfuls of escargot — are mourning the departure of the talented young chef Liz Johnson from the kitchen of the popular Greenwich Village bistro Mimi (185 Sullivan St.; 212-418-1260), although her replacement, former sous-chef and Per Se veteran Ivan Corona, has mercifully kept many of the house specialties on the menu, like wheels of boudin noir dressed with roasted apples, platters of country chicken with potato dumplings, and cracked lobster from Maine drizzled, in high Parisian style, with gouts of escargot butter. If you want a taste of Mediterranean-­style bistro cooking filtered through the elegant largesse of the London restaurant scene, I suggest you wander across Sixth Avenue to the fine new neighborhood establishment King (18 King St.; 917-825-1618), where two veterans of the famous River Café, Clare de Boer and Jess Shadbolt, produce helpings of roast guinea hen flavored with lemon and ricotta, and a faithful version of Provençal fish stew made with Long Island clams, tender pieces of fluke, and an entire steamed lobster served, on the evening I enjoyed it, with toasty chunks of garlic bread and dissolving spoonfuls of fresh-whipped saffron aïoli. The perfectly crisped, slightly daunting pig's-head confit for two is the dish my Continental fresser friends and I call for whenever we visit the cozy corner bistro Sauvage (905 Lorimer St., Greenpoint; 718-486-6816 ) (which the proprietors of the popular Williamsburg restaurant Maison Premiere opened several months back in Greenpoint, on the northern tip of McCarren Park), followed by a taste of the fine house tarte Tatin and a restorative sip of the after-dinner Alexander cocktail, which the bewhiskered barkeeps mix with gin instead of brandy and sweeten with cacao and a dram of sweetened cream. Whenever we're in the mood for a rib-sticking bistro dinner on the Lower East Side, we squeeze ourselves into one of the café tables at Taavo Somer's latest next-wave culinary venture, Le Turtle (177 Chrystie St.; 646-918-7189), where a talented young chef named Greg Proechel serves up slabs of smooth, faintly boozy chicken-liver mousse with great chunks of warm country bread; sturdy helpings of soft, gently braised oxtail dusted with horseradish and bread crumbs; and what is quite possibly the finest example of roast chicken for two in this chicken-crazed town, which he and his cooks brine in a mix of sugar and salt, roast to a kind of Peking-duck crispness, and hoist to the table on a large, gently smoking nest of burnt hay. To experience the ultimate in haute-bistro chic, however, there's no more sophisticated, pricey, and satisfying venue than Daniel Rose and Stephen Starr's posh, big-money production, Le Coucou (138 Lafayette St.; 212-271-4252), which has been playing to packed and rapturous audiences ever since opening in an elaborately appointed, neo–Belle Époque space off the lobby of a small boutique hotel just above Canal Street called 11 Howard. Fans of Rose's famously pure, uncluttered Parisian style might be slightly taken aback by the New York grandeur of the room, which Starr and his designers have fitted with wagon-wheel-size chandeliers and plush banquettes, and the hefty New York prices. But it's hard to quibble with the elevated examples of traditional "cuisine bourgeoise" on the menu, like quenelle de brochet poured with bubbling lobster sauce, slivers of veal tongue dabbed with caviar and crème fraîche, and that old rustic delicacy tout le lapin ("all of the rabbit"), which Rose and his army of toque-wearing cooks prepare three equally impressive ways: as an elegant, gourmet roulade; roasted with mustard sauce; and bubbled in a meat-and-vegetable stock, which tastes, when you close your eyes, like the essence of old-fashioned French country cooking.
2. Threadbare Gourmet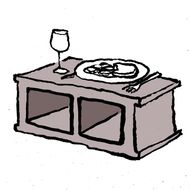 It's undoubtedly true, as rents (and wages) continue their inexorable rise, that the barriers to entry in the increasingly rapacious, competitive world of New York restaurants have never been higher. It's also true, however, as quirky DIY dining rooms and carefully pruned backyard herb gardens continue to pop up in unexpected places all around town, that a new generation of resourceful and talented young cooks is doing more with less. Exhibit A in this reassuring trend is Junghyun Park's excellent small-plates banchan tasting establishment Atoboy (43 E. 28th St.; 646-476-7217), which opened several months ago, not out in the rustic borderlands of Flushing or Bushwick, but among the well-heeled, fat-cat dining joints off Madison Avenue in the Flatiron District. Like many members of this new Threadbare Gourmet generation, Park and his wife, Ellia, learned their craft at a series of grand, Michelin-approved kitchens before opening this stylish establishment, which looks, with its communal wood-bench tables and polished concrete floor, like the kind of spare, modish place you'd encounter in one of the swankier dining precincts of Seoul. Much of Park's precise, elegantly plated cooking tastes that way, too, especially at dinnertime, when $36 buys a mix-and-match three-course meal that even the most discerning haute-Korean food snob can love. On my last visit, there were mahogany-colored slices of smoked eel sprinkled with twists of black pepper on the menu, as well as soft little towers of pearly shrimp dressed with chile oil and paired with crunchy slices of frizzled garlic. Like many classically trained chefs, Park has a facility with vegetables, which he enjoys enhancing with wicked shots of umami (butter-braised leeks with Cheddar, corn with Taleggio and bacon), but the dishes I'll be going back for are the elevated, even dainty renditions of gut-busting proteins, like pork jowls (fried in thin, tonkatsu-like slices over barley and romaine), chunks of fried chicken (deboned and drizzled with a delicious spicy peanut-butter sauce), and decorous slabs of foie gras–flavored beef brisket, which you can enjoy at lunchtime, for $17, served with garlic and squares of crunchy pickled radish, over bowls of steamy rice.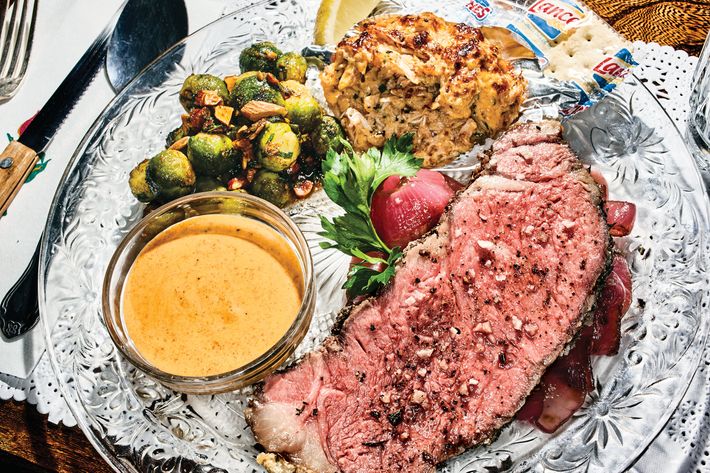 Whenever I'm in the mood for an economical fix of retro delicacies like crab imperial with saltine crackers, deviled duck eggs sprinkled with bottarga, and chicken-fried pork cheeks smothered in pepper gravy, I like to belly up to the tastefully appointed, five-stool dining counter at Matt Danzer and Ann Redding's latest Nolita venture, Mr. Donahue's (203 Mott St.; 646-850-9480), where the $20 "main, sauce, & two sides" plate includes all of those things, or, if you're so inclined, substitute helpings of rainbow chard, Brussels-sprouts amandine, or what are possibly the finest golden-crisped onions in town, served with proper ceremony on a blue-and-white china plate with a finger bowl of ranch dressing on the side. Oysters are never a cheap addiction, but no item on the small-but-inspired menu at Zadie's Oyster Room (413 E. 12th St.; 646-602-1300), in the East Village, costs over $16.50, and if you visit Marco Canora's convivial establishment between the hours of five and seven on any weekday evening, you can complement your bite-size crab-cake sliders slathered in rémoulade or your smoky, creamy bowl of New England–style clam chowder with an impressive selection of Olde Salts from Virginia, say, or Glidden Points from the chilly waters of Maine, for half-price. Vegetables in all their seasonal glory have been the fashionable, cost-efficient dish of choice for trendy diners, fancy chefs, and even one or two semi-reformed, diet-conscious critics for several years now, and there's something for all of these discerning constituencies at John Fraser and James Truman's stylish vegivore palace Nix (72 University Pl.; 212-498-9393), which opened last winter just a few convenient blocks from the Greenmarket in Union Square. Fraser has long been on the cutting edge of the city's haute-veggie movement, and his modestly priced (only one dish costs more than $25), ever-changing menu is filled with spa-friendly vegan options (the surprisingly edible chopped kale, beets, and pistachio salad) and elaborate fusion creations (the uncannily realistic shiitake-mushroom "cacio e pepe" with creamy polenta), although the dish my fatso friends and I can't stop dreaming about is the cauliflower tempura, which Fraser and his team sizzle to a happy crunch, dunk in a sticky-sweet, calorie-busting General Tso–style sauce, then serve with a discreet bamboo steamer filled with moon-shaped Cantonese buns. Vegetables in various inventive boutique forms also figure prominently on the menu of the thrifty, hypersophisticated Prospect Heights establishment Olmsted (659 Vanderbilt Ave., Prospect Heights; 718-552-2610), which the talented young chef Greg Baxtrom and his co–"farmer-owner," Ian Rothman, built from scratch in an old storefront space among the cafés and old laundromats along Vanderbilt Avenue. Many of the tropes of the familiar High Brooklyn experience are on display in the dining room and carefully tended garden (yes, there's a chicken coop in the backyard and a decorative "living wall" indoors, made of potted ferns), but what separates this highly stylized, reasonably priced post-gourmet establishment from other homegrown, seasonally attuned joints crowding the dining landscape these days is the level of skill, detail, and imagination the proprietors bring to their carefully stage-­managed production. Baxtrom's intricate recipes include thin, melting crêpes flavored with carrots, fried packets of crab Rangoon stuffed with shreds of garden kale, and a famous summertime schnitzel, which is a kind of ingenious frittata hybrid made with tomatoes instead of pork and sautéed in a pool of shallot butter. No entrée on the menu exceeds the relatively neighborly price of $24, and if you're wise, you'll save a few extra bucks for one of the house desserts, like crumbly, fresh-fried doughnuts infused with apples; gently dissolving cups of frozen yogurt poured with lavender honey; and the opulent, cocoa-forward chocolate mousse, which tastes like it's been beamed down into this modest section of Brooklyn from a gleaming kitchen in one of the great plutocrat dining establishments across the river.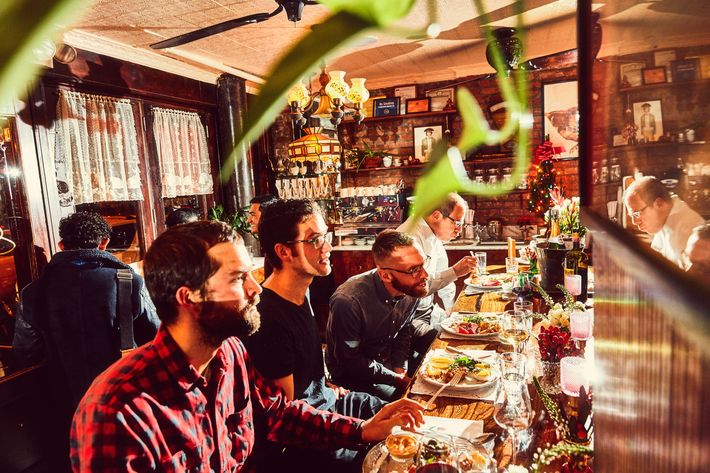 3. Trumplandia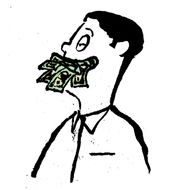 If you have money to burn in this increasingly stratified dining town, there are plenty of interesting, occasionally even worthy places to drop a bundle of cash at, starting as usual with that traditional showplace for big-money gourmands everywhere: the steakhouse. "I feel like I'm in the oligarch section of my favorite Moscow restaurant," said one of my worldly friends as we surveyed the legions of grinning, pink-cheeked Wall Street sugar daddies who populate the dark-toned dining room at the newly opened Gotham branch of Wolfgang Puck's upmarket steakhouse chain, Cut (99 Church St.; 646-880-1995), off the lobby of the Four Seasons Hotel near ground zero. Six of the Bordeaux on the old-fashioned, high-roller wine list cost over $2,000, and one of them (the $6,255 '82 Lafite Rothschild) costs more than three times that, so if you're wise, you'll spend your dwindling expense account on the varied selection of beefsteaks, like grass-fed filet from FingerLakes Farms upstate, an impressive selection of fatty cuts of wagyu from Japan's Miyazaki prefecture, and a professionally charred 20-ounce rib eye from Creekstone Farms, which, at $59, is not so absurdly priced by the vertiginous standards of this steak-mad town. My favorite gourmet burger of the season is the photogenic triple-patty monster that the talented meat chef Victoria Blamey tops with American cheese, caramelized onions, and a generous slick of melted bone marrow at the tasteful reboot of the old speakeasy Chumley's (86 Bedford St.; 212-675-2081), in the West Village, and if you wish to bask in an opulent, slightly Disneyfied version of gilded early-20th-century New York, the address of the moment is Beekman Street, just below City Hall, where those venerable members of the city's restaurant aristocracy Keith McNally and Tom Colicchio have set up competing dining establishments off the vaulted lobby of the newly renovated Beekman Hotel. The operations need a bit more seasoning at this early date, but if you want to sample the best of both worlds, call for the excellent sweetbreads appetizer at Colicchio's Fowler & Wells (5 Beekman St.; 212-658-1848), which the veteran cooks in the kitchen toss with a medley of seasonally appropriate Brussels sprouts, bacon, and chanterelles, then sprint across the lobby to McNally's glittery faux bistro, Augustine (5 Beekman St.; 212-375-0010), and top off your opulent fin de siècle dinner with the generously portioned pepper-saturated steak au poivre, which I paired on my visit with a twirl of signature McNally Land frites and a selection of inventive martinis by that learned drinks scholar of old New York Dale DeGroff.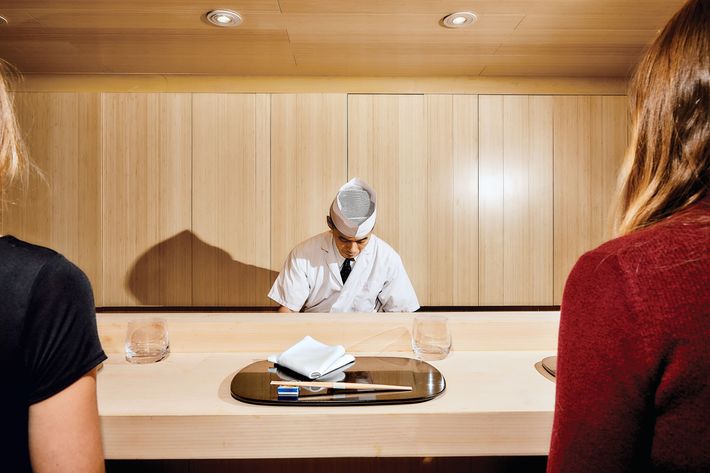 Die-hard fans of that most stubbornly durable of recent big-money dining trends — the intricately realized, tastefully spare, painstakingly precious Scandinavian tasting menu — are flocking to the new, Michelin-approved version of Aska (47 S. 5th St., Williamsburg; 929-337-6792), which the serious-­faced, hypertalented young Swedish chef Fredrik Berselius has reopened in a dark, vaguely foreboding space on South 5th Street in the shadow of the Williamsburg Bridge. Your impatient, diet-conscious critic is on record as being weary of the Scandi dining craze in general, and the studied tasting-menu conceit in particular, so it pains me slightly to admit that despite the presence of funereal black linen on all the tables and the incessant nattering of a "50 Best Restaurants" know-it-all in a far corner of the otherwise silent room, every one of Berselius's ingenious creations — chewy pig's-blood pancakes topped with amaranth leaves, puffs of flash-fried lichen poured with mushroom broth, sorbets flavored with birch bark or wild strawberries — is worth the steep (a prepaid $215 for the 19-course "full experience") price of admission. A frothy, intensely flavored coffee cup filled with lobster bisque was the best thing I tried during my lavishly priced though slightly more middle-of-the-road Continental tasting experience that the intense German chef Günter Seeger (641 Hudson St.; 646-657-0045) lays out each evening at his posh eponymous tasting establishment in the Meatpacking District, and whenever my discerning, well-traveled business friends pine for the kind of grand, overseas Chinese food served in the fancy expense-account hotels of Asia, I direct them to La Chine (540 Lexington Ave.; 212-872-4913), which opened not long ago in the (now Chinese-owned) Waldorf Astoria complex on Park Avenue, and where the menu concocted by the Singapore chef Khong Kai Ming includes lavish ingredients like lobster tail, wagyu-beef tongue, and bigeye tuna, which the kitchen turns into a tasty tartare dressed with spoonfuls of caviar. The city's rarefied omakase circles have it that this is the year of the L.A. sushi invasion, and if you wish to experience the fabled, no-nonsense West Coast style in all its uncluttered glory (though at upward of $200 per dinner), there's no better place to do so than the hushed 18-seat bar at Sushi Zo (88 W. 3rd St.; 646-405-4826), just south of Washington Square Park. Unlike many big-money sushi parlors in New York's ever-expanding omakase galaxy, the chefs here maintain an almost monkish devotion to their fish, which is cut in long, generous, mostly unadorned slices and comes in all sorts of esoteric, even arresting varieties, including, if you ask politely, that forbidden Tokyo treat shirako (a.k.a. cod sperm), which is touched with soy and served in a tiny crystal bowl. This smooth, unnervingly icy delicacy is among the cavalcade of items I dimly recall hoovering down during a sake-soaked, all-expenses-paid business banquet a fat-cat friend treated me to at the local branch of the outlandishly expensive Tokyo restaurant Sushi Ginza Onodera (461 Fifth Ave.; 212-390-0925), which recently opened on Fifth Avenue, several blocks south of Trump Tower itself, although if you're saving up pennies for your annual omakase night out, you'll get much more bang for your buck at a restrained new basement establishment in the West Village called Akashi (14 Christopher St.; 212-367-2067), operated by a young chef who can trace his lineage, through several degrees of sushi-god separation, back to master practitioners of the art like Naomichi Yasuda and even the great Jiro himself. Yoichi Akashi has worked at Sushi Yasuda and as chef de cuisine for New York's Jiro disciple, Daisuke Nakazawa, but his specialty here is the elaborate kappo branch of the omakase experience, which involves the preparation (kappo means to "cut" and "cook" in Japanese) of a whole blizzard of specialty dishes in front of the paying customer. When I sidled up to the snug, ten-seat bar on a recent wintry evening, these included tender chunks of horse mackerel sizzled in panko and rosy squares of Japanese beef cooked on a hot lava stone from Mount Fuji, in addition to the usual tastes of toro and first-class uni fished from the chilly waters of Hokkaido. But the unexpected stars of this marathon 20-course, $200 production are the traditional, refreshingly simple home-cooked soups and stews, like shabu-shabu made with ivory slices of grouper; cloudy bowls of miso garnished with orange, almost-wriggling head-on shrimp; and a nourishing broth of bonito, matsutake mushrooms, and steamed conger pike poured like soothing afternoon tea into tiny clay cups.
4. The Indian-Food Boom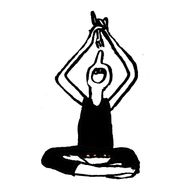 New York has always been a hotbed for a certain kind of expedient, comforting Indian cooking, but thanks to the recent arrival of a whole cavalcade of talented chefs and their New Age restaurants, the options for an exceptional goat curry, say, or tender game birds cooked in the tandoori style, or wheels of roti and naan stuffed with garlic or threads of bacon, have increased in all sorts of dramatic and unexpected ways. If you feel like sampling variations of these exotic themes under a single roof, then run don't walk to Anita Jaisinghani's eclectic new Flatiron canteen Pondicheri (15 W. 27th St.; 646-878-4375), where it's possible to begin your day with a stack of coconut-flavored pancakes topped with jaggery syrup at 8 a.m., work your way through several braised-goat samosas and a platter of deliciously messy yogurt-and-ginger-encrusted masala chicken wings for lunch, and conclude with a dainty tandoori quail appetizer for dinner, followed by a helping of lamb shanks simmered in the rogan josh style, which you can enjoy with an interesting bottle of Wind Gap Syrah from the Sonoma Coast. Jaisinghani is a trained microbiologist who comes to New York by way of Houston, where she operates two award-winning restaurants, and she has a knack for shuffling together the exotic and comforting elements of Indian cuisine in inventive, accessible ways. On my last lunchtime visit, the kitchen was regretfully out of sautéed-goat-brain masala (it's generally a breakfast item, they later explained), but there were three kinds of Mumbai-style "frankie" roti wraps to choose from (try the all-day breakfast version, filled with scrambled masala eggs and chutney), aloo parathas flavored with soft potatoes or carrots, and fat bun-kebab sandwiches stuffed with skewers of grilled, minty lamb. Meatless Monday is the weekly vegetarian feast day at this diverse, vibrant restaurant, but no matter when you visit, be sure to sample the tempting array of products from the prolific house "bake lab," in particular the giant chewy cookies touched with coconut and mint or chile-spiced chocolate, the gulab jamun doughnuts soaked in rose-­cardamom syrup, and Jaisinghani's famous chai pie, which has the consistency of New York cheesecake and is topped with whipped cream and a scattering of candied cashews.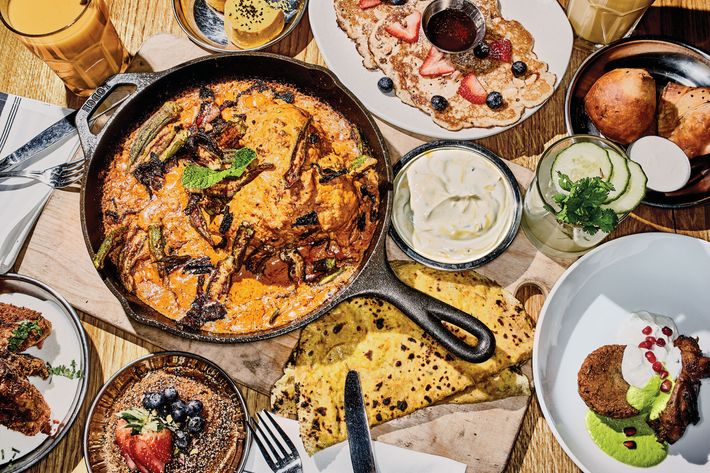 The finest new example of vindaloo lamb chops in town, my Indian-food-loving daughter Jane and I agree, can be found at Anita Trehan's welcoming Harlem restaurant, Chaiwali (274 Lenox Ave.; 646-688-5414), which has been packed with a boisterous mix of downtown thrill-seekers and local neighborhood curry hounds ever since it opened its doors last year on the bottom floors of an elegant Lenox Avenue townhouse, although if you're in the mood for a slightly more expensively elevated tasting experience, we recommend you persuade one of your well-heeled gastronaut buddies to treat you to dinner at Manish Mehrotra's Indian Accent (123 W. 56th St.; 212-842-8070) in Le Parker Meridien Hotel. The soothing white-and-gold-toned space was populated by fleets of loquacious bartenders dressed in dark Nehru jackets on the evening we dropped in, along with assorted globe-­trotting nabobs, many of whom were clustered around the bar sipping tall, colorful drinks with names like Mughal Fortification and Bagpipes for Bangalore. Mehrotra, who comes from the ancient city of Patna in northeastern India, spins out similarly flowery taste combinations (vegetarian keema made with soy and topped with quail yolk; crisped, cricket-ball-size dosas flecked with bits of black truffle; servings of morels from Kashmir dusted with walnut powder), although for maximum theatrical effect Jane suggests you spring an extra $22 for the "tasting of pappadam" supplement, which includes six gourmet interpretations of this famous snack food from regions around India, all arranged upright, like fluttering sails, on a long wooden tray. I didn't spy any pappadam on the menu at Tapestry (60 Greenwich Ave.; 212-373-8900), Suvir Saran's slightly wacky West Village experiment in the possibilities of locally grown, down-home Indian-fusion cuisine, although you can order a side of saffron-chutney-and-pork-infused Indio Posole to go with a platter of the bountiful Spicy-Sticky fried chicken, which the accomplished chef serves with a tangy wad of tomato chutney and cakes in a thick, pleasing crust of masala spices. Saran's longtime colleague in the upper realms of the local Indian-food scene, Floyd Cardoz, practices a slightly more updated brand of fusion magic at his long-awaited return to New York, Paowalla (195 Spring St.; 212-235-1098), where it's a pleasure, in the clement weather, to sit at one of the café tables set up along the Soho sidewalk and graze on expertly sourced, Greenmarket versions of old Indian comfort classics, like mounds of scrambled-eggs patia folded with ginger and caramelized onions, pots of chicken tikka touched with curry leaf, and soupy bowls of lentils, which Cardoz and his cooks cleverly complement with balls of melting burrata cheese. Like many of the pub-bar dining joints being opened by lapsed gourmet chefs all over town, the narrow room can turn into a bit of a madhouse on crowded evenings, so try and wangle one of the quieter tables in the back, and be sure to clear plenty of space for the endless ingenious varieties of fresh-baked Indian bread — pao dinner rolls from Goa; smooth, plum-size tingmos from Tibet; wheels of naan feathered with rosemary or garlic or bits of bacon — which are the real specialties of the house.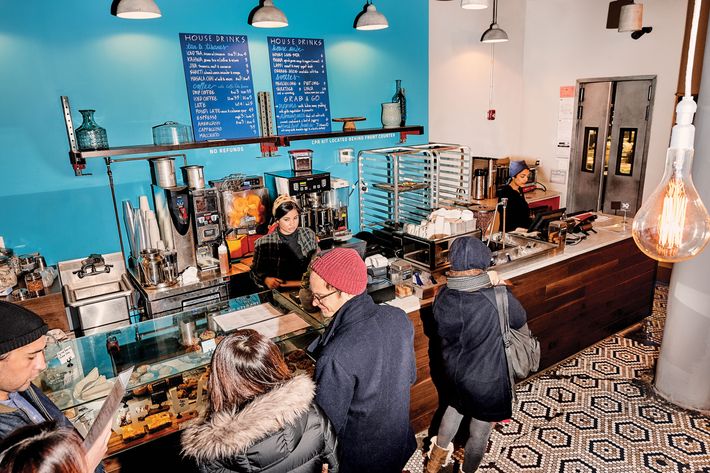 5. The Great Chinese Renaissance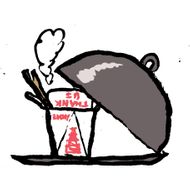 New York has long had an outsize reputation as a mecca for great Chinese food, but the truth is that China has been in the midst of a culinary revolution for decades now, and to get a truly authentic taste of newer regional delicacies, like Sichuan dry pot from Chengdu, say, or clams and scallions cooked in the latest Shanghai style, you had to hop a plane at JFK and visit the source. Not anymore. Thanks to a recent influx of cooks and restaurateurs from China itself, and to a new generation of curious, globe-trotting chefs, it's possible to sample all sorts of exotic, cutting-edge provincial specialties without leaving your neighborhood. Or so a group of my old China-hand cronies and I thought to ourselves as we contemplated a strange, non-soupy bowl filled with, among other things, beef tripe, pig intestine, and an ingredient listed ominously on the menu as "Rooster's XXX" at the popular neo-­Sichuanese dry-pot specialist on lower First Avenue called MáLà Project (122 First Ave.; 212-353-8880). Dry pot is a hipper, slightly more functional alternative to the viscously bubbling Sichuan hot pot, which became popular in the provincial capital of Chengdu during the '80s, and the restaurant's young proprietors, Ning Kang and Meng Ai, who come from the northern province of Hebei, reproduce the dish at their cozy establishment with a convert's obsessive care. There are roughly 70 ingredients to choose from, at varying degrees of heat, and all are mixed together with plenty of cilantro and clouds of Sichuanese ma pepper in big bamboo bowls. Unless you wish to experience the full-on, hair-curling, ten-alarm Sichuan experience, stick to the "mild spicy" option, my old China-hand friends all agree, and be sure to supplement your feast with one or two of the more recognizable, non-dry-pot specialties, like crispy-thin scallion pancakes, pan-fried pork dumplings, and crunchy slivers of pig's ear, slathered with chile oil and crowned with more cooling sprigs of cilantro.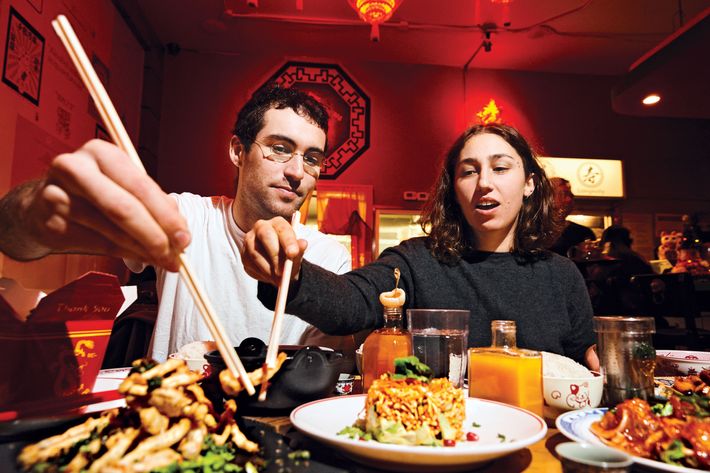 The upscale branch of the rapidly expanding Xi'an Famous Foods empire, Biang! (157 Second Ave.; 718-888-7713), which opened not long ago in a former Wylie Dufresne gastropub space on Second Avenue, is my favorite venue in the neighborhood for a taste of classic Sino-Muslim delicacies, like spicy "cold-skin" noodles and platters of stewed lamb spine followed, if I'm feeling brave, by an invigorating shot or two of traditional Chinese moonshine infused with a laundry list of esoteric, possibly illegal ingredients, including ground sea horse, deer antler, and a substance that the "medicinal liquor" portion of the drinks menu lists as "seal penis." Friends of mine who have a taste for that durable, increasingly popular subset of the global Chinese canon called Indo-Chinese cuisine are flocking to Stacey Lo and Salil Mehta's new Williamsburg restaurant, The Chinese Club (208 Grand St., Williamsburg; 718-487-4576), to sample weirdly delicious fusion combinations like spicy Calcutta chicken tossed with sambal, scallions, and celery, and an old Hakka-Chinatown version of saag paneer, made dry with bell peppers and discs of green chile instead of the usual threads of wet, invariably overcooked spinach, which might actually taste better than the real thing. The food of Taiwan, with an added dose of East Williamsburg attitude and largesse, is the theme at Josh Ku and former Upland sous-chef Trigg Brown's inventive corner establishment, Win Son (159 Graham Ave., East Williamsburg; 347-457-6010), where I spent an enjoyable Friday evening not long ago sampling a stately procession of the kitchen's inspired umami-bomb creations, like scallion rolls stuffed with shredded beef, oyster omelets with pork and Taiwanese ketchup, and the justly famous house ice-cream sandwich, which the kitchen constructs with a deep-fried mantou bun the size of a small grapefruit, a slab of vanilla ice cream, and a generous pour of sweetened condensed milk. For the ultimate in postmillennial Chinese-themed dining, however, you won't do better than the somewhat tortuously named West Village establishment Hao Noodle and Tea by Madam Zhu's Kitchen (401 Sixth Ave.; 212-633-8900), which landed amid the jumble of storefronts and tattoo parlors along Sixth Avenue last summer like a kind of buffet-laden spacecraft sent directly from the sprawling restaurant scene in Beijing. The eponymous proprietor, Zhu Rong, runs a popular restaurant in the Chinese capital, as it happens, along with others in culinary hot spots like Shanghai, Hangzhou, and her native Chongqing, and unlike other Chinese chefs in New York and around the USA, who focus traditionally on one style of provincial cooking, she has a keen understanding of the country's evolving, pan-regional tastes. Everything on the carefully edited, seasonally attuned, judiciously priced menu is exceptional, but pay special attention to the noodle section, which tastes like a greatest-hits tour of the street stalls of China's famous night markets, and to the complex and flavorful soups and stews, which are as different from your standard-issue carryout variety of hot-and-sour soup, say, as a "deli style" corned-beef sandwich in Beijing is from the real thing.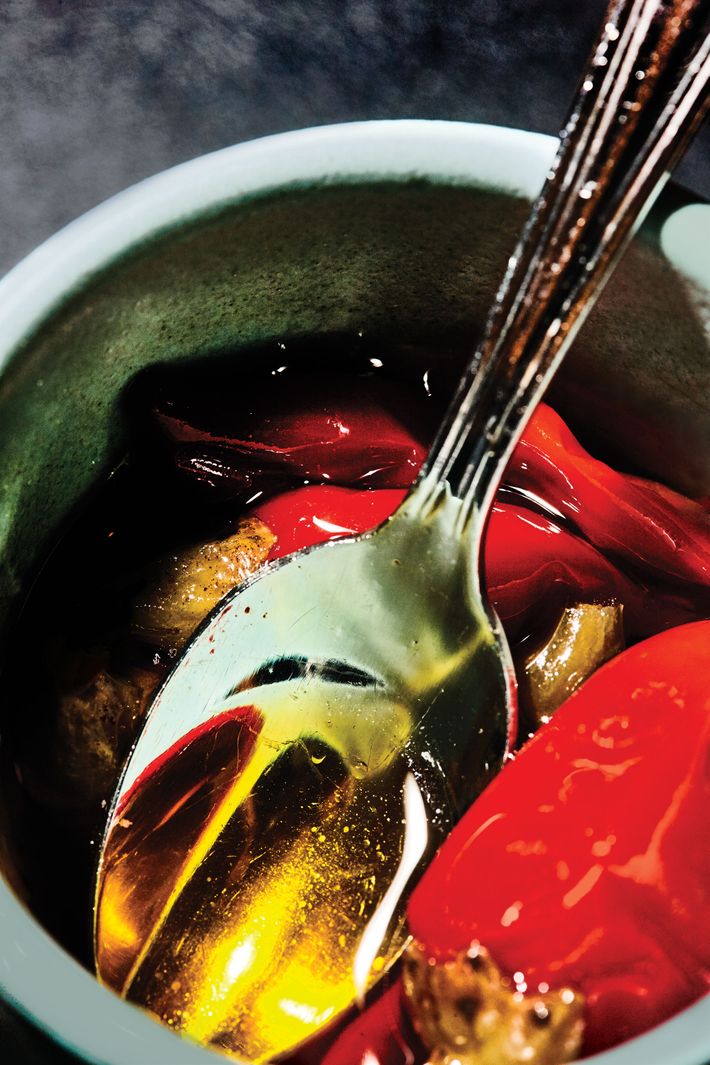 6. Pastapalooza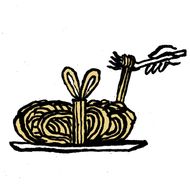 When your faithful, overfed critic penned his somewhat tepid review of Ignacio Mattos's crowded, relentlessly hyped new Soho outpost, Café Altro Paradiso (234 Spring St.; 646-952-0828), the small-plates menu had a random, even scattershot feel to it; the room was a cacophonic madhouse; and, perhaps most important, the restaurant had yet to open for lunch. So imagine my surprise when I returned one recent fall afternoon to find the sun streaming through the tall windows in a most pleasant way. Instead of having to shout to be heard over the gathering din, my guests and I could converse in our normal voices, and the more focused menu was filled with all sorts of simple rustico Mediterranean dishes that matched the peaceful mood of the room, like crostini piled with spoonfuls of honey-nut squash, servings of fried eggs dusted with bottarga and capers, and a superior lunchtime fish sandwich made with soft, flaky shingles of smoked cod and curls of onion and arugula and a spoonful of mayo, all squeezed between a slim, moderately sized baguette. Similar deceptively simple pleasures issue from the roaring, state-of-the-art wood-burning ovens at Pasquale Jones (187 Mulberry St.; no phone), the latest addition to the downtown-Italian-restaurant portfolio of Ryan Hardy and his wine-impresario sidekicks, Grant Reynolds and Robert Bohr. The well-designed Neapolitan pizzas get all the press at this sporty, Mini Cooper–size Nolita establishment, and if you actually manage to secure a table at lunch or dinner, by all means call for one or two of the pies (the classic marinara, the majestic white clam), but neglect chef Hardy's expertly calibrated wood-oven creations at your peril — in particular, the warm leeks dressed with Parmesan and toasted walnuts, and the cannonball-size pork shank for two, which is oven-roasted to a kind of fruity tenderness and garnished with a delicate dusting of fennel pollen and a deliciously salty slick of melted lardo.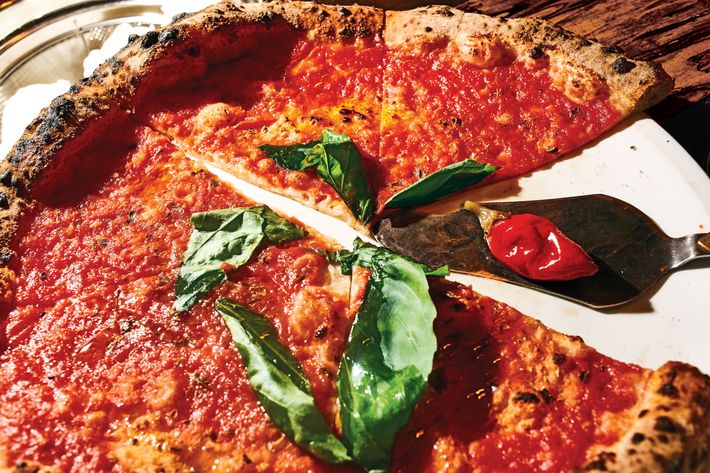 Once upon a time, Manhattan was the destination for the city's growing legions of high-minded pasta snobs, but lately I've noticed more and more of these finicky, opinionated souls migrating across the river to Brooklyn, where some of the great practitioners of this difficult, exalted art have recently set up shop among the hotels and nameless condos that are sprouting up all across the borough. "I feel like I'm dining in Jersey City," one of the grumpy Manhattanites at my table whispered as we sat elbow-to-elbow in the crowded, narrow, slightly impersonal dining room of Lilia (567 Union Ave., Williamsburg; 718-576-3095), which, as any Williamsburg Italian-food connoisseur can tell you, is the new Brooklyn home of one of the city's foremost pasta goddesses, Missy Robbins. The recently renovated garage space on the scissoring intersection of Union Avenue and North 10th Street has been fitted with a café operation that during the day sells pastries and excellent panini stuffed with ribbons of prosciutto or burrata cheese. After my Manhattan friends had found their bearings in the dining room, they had nothing but kind words for the talented chef's restrained small-plates menu, which included golden fritters flavored in the manner of the Roman pasta dish cacio e pepe, tangles of perfectly al dente spaghetti tossed with lemon, chiles, and toasted bread crumbs, and the justly famous house agnolotti, which Robbins and her small army of pasta cooks fill with warm deposits of sheep's-milk cheese faintly sweetened with honey. If you find yourself pining for ribbony strips of malfadini decked with pine nuts and fresh garden pesto, or twirls of housemade spaghetti mingled with rich orange sea urchin while wandering among the old warehouses of North Williamsburg, I suggest you make a beeline for Andrew Carmellini's latest Italian venture, Leuca (111 N. 12th St., Williamsburg; 718-581-5900), which opened a couple of months ago on the bottom of a looming, Brutalist-looking structure on North 12th Street called the William Vale hotel. Fabled old Sunday-night standbys like fat, plum-size pork meatballs and a bountiful, rib-sticking version of short-rib beef braciole are my favorite things on the menu at Mario Batali and Joe Bastianich's glittering, slightly unwieldy new cruise ship of a restaurant, La Sirena (88 Ninth Ave.; 212-977-6096), back across the East River in Chelsea, but if you want a taste of the latest innovations in the tumultuous, suddenly cutting-edge world of ye olde Italian red-sauce cooking, I recommend you Uber across the Williamsburg Bridge to Barano (26 Broadway, Williamsburg; 347-987-4500), where the former Le Cirque and Rubirosa chef Al Di Meglio serves up a whole smorgasbord of updated old-school delights inspired by the recipes of his grandmother, with whom he grew up back on Staten Island. You can detect a hint of the old-neighborhood terroir in the house bucatini, which is smothered in a simmer of tomatoes and braised rabbit, the way nonna Di Meglio used to do, although there are four different varieties of housemade mozzarella on the menu at this casual neighborhood establishment (try the one hickory-smoked under a glass jar), and instead of nonna's usual mash of bread crumbs and cheap beef, the meatballs are made with 21-day-aged short rib for an extra umami kick. There are excellent pizzas (again, try the white clam) and a noble Greenmarket version of "wood roasted" eggplant Parmesan, but before you lapse gently into your food coma, be sure to call for the cannoli, which are made with two kinds of ricotta, bits of chewy, candied fruit from the home country, and a brittle, faintly sweet, Prosecco-infused shell that is so superior to the usual soggy Italian-deli version that it will make you wonder whether you've ever actually tasted the real thing.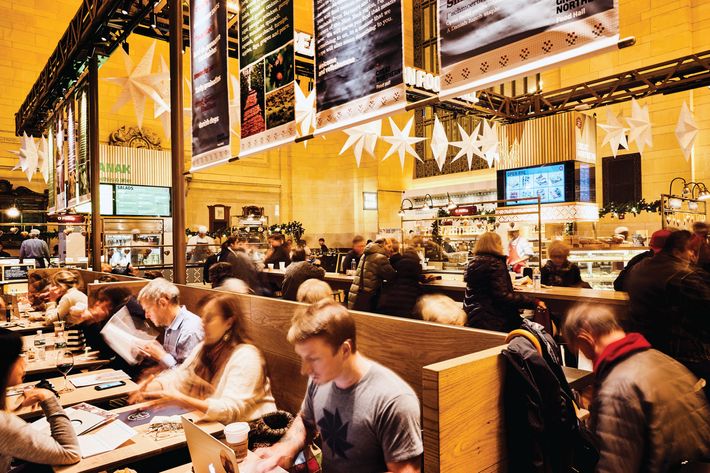 7. Fast-Casual Madness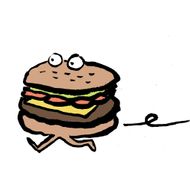 Highly trained gourmet chefs have been fretfully tinkering with crowd-pleasing comfort-food recipes for years now, but thanks to the success of franchise-friendly concepts like Danny Meyer's Shake Shack, and the lapsed gourmet pastry chef Brooks Headley's ingenious, veggie-forward East Village fast-food stand, Superiority Burger, the rush among big-city cooks and restaurateurs into what's breathlessly being called "the fast-casual space" has lately turned into an all-out, helter-skelter stampede. There are all sorts of dated, painstakingly foraged haute-Nordic pleasures available at Noma founder Claus Meyer's cosseted little restaurant Agern (Vanderbilt Hall, Grand Central Terminal, 89 E. 42nd St.; 646-568-4018), which opened this year in an old windowless bar space on the southwest corner of Grand Central Terminal, but whenever I want to muffle my anxieties for a minute or two about life in the dispiriting, fraught Age of Trump, I head next door to the Great Northern Food Hall (Vanderbilt Hall, Grand Central Terminal, 89 E. 42nd St.; 646-568-4020), where it's a relief on peaceful afternoons to roam among the grain bars and artisanal-bread stands that Meyer and his team have assembled under the vaulted ceiling and graze fitfully on bowls of savory "grød" porridge made with veal stock and garden peas, and the impressive selection of Scandi-style sandwiches, which include the famous open-faced smørrebrød variety (try the lox or the herring), and a great Viking-size roast-pork-rye-bun-and-apple construction that rivals anything the postmillennial sandwich masters are producing downtown. While fans of April Bloomfield and Ken Friedman waited for their new, eminently franchiseable Americana gastropub concept Salvation Burger (230 E. 51st St.; 646-277-2900) to reopen on East 51st Street after a ruinous kitchen fire, the partners unveiled an idiosyncratic Upper West Side dine-in butcher shop, White Gold (375 Amsterdam Ave.; 212-362-8731), where on a recent lunchtime bomb run my merry band of beefeaters enjoyed a pleasingly gooey chopped-cheese sandwich, an excellent bowl of chicken soup, and an uncannily authentic selection of fat potato pasties and pastry-encrusted publican-style sausage rolls. This year's blue ribbon in the wildly popular, ever-expanding un-beef-veggie-burger category goes to the pinkish (heme, a bloodlike compound), surprisingly realistic meatless burger available lunchtimes only at David Chang's new Chelsea venture, Momofuku Nishi (232 Eighth Ave.; 646-518-1919), and if unhealthy hot dogs are your weakness, you'll find an excellent rotating blue-plate selection at lunch at Harold Moore's eponymous neo-Nashville joint, Harold's Meat + Three (2 Renwick St.; 212-390-8484), especially on Fridays, when $15 buys two popping dogs smothered in the German style with grainy mustard and blankets of sauerkraut that go well with a pot or two of cucumber salad and the fine house mac 'n' cheese. Matt and Emily Hyland's vaunted Emmy Burger has received enough breathless press for a lifetime, so let me hyperventilate instead about the impressive roster of hungry-man sandwiches and block-shaped "Detroit style" pizzas now being served at their wildly popular new Williamsburg venture, Emmy Squared (364 Grand St., Williamsburg; 718-360-4535), in particular the copiously gooey, lumberjack-size chicken Parm, which is housed, like the famous burger, in a soft pretzel bun, and the signature "Emmy" pizza, which is layered with plenty of mozzarella, sour-sweet banana peppers, and a radical drizzle of ranch dressing. All of my strung-out sushi-addict friends are desperately bull-rushing the new Flatiron District branch of Kazunori Nozawa's fabled Los Angeles franchise Sugarfish (33 E. 20th St.; 347-705-8100), where, for a mere fraction of the cost of dinner at any of the city's vaunted omakase palaces, you can enjoy one of the chef's famous "Trust Me" set-course options filled with hearty amounts of the freshest albacore, yellowtail, and New Zealand snapper, along with as much organic edamame as you can eat. If you're in the mood for a quick dim sum pick-me-up while wandering aimlessly among the boutiques along Mott Street, my dumpling-obsessed daughter Penelope recommends the small, well-edited selection at Wilson Tang's new fast-casual counter-service operation, Nom Wah Nolita (10 Kenmare St.; 646-478-8242), where $20 purchases a metal tray of soup and pork and shrimp dumplings and a stack of Dad-approved steamed pork ribs smothered in pleasingly sticky char sui glaze. Delicious little packets of wonton-style lobster ravioli and an impressive uptown version of steak béarnaise are just two of the polished, upmarket dishes that I enjoyed during a recent, highly civilized dinner at Ignacio Mattos and Thomas Carter's exceptional new Upper East Side restaurant, Flora Bar (945 Madison Ave.; 646-558-5383), which is located in the former Whitney Museum café space of the Met Breuer on Madison Avenue, but the dishes I can't get out of my head are the simple pastries served beginning at ten in the morning at Flora Coffee next door, in particular the fat, savory scones edged on their bottoms with zucchini and crunchy bits of Gruyère, crumbly slices of quichelike "green pie" loaded with chopped kale and other market greens, and the buttery, mitten-size sticky buns, which the pastry chef Natasha Pickowicz infuses with a subversive touch of black cardamom. But to experience the high-low, fast-casual, slow-fast-food revolution in all of its anxiety-numbing, coma-inducing creative glory, there's no better venue these days than Eli Kulp's Philly import, High Street on Hudson (637 Hudson St.; 917-388-3944), where beginning at eight o'clock every morning, West Villagers line up to grapple with outsize breakfast-sandwich creations with names like the Bodega, Pastrami & Hash, and an imposing sausage-potato-and-egg combination called the Meatpacker. Like Danny Meyer, Kulp, who was tragically paralyzed in the Amtrak crash of May 2015, favors a kind of frenetic, multifront approach when it comes to the business of restaurants, which means there's also a bakery stand in the front of the house where you can purchase experimental bialys blackened weirdly (and successfully) with squid ink and boxes of Red Eye danish topped with twirls of Benton's ham. In the evenings, the spare dining space on Hudson Street morphs into a multi-star postmillennial fine-dining enterprise, but day in and day out, the lifeblood of the operation is the sandwiches, like the one made at lunchtime with generous slabs of house-brined pastrami served on fresh-baked rye, and the magisterial roast pork with melted provolone, which the sandwich masters in the kitchen dress with a tart thatch of broccoli rabe and serve between a semolina roll caked on its top with sesame seeds.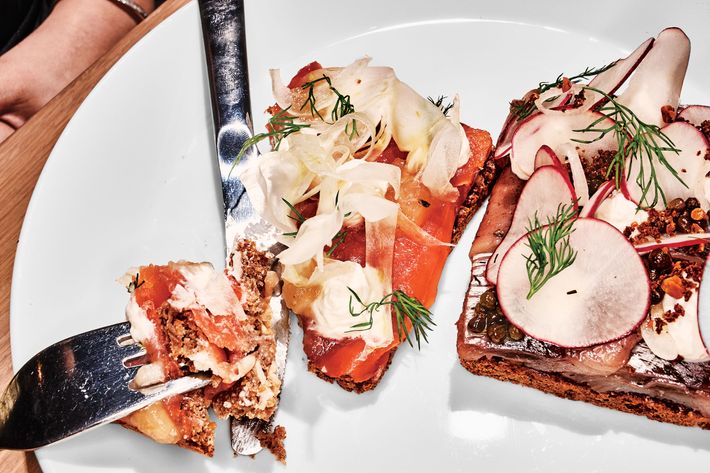 *This article appears in the December 26, 2016, issue of New York Magazine.