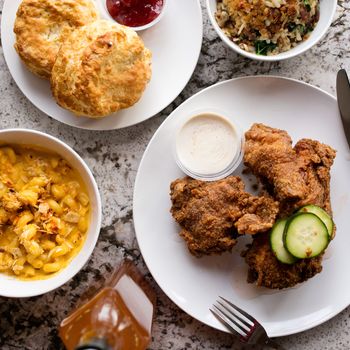 Check out Brooklyn's newest fried-chicken spot, Pretty Southern.
Photo: Melissa Hom
Every month in New York, there's bound to be a bewildering number of new dishes to eat, drinks to imbibe, and food-themed events to attend. It would be impossible to pack in every single thing each month, and the hardest part often is just figuring out what's really worth your limited time. So Grub kicks off each month with a curated collection of dishes, drinks, and events that should absolutely be on your agenda. Make your plans now.
1. Eat Chilaquiles Tacos for Brunch at Lalo
Gerardo Gonzalez has settled into his new digs at the Mexicanish Lalo, where he's now serving brunch. Here, he's taken the essential breakfast dish chilaquiles — day-old tortillas that are fried and then sautéed in salsa — and given it the breakfast-taco treatment ($10). Also on the menu: butter-toasted kasha with onion agrodolce ($12), vegan cashew grits ($12), and cocktails like a Green Eye Mimosa ($13) with cucumber-and-serrano chili.
2. Head to North End Grill's Old-School French Pop-up
From January 5 through the end of the month, North End Grill will transform into Bistro au Nord. For the second year of the pop-up, chef Eric Korsh will cook the kind of nourishing French classics that sound really good right now, like pot au feu ($42), tart flambée ($17), and cheesy French-onion soup ($21). Plus, there will be a special wine menu inspired by what's hip at the wine bars of Paris.
3. Eat a New Burger From One of the Country's Best Burger Chefs
Brendan Sodikoff's burger at Chicago's Au Cheval is outstanding. Now, you can come as close as possible to eating it (monthly) without stopping at JFK first. The chef has opened the West Village chop house 4 Charles Prime Rib, where he's serving a burger. It's not the exact Au Cheval burger, but it's a diner-style double with optional egg and bacon. Just note that at $18 sans fries, it's not cheap.
4. Eat Gavin Kaysen's Food in New York Again
When Gavin Kaysen skipped town for his native Minneapolis, New York lost one of its most decorated chefs. His fans will be happy to hear that on January 6 through February 4, he's back in town for a brief stint as the next guest chef at the NoMad Bar. But the real hook is that he'll cook new dishes from his upcoming Minnesota restaurant Bellecour. What to expect? Tarte aux oignons with fennel–crème fraîche and bone marrow, cod brandade with fried parsley, and oeufs mimosa or deviled eggs with pickled onion.
5. Drink a Fancy Whiskey-and-Coke
The whiskey-and-coke doesn't enjoy much of a reputation, mainly because it's the kind of college cocktail usually made to get you as drunk as possible as fast as possible. But like the rum and coke, it can be made well. The owners of Park Slope's popular café Hungry Ghost are trying to prove as much at their cocktail bar Sweet Polly. There, they're serving the Mr. Hyde ($13), made with cherry, alder-smoked cola, and rye whiskey for a truly fancy take on a trash drink.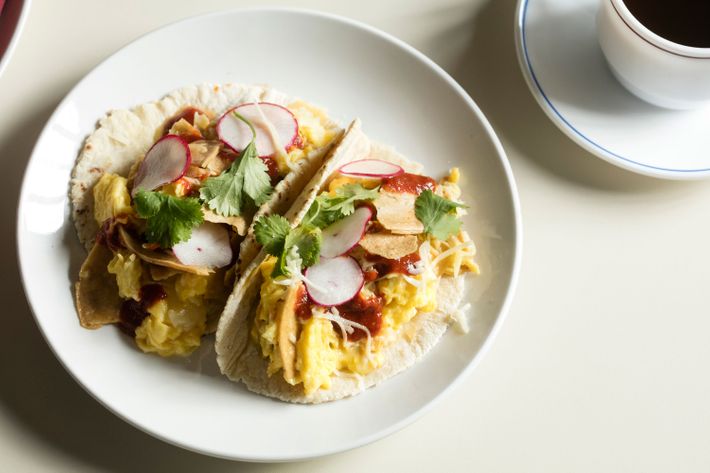 6. Check Out New York's Newest Fried-Chicken Spot
New York has plenty of fried chicken, but Sam Talbot thinks it could use at least one more spot. The Top Chef alum and former Surf Lodge chef has opened Pretty Southern, which purports to sell a healthier version of fried bird ($2.50 to $6 a piece). Health claims aside, you can get yours with hot sauce, ranch, and other sauces. There are variations on other Southern staples, sides (all $6) like corn-bread pudding and coconut-milk grits, brown-sugar-benne butter biscuits ($4), and a blackened fish and rémoulade sandwich ($13).
7. Have Dan Dan Udon Noodles for Breakfast at One of New York's Most Popular New Japanese Restaurants
Bessou on Bleecker Street is a charming but stylish restaurant that has picked up steam lately, thanks to its warm hospitality and inventive home cooking. Think shishomaki ($8), fried shisho leaves stuffed with sendai miso and peanuts, and scallion pancakes ($15) with tofu aioli and pomegranate. This month, owner Maiko Kyogoku and chef Emily Yeun launched with dishes like dan dan udon noodles ($17) with a spicy sesame-miso broth and a green eggs and chashu sandwich ($15) with tomato-braised Berkshire pork belly on toasted milk bread.
8. Eat Farm-to-Table Trashy Desserts at Loring Place
Everyone loves a Blizzard — even Dan Kluger. The vegetable-happy, all-things-seasonal chef has concocted a gussied up version ($12) of the Dairy Queen classic for his recently opened Loring Place. Made with a base of vanilla ice cream, it's properly packed with pretzels, walnut toffee, chocolate cookie fudge, and un–Dairy Queen like (Grub will let it pass) Meyer lemon. That's just the start, though. He's also serving a take on the Hostess chocolate cupcake, served with orange crème fraîche and tangerine sherbet. Could Ding Dongs be next?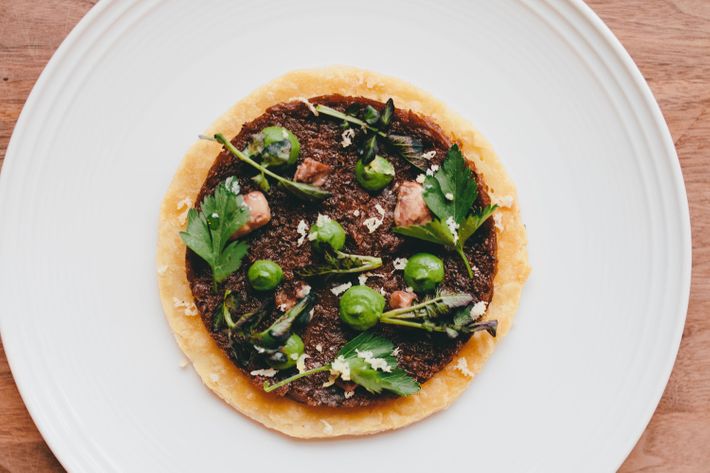 9. Warm Up With a Bowl of Tontoro Ramen
Add another bowl to the list of exciting new ramen that's recently hit New York. The fantastic Lower East Side ramen shop Nakamura, known for its subtle chicken-based tori paitan, has debuted a richer ramen for the winter. Enter the tontoro ($16), a style made with a chicken and pork-belly broth served with thick noodles, chashu, bean sprouts, and onion.
10. Check Out Il Buco Alimentari's New Menu
In the fall, Il Buco Alimentari e Vineria announced it had hired a new chef in Garrison Price, who previously worked for Jean-Georges, Curtis Duffy, and José Andrés. This month, the restaurant will debut his revamped menu with dishes like riso nero ($17), a paella-like black-rice dish made with pork sausage and blue prawns, and agnolotti ($28) stuffed with roast duck and caramelized chestnut purée. Restaurant standards like its famous roast short ribs will remain, but there will be new meats to eat including roasted and stuffed lamb saddle ($46) served with lamb broth steeped with pine-smoked tea.
11. Learn How to Make Sausages at White Gold
If your New Year's resolution is to start making your own breakfast sausage, you're in luck. April Bloomfield's crew at White Gold is bringing butchering classes uptown, with the first class ($100) of 2017 set to run on January 15. You'll learn to make trimmings, grind meat, pipe and twist sausages, and more. Plus, you'll leave with your class project.