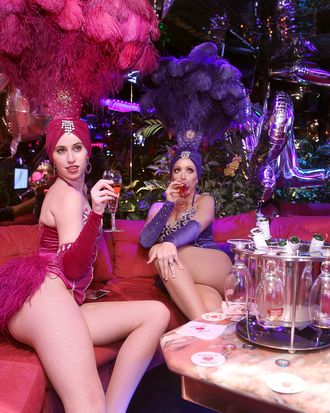 Management says it always asks people to remove headwear. This photo indicates otherwise.
Photo: Chris Weeks/WireImage
A Muslim woman had her meal cut short at Las Vegas's Peppermill, the very Vegas-y restaurant from Martin Scorsese's Casino, after staff told her that her hijab was banned "for security reasons." Louvenia Daan says she was in the eatery's Fireside Lounge when a server approached and remarked that, whatever that head covering was, it had to go, per Peppermill policy. Daan tells local station KTNV of the encounter, "She said, 'Oh, I'm sorry that I called it the wrong thing, but you can't wear that in here.'" Daan says she tried explaining why it wasn't possible for her to just take it off ("It's like telling a woman to stand in front of a bunch of people and be completely naked"), but staff weren't moved by this argument, so she just left.

A manager tells the station that the policy is in place so surveillance cameras can record guests' whole faces, and that they've made similar requests of their guests for ten years. Though, as you can see from the photo accompanying this post — which is from a party celebrating the opening of Stella McCartney's first Vegas store — the anti-headwear policy doesn't seem so ironclad.

After it became aware of the incident, Peppermill's corporate office kicked into gear and issued this statement:

The Peppermill's Fireside Lounge has a long-standing policy that prohibits hats and headwear of all kinds because of past gang activity in the area. The policy was put in place only for the Peppermill's Fireside Lounge location, and is not a corporate policy. It was meant to ensure the safety of all Fireside Lounge customers. The policy had a clear, long-standing religious exemption, but because of a recent miscommunication, this exemption was not followed correctly.
But thanks to this "miscommunication," Peppermill says it's "had an opportunity to review the Fireside Lounge's headwear policy" and decided it is "no longer necessary."