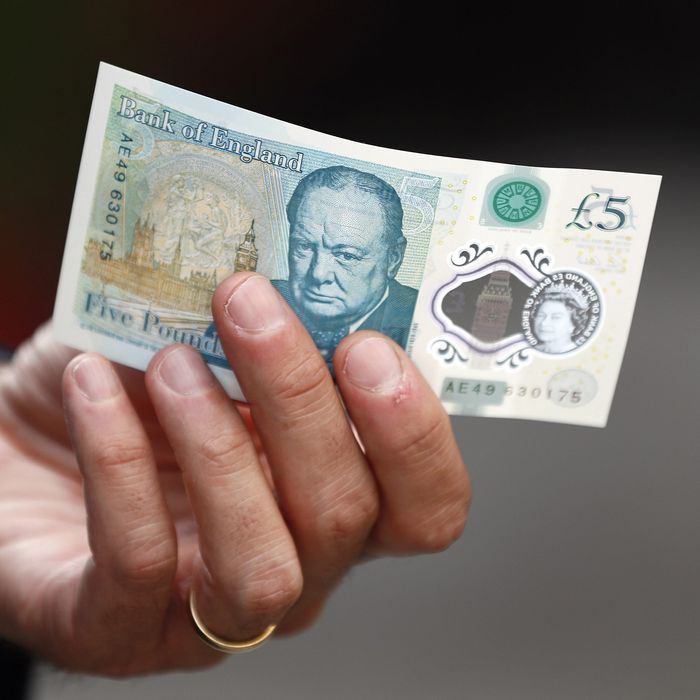 Even still: Don't eat them.
Photo: Stefan Wermuth - WPA Pool/Getty Images
England's large number of vegans and other meat abstainers have gotten pretty hacked off this week after learning their country's new £5 bill, one of the most common (and therefore unavoidable) denominations, contains actual animal fat in its polymer base. The new note, just released in September, was promoted as being sturdier, safer, and more environmentally friendly than its predecessor, but as the Bank of England has been forced to acknowledge repeatedly over the last couple of days on Twitter, it's not so good for people who avoid animal products:

Here's where it gets a little stranger: The Times points out that the Bank of England literally touted the new bill as practically inedible, a point you wouldn't normally make about money. But supposedly, the Bank had to replace 5,364 bills last year because people ate or chewed on them. But the Bank argues that the tallow has nothing to actually do with eating or not eating money. It is instead an ideal ingredient because it give the new notes — Britain's first "plastic" bills — their anti-static and anti-slip properties. The bank also tried pointing out that thousands of everyday things contain tallow, but that argument essentially boils down to saying British currency is just one more thing to add to the laundry list of products vegans already avoid.
There's already a petition with more than 118,000 supporters demanding the government remake the bill so it's vegan-friendly. The change.org page explains tallow is "unacceptable to millions of vegans, vegetarians, Hindus, Sikhs, Jains and others in the U.K." In response, the Bank of England has said it's an "extremely small amount" of tallow, and that it was treating objections to the bills with "the utmost seriousness." The Bank has printed 440 million of the bills so far.