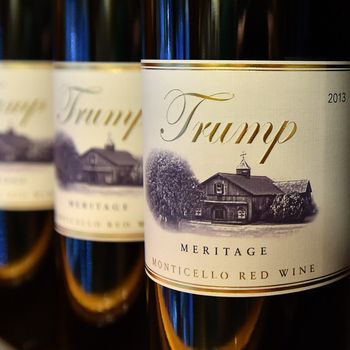 Photo: Josh Edelson/AFP/Getty Images
Are you looking to break into the American wine industry? Do you live literally anywhere but the United States? You're in luck. Eric Trump, son of President-elect Donald Trump, wants you to work for Trump Vineyards. He's currently looking for six vineyard workers to join his team, according to a petition the Department of Labor posted, as part of a program that temporarily brings in seasonal workers. Trump Vineyards wants to bring these so-called guest workers from January through June and to pay them $10.72 an hour to work for 40 hours a week. The petition was filed shortly after a United Nations envoy suggested that the federal program opens the door to exploitation and even trafficking.
This is in keeping with the Trump business ethos: Since the Donald kicked off his presidential campaign by making racist remarks about Mexican immigrants, the Donald's companies and those featuring his family name have asked for permission to hire a total of 263 foreign guest workers. Many of these individuals have worked as servers and house cleaners at his Florida estate, Mar-a-Lago, where his unhinged former butler Anthony Senecal is the historian. Ironically but not surprisingly, an investigation by BuzzFeed News found that guest workers often get jobs over Americans.