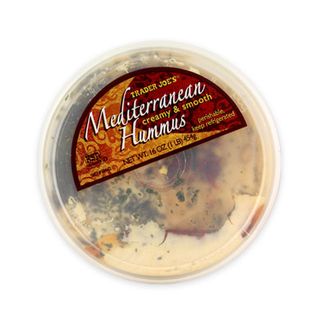 "Creamy & smooth," and possibly bacteria-ridden.
Photo: Trader Joe's
More suspect hummus has been hit with a massive multi-state recall. Trader Joe's is telling customers to discard 16-ounce tubs of Mediterranean Hummus or White Bean and Basil Hummus with use-by dates of "12/15/16" or before because they "have the potential" to be contaminated with listeria. (This devastating news comes two weeks after Sabra recalled a pretty gigantic amount of hummus over listeria fears, so these are tough times for snackers.)
The Trader Joe's recall affects hummus sold in 30 states, and tubs that need to be tossed have a plant-identification code that reads "C" next to the use-by date. Both types were manufactured by Bakkavor Foods, where bacteria was found on some equipment. Luckily, nobody's gotten sick yet, so don't be the first. Trader Joe's will give you a full refund if you bring the tub back to the store.