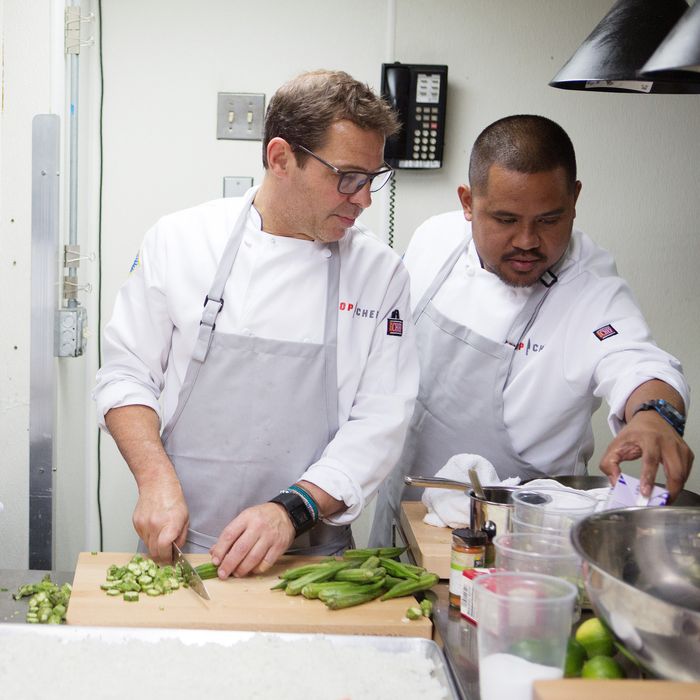 Chaos, of course.
Photo: Paul Cheney/Bravo
Welcome back to the scenic bogs of Charleston! When we last met at this picturesque plantation, Padma [Lakshmi] reckoned with history, Gerald [Sombright] was tragically eliminated because his Thai oysters weren't Thai enough, and John [Tesar] informed us his mom used to be active in the civil-rights movement. Now, we're down to 15 chefs, and it's time for the first Elimination Challenge!
Padma, still draped in low-hanging gauze, leads us to Frank Lee, godfather of Low Country cuisine, who has been whiling away the hours boiling seafood, the traditional local pastime. "Dig in and have a great time!" says Frank, affably dumping a crate of fresh shrimp on the table. "The ocean is filled with countless varieties of seafood," observes John, sagely.
Presumably to prevent John from speaking further, Frank Lee decides it's time to get down to brass tacks. "To truly understand our local cuisine," he says with grave authority. "You have to dine in the homes of the locals." And conveniently, Frank has arranged just such a homegrown experience! Our chefs will be divided into two teams, each of which will be sent to "dine at the home of a local chef whose family has been in Charleston for generations," Padma explains. But there's more! The chefs will then use that meal as inspiration for creating their own family-style meal, which — in the spirit of reciprocity — they will serve back to their former hosts, who will now be fatally judging them, just like at a regular dinner party.
Now for the teams: After much suspense, Padma announces that it will be Rookies versus Veterans. Let the record show that Emily Hahn is not happy about it. "I'm starting to get a little bit PO'd," she snaps. "I am not a rookie chef. I am new to this competition." What I appreciate most about Emily Hahn is how quickly she has established a strong and dislikable character.
And off they go! "God, I forgot what this part is like, like getting ready for the elimination challenge, and it's like a whole other kind of nerves, but it's still nerves, but it's different," babbles Amanda, happily speeding through Charleston. One thing that I forgot is Amanda's existence, but I am happy she is here.
Meanwhile, in a car across town, the chefs who are new to this competition are discussing their more seasoned rivals. "They definitely have a little bit of an advantage going into this," says BJ the meat-slinger, who explains that, given his own obvious merits, he "obviously gravitates more toward veterans," because of everything they have in common, such as "experience" and "skill."
Unfortunately, BJ does not have a chance to share this insight with his fellow first-timers, because they have arrived at the house of Carrie Morey, founder and owner of Callie's Hot Little Biscuit. "Hey y'all," says Carrie Morey. "We're excited to have you all to supper today!" Emily meaningfully reminds us that one thing Carrie is known for is biscuits.
After introducing our contestants to her small blond children, Carrie lays out the plan: cracker-breaded fried pork chops, hoppin' john, a squash casserole, a classic tomato pie, permanent slaw, which is slaw that lasts forever, and buttermilk biscuits. "In our family, [biscuits] were made with every meal. Cream cheese is my mother's little secret ingredient — she added double the fat," says Carrie, philosophizing that "if you're gonna eat a biscuit, you might as well really eat a biscuit." Have I really eaten a biscuit, I wonder? Sometimes, it is not clear to me if I've ever even lived.
Anyway, everyone gets to work, offering BJ an opportunity to perform a brief monologue about his gift for pork. "I've definitely made a name for myself cooking pork," he opines, beardedly. "You know, there's a lot of other chefs here that are known for other things, but I cook meat." There is more, but I have abridged it, like a student copy of King Lear.
As the individuals-who-have-not-previously-competed-on-Top-Chef settle in at Casa de Carrie, the veterans are getting to know Charleston personal chef and caterer BJ Dennis. "Anybody know about the Gullah culture?" asks BJ Dennis. "Well, my family goes back before they even legally documented enslaved Africans. You're talking 300-plus years. We kept a lot of those Africanisms with us." Today, they'll be making shrimp salad, collard greens with coconut milk and peanut butter, eggplant stew, and red-rice gumbo. Casey is struck by the beauty of it all. "I can't help but have this feeling; I look around and everybody has the same face, the same feeling," she tells the camera, tears in her eyes. "Food is shared amongst families, amongst friends, for celebrations, generations …" I was looking forward to seeing how many other words Casey was planning to rhyme, but she is too moved to continue.
Newly stuffed, the teams part ways with their hosts to plan their menus. Jamie (the one with the neck tattoo) announces his intention to make vegetables, because he made vegetables last time and they were terrible. Silvia (Italian) is doing something with hoppin' john, only using farro instead of rice, because of Italy, and BJ insists he must do pork, because it is his calling. For some reason, no one will let Annie cook anything, so she is stuck with tomato pie, but whatever, because she made something similar that got a write-up in The Wall Street Journal.
It's just a laugh a minute over at the veteran's huddle, where John declares he's making okra, even though Tom hates okra, because his okra is going to be special okra, and Amanda bellows something about ceviche."There's no ego, there's no drama, but the first team challenge is always the messiest one," Katsuji warns the camera, ominously. "Of course it's not going to last."
And on that note, let's head to Whole Foods! The teams each have 30 minutes and $500 to get supplies, a task at which the vets are very good and the contestants who-just-happen-not-to-have-previously-cooked-for-Tom-Colicchio are very bad. I relate to the newcomers because I tried to find a granola bar at Whole Foods yesterday and it took me at least 30 minutes. In any case, the veterans pick up 26 oysters and a handful of chickens and it all looks great, and the nonveterans try to figure out if anyone bought butter yet. Then, they try to figure out how to pay for their groceries, because BJ quietly rung up $125 of pork loin without telling anyone. Surprise!
Back at the ranch, the veterans sip rosé spritzers, while our newer friends come to the realization that someone should probably make biscuits, considering that biscuits are Carrie's reason for living. "I think the rookies haven't quite figured out that this is a game," says Brooke. "And there are strategies to playing games." Emily demands that Jim make the biscuits, doing her best impression of a bulldozer, but Jim bravely says he won't make the biscuits, because he doesn't want to, and also because they did not buy any biscuit ingredients.
Luckily, everyone wakes up the next morning feeling a little better, and Jamie repeats that he has no plans to burn his vegetables. Then, Jamie burns his broccoli. Hubris will be the downfall of us all. Annie is also having trouble, because there's no room for her tomato tarts in the oven, and BJ is having a meltdown because his pork is undercooked, so he'll have to slice and sear it. "Me being a meat guy, who basically makes his living off of cooking meat every day, there's really no words to describe how stressful this is."
As BJ agonizes over his meat in the kitchen, the guests make their way into the grand dining room, where celebrity chef Sean Brock is holding forth on the historical import of this space. To honor the majesty of the estate, Padma and Gail have made their dresses out of the drapes.
The debut chefs are up first, and it is immediately noted that there are no biscuits. "I guess I didn't inspire biscuits," drawls Carrie, with passive aggression. "It is a glaring omission," agrees Padma. Still, everyone likes Jim's grits with charred asparagus and mushrooms, chef Michelle Weaver says Emily's pickled shrimp with dressed cucumbers was "delicious right off the bat," and Sylva's Cornish hen with dark-meat rice and Haitian-style permanent slaw is a rousing success. If only we were all so lucky! But Silvia's Italianate farro hoppin' john is underseasoned and fussy, Annie's sad tomato tart would be tasty if the dough weren't raw, Jamie's burnt broccoli casserole was a mess, and BJ's pork extravaganza is undercooked.
Contrary to Katsuji's previous prediction, however, everything on Team Veteran is a culinary triumph. The judges like Shirley's pork and oyster stew, Amanda's ceviche, and Casey's collard greens with coconut, peanut, and smoked trout roe, which apparently was a good idea after all. For a change of pace, they also love John's Carolina rice with caramelized okra and crab gravy — even Tom, who will violate his own anti-okra principles just this one time — and they have nothing but raves for Sheldon's Filipino pinakbet with eggplant, tomatoes, and okra. In fact, Michelle Weaver thought it would be her least favorite dish, but then it was actually her favorite dish! The only possible flaw is Brooke's biscuits, which are either underdone or overdone, Tom and Gail can't decide.
When the ax of judgement falls, it falls swiftly. In a shock to no one, the veterans are crowned the winning team, with Casey's otherworldly trout roe greens taking a top honors for their deceptive complexity. That means all three bottom dishes are from the rookies, who we are suddenly calling "the Orange Team," presumably on Emily's request. Jamie's vegetable casserole was watery and scrambled. Then again, BJ's pork loin was raw, which he concedes is "not the ideal way to cook a pork loin." But the crust of Annie's tomato tart was also raw, and some crimes are beyond forgiveness. In the end, there is nothing to be done: it is Annie who must go. Whatever. She'll always have The Wall Street Journal.
And there we are! Next week: The much-anticipated mise en plas race!