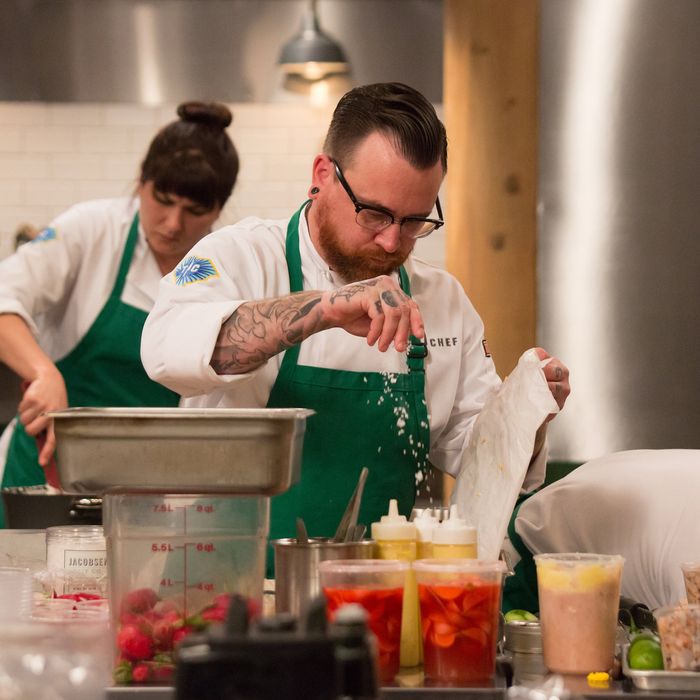 Sprinkling …
Photo: Paul Cheney/Bravo
Alliances are shifting! Up until now, the returning Top Chef contestants have been methodically decimating the rookies, but that's all about to change, because tonight is the legendary mise-en-place race, and all bets are off. For the first time since at least two weeks ago, the contestants will intermingle, new and old chefs alike. "At this point in the competition, I'm nervous as all heck!" chirps Amanda, with the disarming intensity of a labradoodle. I think it is safe to say she speaks for us all.
And we're off! The chefs parade into the arena, where they are met by celebrity chef and guest judge Chris Cosentino, best known for his preparation of innards and also for eliminating John back in season ten for popping a sunny-side egg on top of something (you had to be there, I guess). John remembers. John will never forget. Alas, there is no time to dwell on past sorrows, because Padma announces it's time to draw knives. "Uno," says John, who has also not forgotten his high-school Spanish. "Two's my lucky number," whispers Brooke, clutching her blade. Chris Cosentino walks us through the places they'll be miseing: in teams of seven, they will have to peel and mince five ounces of garlic, peel and dice two quarts of onions, properly turn three artichokes, peel and de-vein 30 shrimp, shuck 15 clams, and find a partridge in a pear tree.
Since Brooke is ready to compete under the stress of Top Chef, she volunteers to be one of the two Blue Team chefs responsible for actually cooking something in the challenge. Since Sheldon is ready to dice onions, he volunteers to dice onions. Meanwhile, everyone on the Green Team fights over who gets to de-vein the shrimp, except John, who agrees to deal with the surprisingly large clams. "Are you comfortable doing that?" worries Katsuji, who once had an unfortunate encounter with a clam and has not been the same since. Here's the twist: Whichever team finishes their mise-en-place first will get to press a giant pause button on the opposing team's station, at which point the losing team will have to freeze for three minutes, thus giving the winning team a three-minute advantage. Padma, who's gone real casual tonight, looks utterly delighted at having concocted this plan. Chris Cosentino looks like a gym teacher.
"Oh my God! Go! Go!" cheers Shirley. Katsuji informs us that his first job in Mexico was chopping 50-pound bags of onions, so obviously he's going to be first at chopping onions, which he is. But his triumph is short-lived, because Chris Cosentino smugly informs him that his quarts are in fact not full, and so he must keep chopping forever. "To the top!" bellows Chris Cosentino. Katsuji finishes, but the glory is gone. Then Sheldon finishes his onions and also cleans his station, which isn't even part of the challenge, but Chris Cosentino is summarily impressed. Sheldon, Boy Scout that he is, moves on to helping Emily mince her tiny vat of garlic. It's neck and neck, and in the end, it comes down to the clams. And the Green Team takes it! John sprints across the kitchen floor and presses the Blue Team's pause button with the joy of a toddler in an elevator. "Nooooooooo!" growls Brooke, as I often say to toddlers.
As the Blue Team stands in stony stillness, the Green Team springs into action. "We got this, guys! What's the plan? Stuffed clams? Loooooove it!" cheers Casey. Their clams are already happily broiling by the time the Blue Team is allowed to start frying their clams, which is also the only way to cook clams in 12 minutes. In the immortal words of Casey: looooooooove it! Then everyone yells at Amanda for a while, which I agree is tempting but is also unjustified, and finally Chris Cosentino gets to blow his whistle again, which is the main reason he is here. Time!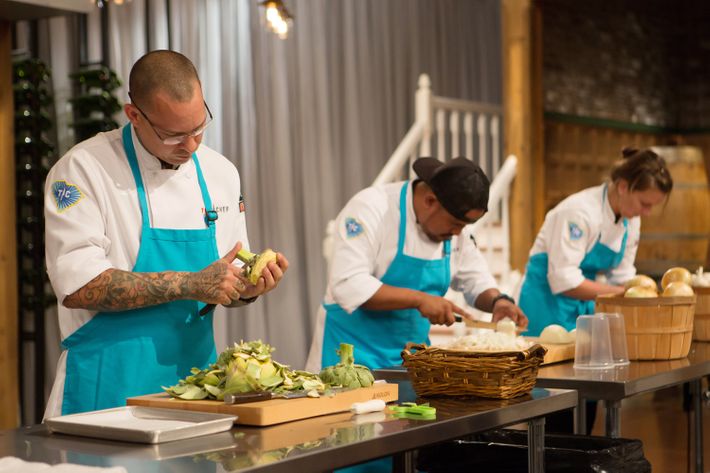 Sam presents for the Green Team, presumably on account of his face. (When do you think people on this show will develop personalities, I wonder? I think it will be around episode five.) Anyway, for the culmination of their mise-en-place race, Sam's Green Team is serving a simple stuffed clam with shrimp, fresh herbs, sambal, chili, fried artichoke, and bread crumbs. "I grew up in New England, so clams were my childhood," muses Chris Cosentino, cryptically. Sam is left to ponder that while Chris and Padma wander over to the Blue Team, which is offering fried clam bellies and shrimp with shaved raw-artichoke salad.
There is no deliberation. Chris Cosentino is a man who knows what he wants, and while he liked the Green Team's acidity and clam-cooking, he loves clam bellies, so the Blue Team wins, despite missing three of their minutes. He also crowns Sheldon MVP, because Sheldon helped his teammates in a way that "shows a real team leader." And his station was so clean!
How did everyone feel about their teams, Padma wants to know. Just kidding! Padma doesn't care, but the teams will stay the same for tonight's elimination challenge: a seven-course progressive meal served head-to-head to a room full of "Top Chef superfans," who will be directly comparing each course as it's served. Every dish that wins gets a point for that team, and the game ends when one team gets four points, like H-O-R-S-E, but with food and fewer letters. The chefs up for elimination will be the chefs from the losing team who also lost their battles. Why is it all so complicated? Padma is doing so much explaining tonight! Presumably that is why she wore such comfortable clothes.
There's more! Each course must include Chris Cosentino's mysterious favorite ingredient, which is … the humble radish! "Radishes are also one of my favorite ingredients!" exclaims Brooke, revealing an enormous radish tattoo on her arm. I believe her. I believe she is passionate about radishes. And there are so many kinds of radishes! There are daikon radishes and watermelon radishes and radish microgreens and breakfast and Easter-egg radishes. "The trick of this challenge," philosophizes Jamie, whose primary trait so far is still his neck tattoo (it is not a radish), "is that radishes can be strong, they can be very peppery, and if you don't use them properly, you can blow somebody's palate out pretty early in a tasting menu."
Did Chris Cosentino mention that the meal must finish with a requisite radish dessert? (It must finish with a radish dessert.) "I kind of want to do dessert," whispers Brooke, who lost in the finals in Seattle before anyone even got to taste her dessert. "Everyone seems scared to do a dessert, because it's radishes," explains Silvia, who has also volunteered to make an apple yogurt cake, but with radishes. "It's go radish or go home," says Sam, tossing loaves of brioche into his Whole Foods cart for his unconventional twist on bánh mì (feat. radishes). Elsewhere in Whole Foods, Amanda is talking to a box of fish fillets.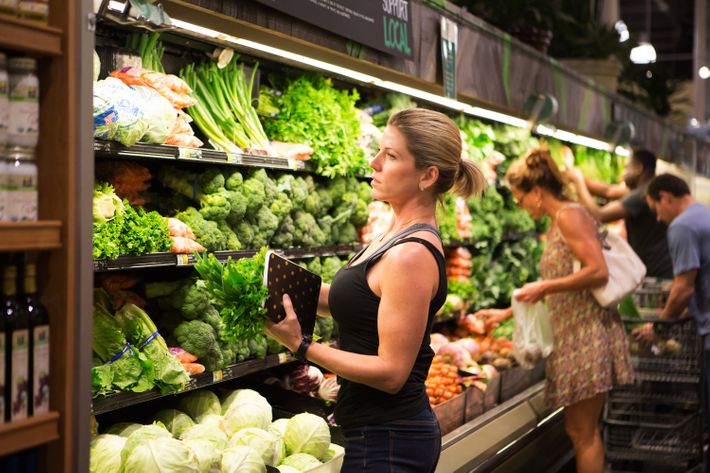 There are so many dishes it's almost impossible to keep track of them all. Sam (Green Team) has invented a brioche-and-radish bánh mì; Casey (Blue Team) is slicing daikon so it looks like scallops; Sylva (Blue Team) is working on a halibut-and-tomato-water extravaganza with daikon; John (Green Team) is in the middle of radish ramen with radish sriracha; Brooke (Blue Team) is cooking up a radish panna cotta; and BJ (Green Team) is doing something with trout that otherwise has no distinguishing characteristics. Other people do other things! (They all involve radishes.)
"At this point, everybody's equal," explains John, the circumstances of the episode slowly dawning on him. "Forget about rookies and veterans. Everybody's here to either win Top Chef or pack your knives and go home." You guys, this is what Emily has been saying!
As the chefs put the finishing touches on their (ra)dishes, the Top Chef superfans meander toward their seats. Padma will now take this opportunity to explain the judging process by voice-over, whereby the winner of each round is determined by five votes: one from the fans, one from her, one from Tom, one from Chris Cosentino, and one from our old pal, the festively shirted Richard Blais.
Here is what happens:
First Course: Emily (Blue Team) and her black-radish cured salmon versus Sam (Green Team) and his radish bánh mì on brioche.
Winner: Emily.
Second Course: Jim (Blue Team) takes his grilled radish with oyster emulsion, pickled mushrooms, and radish tops up against Katsuji (Green Team) and his crab-salad enchilada wrapped in a radish tortilla.
Winner: Katsuji.
Third Course: Jamie (Blue Team), who did braised French breakfast and pink radishes with red-miso emulsion and kale chips, versus BJ (Green Team) and his radish-trout festival.
Winner: Jamie, though both guest judges dissent.
Fourth Course: Sylva (Blue Team) and his berbere-rubbed halibut with tomato broth and dashi-braised daikon takes on Casey (Green Team) and her radish scallop with sweet-corn yogurt sauce, pickled radish, and salsify.
Winner: Sylva. (Casey is shocked.)
Fifth Course: Shirley (Blue Team), with beef-braised daikon, misshaped pasta, toasted walnuts, and daikon greens, versus Amanda (Green Team), who has a roasted black cod with black-radish purée.
Winner: Amanda!
Sixth Course: Sheldon (Blue Team), who did adobo radish with radish porridge, goes head-to-head with John (Green Team) and his radish ramen with radish custard and radish oil.
Winner: John! It is almost as though the tides are turning. (They are not.)
It's a tie with one round to go, which means it all comes down to dessert.
Seventh Course: Brooke (Blue Team), with purple-daikon panna cotta, served with sour pineapple curd, white-chocolate Pop Rocks, and pineapple black-radish juice, versus Silvia and her daikon-radish cake.
Winner: Brooke, because hers was exquisite, while Silvia's was only extra great.
And so the Blue Team takes it! Once a winner, always a winner, as I like to say.
"Chefs, I gotta say, that was the best meal I've ever had on Top Chef," coos Padma. Tom, who is now experimenting with henley tees, is in agreement. But while all the radishes were delicious, some radishes were more delicious than others. And the winner is Brooke, with what Tom says may be the best dessert in all of Top Chef history. The real question is whom to eliminate. "How the heck do you send someone home for that meal today?" asks Padma, with a tone that resembles passion. That will not be a problem for Tom. Yes, BJ's troutfest didn't pop, but Sam's bánh mì wasn't even bánh mì! "It should have been — BAM! — there's bánh mì, right in your face!" cries Chris Cosentino, with unexpected violence. With that, it is over: BJ is in, and beautiful, beautiful Sam is returned to his upcoming healthy-fried-chicken restaurant in Brooklyn. "This sucks," says Tom, assuring him of a very promising career on "Last Chance Kitchen."
Next week, a very special holiday episode in which Jim has an encounter with a melon baller and Amanda dissolves into a whirling ball of primordial dust!