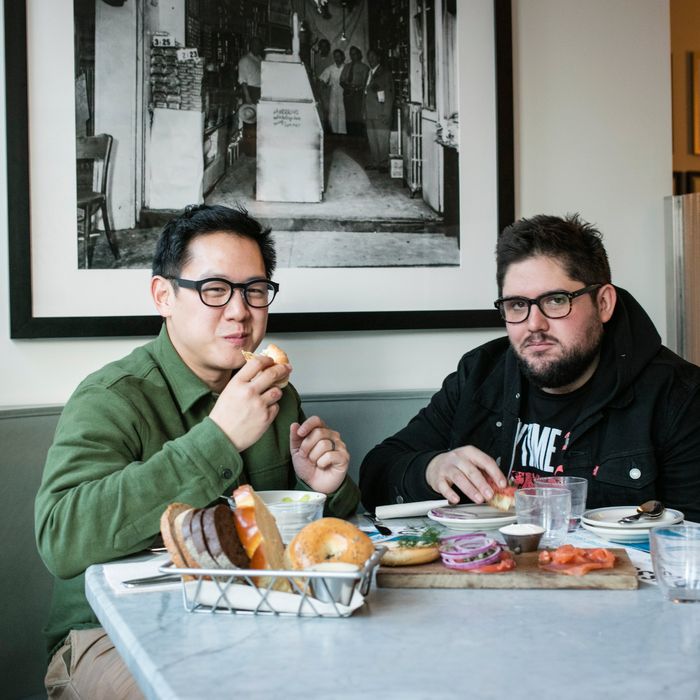 Stone (left) and von Hauske, at Russ & Daughters Cafe.
Photo: Melissa Hom
The food world is full of famous partnerships: Batali and Bastianich, Vinny Dotolo and Jon Shook, McCormick & Schmick, Mike & Ike — the list goes on. But perhaps no food duo spends more time together than Jeremiah Stone and Fabián von Hauske, the chefs behind New York's Contra and Wildair, who not only work together but also spend most of their free time together, too. "We eat all of our meals together," von Hauske says. Stone puts it more simply: "We're family." As such, it made sense that they requested to file this week's edition of the Grub Street Diet (filled with lots of tacos and piña coladas) jointly. Grub was happy to oblige.
Friday, December 16
Fabián von Hauske: We went to Tompkins Square Bagels, which is a block away from where I live. We sometimes meet there to have breakfast. Jeremiah has Taylor ham and cheese with a sesame bagel. I had a bacon, egg, and cheese. We always go there. They make their own bagels.
After that we were at work. Jeremiah made a lamb-and-seaweed soup with lobster dumplings with the lobster we had leftover, so we had a fancy family meal.
We worked service and at night we went to Suffolk Arms. It's our neighborhood bar. We usually have a plate of their disco fries, which are super naughty with short ribs and a ton of gravy. And we always get piña coladas there. That's our diet: piña coladas and disco fries.
Saturday, December 17
Jeremiah Stone: We went to Russ & Daughters for a meeting. The Cafe is right across the street, so we're friends with the whole family. We go there a lot. We had this off-menu thing called the Viking. It's a latke with smoked salmon, apples, and some sweet-mustard sauce. It's really good. I always get matzo-ball soup, literally, every time I go, so I had matzo-ball soup. It was a meeting, but we had a ton of food, actually. They also sent out halvah ice cream as we were standing up, so we had to sit back down and finish that.
Then we had to work service. On Saturdays we do a joint-family meal with Wildair and Contra. I made a big vat of Texas-style chili and a lot of different things to go with it: Frito pies, hot dogs, waffle fries. So everyone could make their own chili plate.
After service we went to the third floor of the Spotted Pig for a friend's birthday. We had some Sapporos and Negronis there before we ran into a friend of ours who's a musician, and ended up going to a house-music party, which was funny because we don't go out, ever.
Sunday, December 18
JS: I was pretty beat from that night, so I slept until three while Fab went to brunch.
FVH: I went to Sunday in Brooklyn, on Sunday, in Brooklyn. I had their egg-and-pork sandwich. It's pork sausage with scrambled eggs. And they do shoestring fries. Our friend Jaime is the chef there, so he sent out a bunch of stuff like pancakes, avocado toast and some other stuff. After that I went to the Commodore and had some more piña coladas. That's my drink of choice of these days.
JS: We've been drinking piña coladas for the last seven, eight months at least.
FVH: That night we had our holiday staff party, and threw it at Contra. Jeremiah made tacos with braised pork. And Prince Street Pizza. Everytime someone comes to town. We got — what do you call it? The one with breadcrumbs.
JS: The sfincione. They call it the Broadway Breadcrumb, but it's a sfincione. And we had piña coladas at the party, too. We made our own.
Monday, December 19
JS: We went to the market in the morning, and Cosme for lunch. Fabián grew up with Enrique [Olvera, Cosme's chef], and they've been really good to us. We stopped by, hung out with the crew there. We ordered the short-rib tacos, which were good.
That night we had an event. There was a buyout at Wildair, so for family meal we ate the tacos that we had from the night before because we'd made so much. And after the event we went to watch the new Star Wars, so there was a little popcorn with that midnight-movie action.
Tuesday, December 20
JS: Our friend who makes wine was in town, so we took him out for Chinese. We tried to go to the new dim sum place Tim Ho Wan, and obviously we got shut down because there was a three-hour wait. So we to Wu's Wonton King. We go there a lot with our wine director to get congee and suckling pig.
We went to Russ & Daughters, again, and got a quick bagel for a laterish lunch. Then we went to work. What did we have that day for family?
FVH: Chicken-fried rice. Pretty straightforward. Our sous chef at Wildair always makes fried rice. He just changes the meat. It's always fried rice.
JS: Afterwards we went to 7-Eleven and I had a hot dog. Pretty naughty. I was going to get a slice, and I decided it'd be unhealthy, so I went to 7-Eleven to get a water, and then ended up getting a hot dog. It was the big one, like the quarter-pounder. I'm pretty sure at least 80 percent of it was water. And the guy argued with me about giving me a bun! He tried to just put the hot dog in the bag and hand it to me, but I wasn't having it.
FVH: I just got a bag of pita chips.
Wednesday, December 21
JS: Fab dislocated his shoulder, so I took him to emergency care. While I waited for him, I got really hungry. I went next door and had dumplings at a bubble-tea place. It was the closest thing, and I didn't want to leave because I didn't know how bad it was or how long it would be. I ended up having a taro bubble tea and some pork-shrimp dumplings that were, you know, pretty unremarkable. I don't think he ate anything.
FVH: An Oxy and some anti-inflammatories for the shoulder. Tonight, I'm leaving to go to Orlando, to Disney. It's a family trip.
JS: If we tracked what we'll eat next week, we could have included the big turkey leg you're going to have while you're there.
FVH: Turkey legs are in order, even with the shoulder. I'll just have to hold it with the other hand.