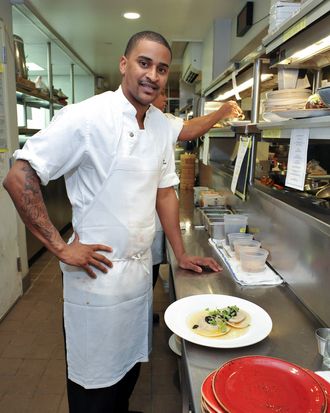 Chef Johnson will shift his attention to nearby Minton's.
Photo: D Dipasupil/Getty Images for Harlem EatUp!
In 1974, a fire burned down the Hotel Cecil in Harlem — home to legendary jazz club Minton's Playhouse. Thirty-nine years later, in 2013, businessman Richard Parsons and restaurateur Alexander Smalls opened two businesses in its place: Minton's, a bar with live music and snacks, and the Cecil, a full-blown, 200-plus-seat restaurant. With young chef Joseph "JJ" Johnson at the helm, cooking "Afro-Asian-American" food, the Cecil earned rare, and near-constant praise: Esquire's Restaurant of the Year award; several glowing write-ups in the New York Times, plus attention from the The New Yorker and CBS. It comes as (yet another) surprise, then, that the Cecil will close at the end of December — just a few months after Johnson overhauled the menu. The team has decided to consolidate and turn Minton's into a proper restaurant, led by Johnson.
"You go and dine at the Cecil and then hang out at Minton's, and that's always been the model," Johnson explains. "And over the last month, the conversation has been: 'What if we took the great cooking style of the Cecil, and paired it with the amazing jazz inside the Minton's room, so everybody could get the ultimate Harlem experience?'"
Johnson envisions the "new" Minton's, which will debut on January 6, as a hybrid of the two restaurants, and he'll bring along some of his most-loved dishes at the Cecil: oxtail dumplings, the collard-greens salad, and a gumbo that represents how he celebrates the diverse foods of the African diaspora, with smoked chicken, Chinese-chicken sausage, gulf shrimp, and crab meat.
Even though Johnson has come to serve as the public face of the restaurant, he's still employed as a chef, and has no ownership stake. That means he's not the one ultimately calling the shots on the business side, but he says that he doesn't believe financial concerns motivated this decision. The team will also utilize the Cecil's space for weddings and other large-scale events. "That's when it becomes a numbers game — focusing on the restaurant on one side, and doing really large parties on the other side," he says. "And for me, this makes sense, because I think every chef's dream is to cook in a smaller restaurant, and to put out the best possible food."
Although Johnson built his reputation on the Cecil's success, he says he's mostly just excited for the changes. "It'll still be me cooking at Minton's!" he says. "I'm really grateful for everything that has happened at the Cecil, but, realistically, you just have to go 50 feet down the street to walk through the Minton's door. It's just a matter of: How do you make the business better? What are the demands of the customer? We're focusing on what we do best, and where we can do that the best."