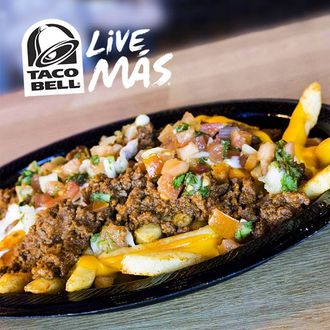 Technically this is the U.K. version, but just remove the meat and you're set.
Was the specter of no French fries the singular thing that kept you from eating Taco Bell for lunch today? Well, then America's favorite identity-crisis-having chain has great news for you: It is testing those very fries.

Brand Eating reports fries smothered in nacho cheese sauce and other vaguely Tex-Mex trappings are being test-driven in at least one California Taco Bell near the UC Irvine campus. They're a long time coming: The Bell has sold fast food's most obligatory side item for ages in other countries, and the chain has even suggested it'd consider introducing them at home if tests showed they were a hit. Although that seems like a near-certain "if," given their popularity in other countries — Canada has a poutine-esque iteration, Guatemala's come with ground beef, and Japan even features a "shareable" size slathered in green onion and nacho cheese.
Somehow, the version Americans ended up with is a comparatively boring one that comes "Loaded," i.e., with the cheese–sour cream–tomato treatment Taco Bell gives its Nachos Supreme:

In what could've been a win, the fries themselves are reportedly coated in a habanero seasoning, but Brand Eating hears it isn't "all that spicy." To cater to all three of the people who've ever ordered Taco Bell's tortilla chips without any nacho cheese, the chain's theoretically also letting customers order the fries sans all toppings for just 50 cents.