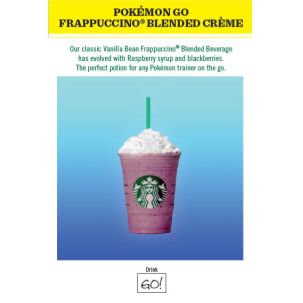 Go catch it, or something.
According to a leaked memo published yesterday on Reddit, a few changes are in store for your local Starbucks, starting tomorrow. For one, "the majority" of U.S. locations are being "turned into a PokéStop or Gym" as a way of appealing to whatever subset of the population still plays Pokémon Go. Secondly, a brand-new Frappuccino is supposedly debuting for just this select group — essentially a Vanilla Bean Frap blended with raspberry syrup and "freeze-dried whole blackberries," seemingly a nod to the game's Razz Berries.

As part of the deal, you may have no choice but to use Pokémon Go to get said Frappuccino. This is somewhat unclear, actually, as later in the memo it says "any customer who visits" can order one, but that's right after clearly laying out that the drink was "designed exclusively for the game," and will pop up in the store's Gym or PokéStop like, one assumes, a run-of-the-mill Bulbasaur or Squirtle. Trainers have to "unlock" the beverage, maybe resulting in a promo code or something, Redditors are guessing, that lets players purchase the actual drink, as well as claim "a rumored-to-be UNRELEASED Pokemon" (hence why that r/pokemongo page now has hundreds of comments).

It's possible the whole thing could be timed to coincide with a big Pokémon-character release, and Starbucks warns employees that "our participation in the game will encourage more customers to visit your store and increase the number of transactions." It's similar to the deal McDonald's Japan struck with Niantic, the game's developer, that drove that arm of the burger chain's stocks sky-high, but just for a few months during the initial craze, so a big draw Stateside four months later seems … unlikely. In fact, Starbucks isn't sure all its partners even know what a Pokémon is — a glossary of "key words" included for baristas suggests thinking of them as "virtual creatures of all shapes and sizes that live in the wild or alongside humans."