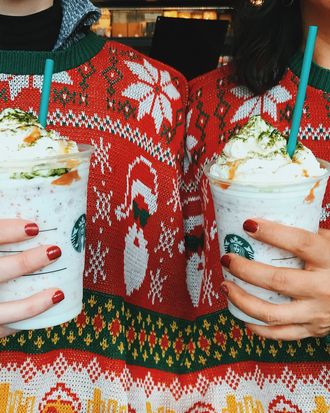 If you want to get in the holiday spirit, just drink some eggnog.
Photo: Starbucks
Starbucks absolutely cornered the lucrative market of mixing coffee with seasonal dessert flavors. There is of course the famed Pumpkin Spice Latte — the novelty drink that launched a thousand knockoffs — and also-rans like the Gingerbread Frappucino and Peppermint White Chocolate Mocha. Now the chain has created a follow-up in keeping with the tradition of mixing coffee with a classic sweet that people don't actually love all that much. Meet the Fruitcake Frappuccino.

The coffee equivalent of your cousin's terrible reindeer sweater is made by blending a Hazelnut Creme Frappuccino with dried fruit and cinnamon. That's then topped with whipped cream, caramel, and — inexplicably — a little dusting of matcha. Hey, who knows, you might love it, and since you probably still have a couple bucks left on the gift card you got for Christmas last year, you may as well give it a shot.