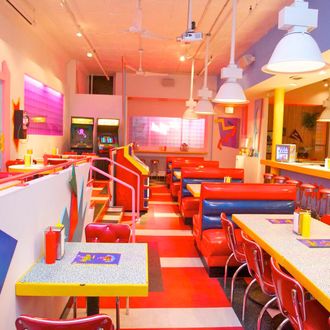 Photo: Courtesy of Saved by the Max
Saved by the Max, Chicago's insanely popular re-creation of the Bayside High gang's favorite hangout, the Max Diner, has announced it's departing the Windy City for a cross-country tour. An announcement tweeted by the restaurant has none other than Mr. Belding on hand to give the important news, meaning the restaurant could be safely and responsibly landing in a city near you very soon:

Where exactly is still up in the air. The restaurant says it will stick around in Chicago for one more "semester" (that would be May, which also aligns with the official SBTB school calendar), but that superfans should start campaigning now if they want to eat Mac and Screech while swooning over Zack Attack in their hometowns. The operation's masterminds seem pretty pumped about the tour. Like Zack always said about graduating high school, the best thing is once you leave, you don't have to come back.