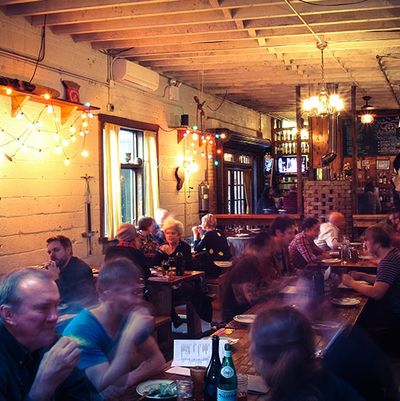 Really?
Photo: Courtesy of Roberta's
The outrageous and dangerous Pizzagate hoax inspired a gunman to show up at Washington, D.C.'s Comet Ping Pong, and now it's affecting a New York pizzeria. Internet conspirators, DNAInfo reports, have decided for some reason that Bushwick's Roberta's is also connected to the fake anti-Clinton conspiracy, and the restaurant's staff are now receiving death threats.
According to police, on December 1 an employee who picked up the restaurant's phone was told, "you are going to bleed and be tortured." A YouTube video that has been viewed over 10,000 times was published that day, and purports to link Roberta's to the conspiracy via images published to its social-media account. The user behind the video made another one about an Amherst, New York, pizzeria.

Staff reported a similar call on December 2, when someone asked if the pizzeria was connected to the website that published the fake news. No arrests have been yet been made. Considering what happened in D.C., this is a serious issue and it's not like Roberta's, which has been plagued by a bitter legal battle and other issues, needs any more problems.