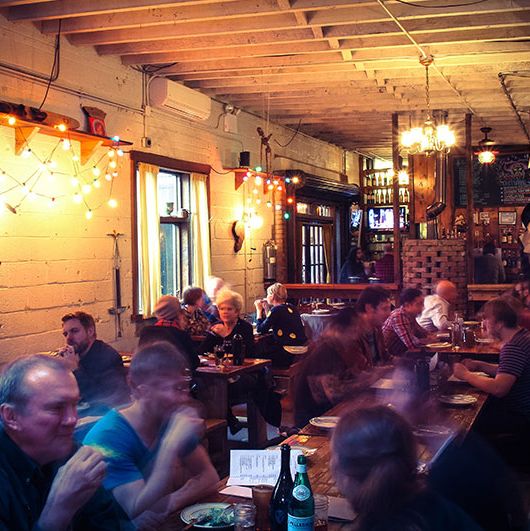 It used to be so innocent.
Photo: Courtesy of Roberta's
Roberta's, the Platonic ideal of a "Brooklyn" restaurant, has been embroiled in serious drama for the last year, with its founders locked in a bitter lawsuit, allegations of wage violations, and evidence of unpaid back taxes. The founders' legal squabble has moved forward, and the testimony is unsurprisingly as heated as a Stefano Ferrara oven.
Owners Brandon Hoy and Carlo Mirarchi alleged that their estranged partner Chris Parachini's hot-headed behavior — yelling homophobic slurs and pounding his fists on tables — caused employees to walk "on eggshells." Hoy also alleges that Parachini made them put a mistress on the payroll, with Hoy saying "there'd be hell to pay" if they didn't go along. That said, Parachini's attorney Derek Wolman deemed Hoy and Mirarchi's testimony a "gross mischaracterization."
And all this drama has not come without costs to the staff, too: Earlier this year, in a surprising move, it was revealed that Roberta's would take on a significant investment from Michael Tisch. That caused some staff to exit the building, including its well-regarded wine director Amanda Smeltz. And just before Thanksgiving, Roberta's lost one of its most essential figures in Anthony Falco, the man who defined the restaurant's gonzo pizza style, the most imitated aspect of the restaurant, thanks in part to the toppings-happy approach Falco perfected.