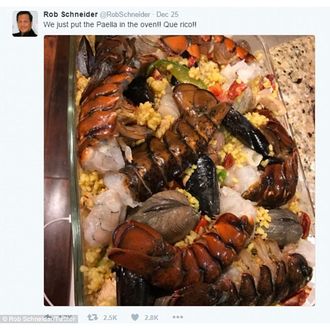 Woof.
Photo: Rob Schneider/Twitter/Rob Schneider/Twitter
Christmas is a time to cook for loved ones … and then show off on social media. Rob Schneider — the actor who made a name for himself on Saturday Night Live, but hasn't had a hit movie in years — did just that on December 25, posting a snap of what he called "paella" … about to go into the oven. Paella, of course, is not cooked in an oven (or with premade rice), leading Spaniards, home cooks, and the like to attack Schneider on Twitter. Even José Andrés chimed in:
And that's how yet another male-dominated food show gets made.