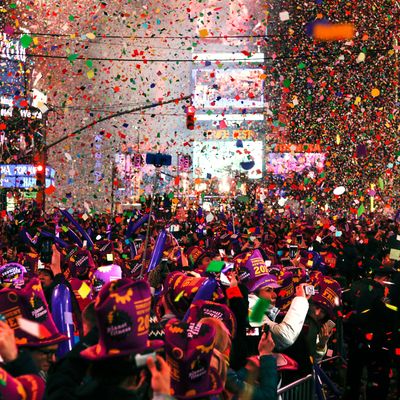 You'll have a much more pleasant night at any one of these restaurants.
Photo: Eduardo Munoz Alvarez/Getty Images
New Year's Eve is supposed to be all fun and games, but expectations can turn it into an unnecessarily stressful night. Where to go? What to do? Party or no party, there are tons of excellent restaurants where you can have a memorable last meal of a year many are eager to say goodbye to. Here, 35 restaurants in New York where you'll absolutely have a great New Year's Eve.
Agern
Price: $195 for 10 courses during early seatings (5:30 to 6:30 p.m. reservations) or $225 for 12 courses during later seatings (8:30 to 9:30 p.m. reservations), $125 wine pairing or $85 non-alcoholic pairing
Claus Meyer's restaurant is doing a blowout dinner with langoustines with pine, venison with caramelized cream and juniper berries, caviar and langoustine, various desserts, and more.
Augustine
Price: $300 for tasting menu
Keith McNally's newest restaurant will serve a special tasting menu with caviar and smoked-salmon gougers, foie-gras torchon with vanilla, wagyu sirloin with oxtail daube, and the obsessed-over Vacherin for a cheese course. There will be seatings at 9 p.m., 9:30 p.m., and 10 p.m.
Aquavit
Price: $175 for eight courses and $295 for wine pairing from 6 p.m. to 7:30 p.m., $275 for food and $395 for wine from 9 p.m. to 11 p.m.
The Scandinavian restaurant will say good riddance to 2016 with a luxe menu featuring Kristal caviar, honey squash with truffles and sea urchin, lobster with bisque, and Saint Maure, a dessert of salted pear, hay, and honey. There will also be live music from 7 p.m. to 1 a.m.

Benoit
Price: $140 for four courses
At the midtown bistro, there will be an amuse-bouche of artichoke with an herb condiment, roasted sea scallops with black truffles, red snapper with citrus sauce, squab with seared foie gras, and a chestnut-clementine contemporary Vacherin.
Café Altro Paradiso
Price: $85 for four courses during first seating, $120 for four courses during second seating
At Ignacio Mattos and Thomas Carter's Soho restaurant, they'll serve appetizers like fish crudo and chicory salad and pastas including agnolotti in brodo and lasagna with squash and fonduta. There will be guinea hen with black truffles and pesce al cartoccio for entrees and desserts like lemon crostata to finish the meal.
The Cecil
Price: $65 for three courses at or before 8 p.m., $90 for four courses at or after 9 p.m.
Harlem can say goodbye to the Cecil while ringing out 2016. Dinner before or at 8 p.m. is three courses, plus biscuits to start, and will include options like short-rib toast, crab fritters, braised pork shank, and goat-cheese cake. After 9 p.m., there will be an additional course of the restaurant's popular oxtail dumplings with green-apple curry.

Cherche Midi
Price: $135 for three courses with Champagne pairings
Over on the Bowery, kick off your last meal of the year with either a foie-gras terrine with huckleberries or escargots à la Bourguignonne. Entrée options include a white-truffle risotto with castelrosso cream, butter and sherry-poached lobster, and New Zealand venison, and dessert means Sauternes custard or chocolate dacquoise.
Diner
Price: À la carte
Hit up the retro diner on Williamsburg's south side for specials like caviar with brown-butter crêpes; a lamb plate with rack, saddle, and sausage; and beef bourguignon.
Eli's Night Shift
Price: Entry is free, à la carte
Can you do without pomp and circumstance? The bar from grocery czar Eli Zabar will keep it simple on New Year's Eve, serving a Champagne toast at midnight, a special cocktail, and by showing the ball drop on a projector.
Edi & The Wolf
Price: $69 for three courses
Head to the East Village and pretend you're in Vienna. After an amuse-bouche of blini with hackleback caviar, have an appetizer of fresh-pea soup with ham hock or veal blanquette tagliatelle with Parmesan crisp. Entrées include braised ossobuco and pan-seared scallops with onion soubise, and dessert is your choice of apple strudel with crème anglaise or a sachertorte with whipped cream.
El Atoradero Brooklyn
Price: À la carte
Already booked for the night, but looking to fortify during the day before the evening's festivities? The Prospect Heights restaurant will extend its brunch service until 5 p.m., giving you plenty of time to have a late lunch of carnitas tacos, a chorizo-and-potato sandwich, or chilaquiles.
Eleven Madison Park
Price: $325 for six courses and $175 for wine pairing during the first seating, $675 for nine courses and $295 for wine pairing with midnight toast during the second seating
The elegant tasting-menu restaurant will serve dishes like its black-and-white cookie with apple, foie-gras terrine with maple syrup, lobster poached with white truffle, beef Wellington, and its milk-and-custard dessert with bee-pollen ice cream. The second seating menu is a touch more luxe, with three additional courses including a sea-urchin "cappuccino" with peekytoe crab, turbot poached with truffle and celery, and an assortment of mignardises to finish the meal.

Fancy Nancy
Price: $60 for four courses during the first seating, $75 for four courses and Champagne during the second seating
The owners of this Bed-Stuy restaurant want you to have fun, which is why they're offering "Champagne until we kick you out" during the second seating. Dinner means deviled eggs with crispy potato, masa-fried shrimp with tomatillo mocktail sauce or duck confit salad, beef brisket en croute or miso bluefish, and a dessert of chocolate-cherry cheesecake ice cream.
Faun
Price: $100 for three courses, $45 optional wine pairing
At the Italianish spot in Prospect Heights, they're serving roasted oysters with Parmesan cream and fluke crudo to start, pumpkin tortelli and duck-liver ravioli for a second course, and beef cheek with polenta popover and celeriac with truffle fonduta for the main show.
Flora Bar
Price: $165 for six courses
If you're uptown and want the Estela treatment without having to travel downtown, head to the Met Breuer. The six-course dinner will feature dishes like a sea urchin and lobster wrap, tuna tartare with black truffles, duck breast with greens and chestnuts, and date cake with sabayon and pears.
F.O.B.
Price: À la carte
The barbecue-focused Filipino restaurant will keep things casual and serve its usual menu of overnight chicken adobo, grilled spare ribs, chicken and pork skewers smothered in Filipino barbecue sauce, and more.
Freud
Price: $60 for four courses
At the Austrian brasserie, dinner starts with either pear and chicory salad or foie-gras mousse with Yorkshire popovers. For a second course it's butternut ravioli or seared scallops with celery-root purée, and the entrée is a New York strip with pommes mousseline or Icelandic cod. Dessert means a sachertorte or tiramisu.
Hao Noodle and Tea by Madam Zhu's Kitchen
Price: À la carte
In the West Village, the Chinese import will serve specials like salted chicken, Cantonese beef ribs, and shrimp wonton.

Harold's Meat + Three
Price: $165
At Harold Moore's Southern restaurant, they're keeping it classic with appetizers like shrimp cocktail and seared foie gras, a mushroom casserole with truffles and prime rib for entrées, and a spread of holiday cookies and cake for dessert.

Hart's
Price: $75 for five courses
The cozy wine bar will certainly be a pleasant place to say goodbye to 2016. Dinner here means marinated mussels and oysters and small plates like a Spanish tortilla with aioli and caviar and marinated artichokes with olives and dolmas.

Le Coq Rico
Price: $135
Before 8 p.m., the restaurant's regular menu will be served. Afterwards and until midnight, there will be a special six-course meal that starts with a foie-gras tartine and oysters baked with truffle butter. That's followed by frogs'-legs chervil soup with egg ravioli, chicken and lobster bisque, a stuffed goose, and a chestnut ice-cream yule log.

Mermaid Inn
Price: $55 four courses at the downtown locations, $75 for five courses on the Upper West Side
It's happy hour at the seafood spot's three locations from 4 p.m. to 6:45 p.m., after which it will start serving a prix fixe. Uptown there will be an "everything bagel"–cured salmon and roasted scallops, while there will be crab cakes in the East Village and broiled barcat oysters in the West Village.
Mama Guidara's at the Nomad Bar
Price: $125 from 5 p.m. to 9 p.m. or $175 from 9 p.m. to 11 p.m.
Sundays at the Nomad Bar means red sauce, and they'll keep that up with antipasto, Caesar salad, baked clams, and meatballs. For your entrée, it's chicken in classic preparations like Parmesan, marsala, and piccata, or spaghetti with cacio e pepe or marinara sauce. Dessert means, of course, tiramisu and cannoli.
Momofuku Ssäm Bar
Price: From $115 to $130 with various prix fixe options, depending on party size and inclusion of large-format meals
You won't be without options at David Chang's second restaurant, where the special menus feature dishes like beef tartare with shrimp crackers, smoked-beef short rib, and country ham with his classic red-eye mayo. Bigger groups will get to indulge in one of the restaurant's large-format meals including the recently introduced seven-spice brisket ssäm.

Má Pêche
Price: $115 for a five-course tasting menu for parties of one to eight, $115 for a five-course family meal for parties of nine or more, and $75 for an optional beverage pairing
The prix fixe dinners here will include dishes like sirloin beef tataki, cauliflower custard with yuzu, charred octopus with aqua chili, roast pork rack or pork-rack char siu, and ricotta cheesecake.
Marlow & Sons
Price: À la carte
Say sayonara to 2016 with seafood towers of lobster, uni, littleneck clams, and optional caviar. Lobster-tails, dry-aged rib eyes, and Champagne will all be available in abundance during the two seatings from 6 to 7 p.m. and after 9 p.m.
Narcissa
Price: $95 for five courses and $45 for wine pairing during first seating, $175 for five courses and $55 for wine pairing during second seating
Dinner at the Standard's restaurant starts with an oyster-shooter amuse-bouche, followed by appetizers like winter-green salad and chilled lobster. Second courses include pan-seared scallops and chestnut polenta, entrées mean halibut confit and fillet of prime beef, and dessert is your choice of bubbles and berries, drunken chocolate, or a sundae.

Nishi
Price: $110 for four courses
David Chang's newest restaurant will serve a tasting menu featuring its signature butter noodles, a cacio e pepe riff made with its chickpea hozon. There will also be beef carpaccio with ponzu, a seafood bento box for two (an additional $10), and entrées like smoked duck breast with Sichuan sweet-and-sour sauce and an okonomiyaki with pumpkin mélange. For dessert, there's soy-cream brûlée, an apple tart for two, and its much-talked about pistachio Bundt cake.

The Nomad
Price: $145 for four courses during first seating, $225 for four courses during first seating
Daniel Humm and Will Guidara's restaurant in the Nomad Hotel is a great option if you want to go extra-fancy. Kick off dinner with a seafood tower, followed by appetizers like foie gras with beef carpaccio and black-truffle tortelloni with celery root. Entrees include lobster poached with citrus monte and bone-marrow-crusted beef, and you'll finish with desserts like a milk-chocolate ganache with malted ice cream and an orange Creamsicle.
Ops
Price: À la carte
What better way to celebrate the New Year than with pizza and wine? Along with food specials on oysters, calzones, pies, and beef stew, the Buswhick restaurant will serve lots of special wines by the glass including a Nathalie Falmet Brut Nature Champagne.
Pizzeria Sirenetta
Price: $55 for four courses
At the Upper West Side Italian restaurant, your prix fixe will include appetizer choices like scallop crudo or seared pork sausage. Pizza is the second course, either with spinach or tomato and fennel sausage. For your main, there will be cacio e pepe, grilled branzino, and Barolo-braised short rib, and dessert is a red-velvet cupcake.
Porchlight
Price: $170, all inclusive
From 9 p.m. to 2 a.m., Danny Meyer's Chelsea bar will throw a cocktail party, Camp Porchlight, inspired by childhood camp experiences. There will be food like hot dogs and packed lunches and drinks including the Cabin Fever and Adults Only Hot Chocolate, plus bluegrass, games, and more.
Raines Law Room
Price: $175 or $240 for VIP
The fancy midtown bar will throw a "Prohibition Party" starting at 9 p.m., with an open bar, punch, and live music.

Seabird
Prices: À la carte first seating, $75 for three-course second seating, $95 for four-course final seating.
Head here early if you want a more casual meal of your choosing. Afterwards, three and four-course meals will be offered. There will be dishes like tuna crudo, lobster risotto, and chocolate truffles.
The Smile
Price: $60 for three courses
At the low-key cafe, there will be a set menu with a choice of winter-green salad or campagne beets for an appetizer. The second course is za'atar-braised short ribs with truffled celery, cauliflower ossobuco with chermoula, or poached sole with steamed mussels and cockles. Dessert means a choice of meringue and mousse or pot de crème for dessert.
Reynard
Price: $115 for four courses
The Wythe Hotel's restaurant will go Southern for dinner. The meal starts with oysters with boudin blanc and appetizers like black-eyed peas with Carolina rice and chicken-fried foie gras. For your entrée you can choose from black sea bass with crab or a grass-fed steak with Henry Baine sauce, while dessert is a Key-lime fizz and red-velvet cake.