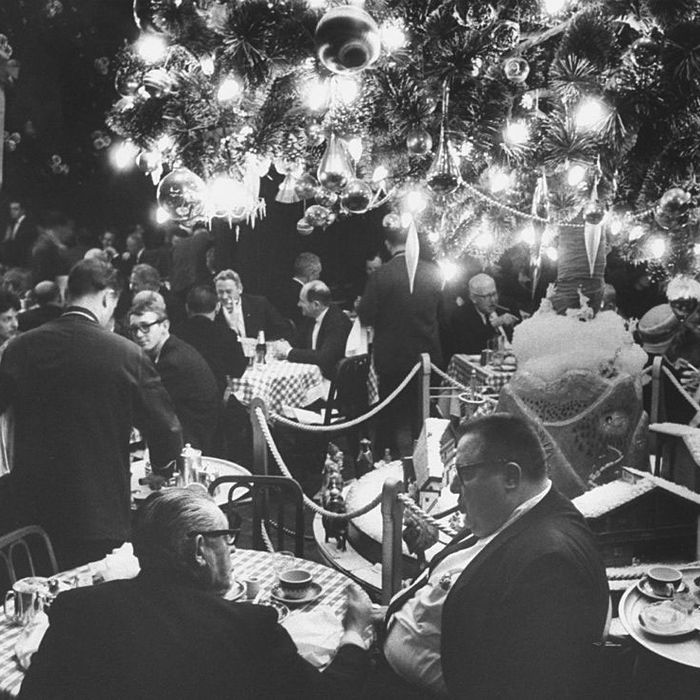 It's almost Christmas. Do you know what you're eating?
Photo: Leonard McCombe/Time & Life Pictures/Getty Image
Christmas is just a couple weeks away now. If you're stuck in the city, not celebrating, or want to take the year off from cooking, you're in the right place. Plenty of excellent New York restaurants are open for the holiday, whether just for Christmas Eve or for both days, and many are serving special dishes or menus. Some are sticking to their usual routine, if that's more your speed, but in any case Grub has done the work of finding the ones you should eat at. Here, 31 restaurants open for Christmas in New York this year.
Christmas Eve
Agern
Price: $125 for a family-style meal, $95 wine pairing and $65 nonalcoholic pairing
Do Christmas Eve the New Nordic way: salmon with smoked mayonnaise, herring with curry, chicken liver with quince, crispy pork belly with knotwood, red cabbage with pickled berries, and a dessert of berries with Dorothy Parker gin.
Craft
Price: $120 for three courses
The Flatiron spot will offer specials like fluke crudo, chestnut agnolotti with white truffles, duck breast and foie sausage for two, and a pair of desserts in a chocolate-chestnut torte and a Meyer lemon pavlova.

Dante
Price: À la carte
For a more festive party atmosphere, head to Macdougal Street, where they're serving specials like Uncle Angelo's eggnog and agave-glazed leg of ham.
Fancy Nancy
Price: $45 for 4 courses
Over in Bed-Stuy, they'll serve a tasting menu of smoked pumpkin soup with ricotta toast, marinated beet salad with tahini and quinoa, half a roast duck with miso-date purée, and very festive eggnog ice cream with Nutella and gingersnaps.
Gramercy Famer and the Fish
Price: $85 for four courses, $45 for children under 12
In keeping with its regular seafood focus, the restaurant will do the Italian thing and serve all sorts of fish family-style. There will be smoked mussels with chipotle butter, oysters casino, gnocchi with jumbo crab and uni, turbot and Manila clams with saffron, and more.
Hearth
Price: $96 for five courses, $54 wine pairing
In keeping with tradition, chef Marco Canora will serve his take on the Feast of the Seven Fishes. That means a marinated seafood salad with olives, linguine with littleneck clams, the fish stew called cacciucco, and a toffee date cake for dessert.
Indian Accent
Price: $95 for four courses
At the New Delhi import, dinner starts with sweet potato and papdi chaat followed by a duck khurchan mathri, a sort of salty cracker. That's followed by a family-style set of dishes including roast beef tenderloin with black pepper kurma, Kashmiri morels with green chili cream, tava bacon potatoes, butter chicken kulcha, and more. Dessert means an Old Monk rum ball and a fruit cake shahi tukda, an Indian bread pudding.
La Pecora Bianca
Price: $75 for five-courses, $40 wine pairing
To celebrate the holiday, the Flatiron Italian spot will serve hamachi tartare with blood orange, ricotta cavatelli with lobster, and a baked whole dorade with sunchokes. There's also migliaccio cake for dessert, and a prix-fixe menu of popular dishes from the regular menu.
L'Amico
Price: $98 for four courses, $60 for the wine pairing
Chef Laurent Tourondel will serve a prix fixe with antipasti like tuna crudo with Meyer lemon crème fraîche and lobster with burrata, and second courses including fontina cappelletti. There's roast filet mignon with balsamic cipollini and orata with Calabrian chili verde for entrees, and desserts include chestnut pavlova and chocolate-amaretto tartufo.
Kingsley
Price: À la carte
Head to the East Village newcomer for specials like a fish feast, roast lamb, goose with chestnuts, and house eggnog.
Marlow & Sons
Price: À la carte
The New American restaurant will go Indo-Mayalsian for the holiday, serving specials like lamb satay, grilled shrimp sambal, potato randang, and pineapple sorbet with lime and chili. To keep it festive, there will be tiki cocktails.
Maysville
Price: $45 per person
Dinner at the Southern restaurant starts with a raw seafood platter featuring Pemaquid oysters, poached shrimp with remoulade, and fluke tartare. The entree is a grilled snapper with smoked oyster chowder, and dessert means goat's milk cheesecake with apple and tarragon granita.
Momofuku Ssäm Bar
Price: $65 for three courses
The recently redesigned East Village spot will serve a set menu of honeycrisp apple kimchee with labne and jowl bacon, chawanmushi with chanterelle mushrooms and Asian pear, prime rib with pomme roti, and a lime and Earl Grey pie for dessert.

Morandi
Price: $80 for three courses
At Michael White's West Village restaurant, they're also doing a fancied-up Feast of the Seven Fishes. Dinner starts with either a cold seafood platter with dishes like marinated gamberi or a warm seafood platter with calamari alla livornese and crocchette di baccala. You'll choose between roasted lobster with garlic butter or spaghetti with sea urchin for your main, then finish with gingerbread cake with poached pear and gelato.
Paowalla
Price: $75 for four courses
Do Christmas Eve the Goan way. To celebrate, Floyd Cardoz will serve family recipes like Goan baked cakes, shrimp pilaf, and lamb-shank xacutti, a type of Goan curry usually made during the holiday. He'll also serve a traditional Goan dessert in Barkha's Goan Bibinca, a type of layered cake made with port plums and candied ginger.
The Red Cat
Price: $125 for whole menu or $18 per item à la carte
The Chelsea neighborhood spot is another to consider if you want a Feast of the Seven Fishes dinner. Dishes can be ordered individually or as part of a whole menu, with specials like salmon tartare with trout caviar, grilled octopus with red pepper panzanella, housemade tagliatelle with peekytoe crab, and crispy skate.

Union Square Cafe
Price: $175 for four courses
Danny Meyer's original restaurant is back for Christmas with a prix fixe that includes a roast goose.
Christmas Eve and Christmas Day
Aquavit
Price: À la carte on Christmas Eve, $52 for three-course meal on Christmas
On Christmas Eve, the Scandinavian restaurant will serve a pumped version of its smörgåsbord brunch spread, julbord, with löjrom caviar, Swedish meatballs, lamb racks, tons of herring and salmon, Christmas ham, and much more. On Christmas day, it'll serve a prix-fixe Christmas plate with options like mustard herring or peanut potato for a first course, glazed spare ribs, or Christmas ham for a second course, and a Ris à la Malta, a traditional rice-pudding dessert.

Benoit
Price: $85 for three courses
The bistro from Alain Ducasse will serve yellowfin tartare with sesame crisps, cod with butternut squash and black truffles, roast venison, and bûche de Noël for dessert.
Brushstroke
Price: $45 tasting menu for Christmas Eve lunch, $135 for Christmas dinner
At David Bouley's kaiseki spot, there will be salmon saikyo-yaki smoked in cypress, washu beef cheek stewed and served with garlic and sunchoke ankake, and oysters with lemon foam.
The Breslin Bar & Dining Room
Price: À la carte
The restaurant in the Ace Hotel will serve roast beef along with Yorkshire pudding, and pear parfait with cranberries and linzer sable. Mince-meat pies are also available for ordering in advance up until a week prior to Christmas Eve.
Cafe China
Price: À la carte
The midtown Sichuan restaurant will be open on both Christmas Eve and Christmas Day, serving its usual repertoire of dishes like bang bang chicken, tea-smoked duck, spicy cumin lamb, and more.
Chef's Club
Price: À la carte
The restaurant will add some holiday-themed specials to its menu this year, including chestnut velouté with black truffle and pear and lobster with apple, beet, and tardivo.
Cherche Midi
Price: À la carte specials
Keith McNally's Bowery spot will serve a handful of specials, including Dover sole with pebble potatoes and truffle beurre blanc, duck consommé with mini mushroom ravioli, and a diver scallop crudo. If you're feeling the holiday spirit, there will also be roasted goose with chestnut purée and bûche de Noël.

Fifty
Price: $65 for a family-style meal
The New-American-meets-South-American restaurant will throw a Noche Buena Feast. Dinner starts with coquito, a boozy eggnog-like holiday drink from Puerto Rico, and is centered around roast suckling pig served family-style with bao buns, spicy rocoto mayo, and more. Then, finish with a bûche de noël.
Hao Noodle and Tea by Madam Zhu's Kitchen
Price: À la carte
The West Village spot from Chinese restaurateur Zhu Rong will celebrate its first New York Christmas with ten specials. There will be appetizers like salted chicken and spicy pig's feet, entrées including Cantonese beef ribs, and starchy dishes such as clay-pot rice with pumpkin and ham and potato, and green bean hand-pulled noodle soup.
The John Dory Oyster Bar
Price: $95 on Christmas Eve, à la carte regular menu on Christmas
At April Bloomfield's seafood restaurant, Christmas Eve means dishes like oyster shooters with champagne granite, and lobster with foie gras. For Christmas, the restaurant's regular raw-bar items, lobster rolls, stuffed squid, and more will be offered à la carte.
La Chine
Price: À la carte on Christmas Eve, $145 for five courses on Christmas
The upscale Chinese restaurant will serve its usual menu on Christmas Eve but do a prix-fixe dinner on Christmas Day. Your meal starts with your choice of yellowtail with Sichuan pepper oil, crispy Spanish mackerel with smoked soy dressing, or a mushroom and shredded tofu salad. Other courses include Peking duck with the works, the restaurant's eight-hour golden broth, black cod with baby spinach, and coconut pudding with pomegranate foam.

Le Coq Rico
Price: $95 for four courses
If you're not celebrating the holiday, the poultry-themed bistro will serve its regular menu. But it's also offering a special dinner of oysters baked with truffle butter and chicken broth, frog-leg chervil soup with mushroom ravioli, giblets and pork-loin-stuffed goose, and a yule log with chestnut ice cream.
Marta
Price: À la carte
Danny Meyer and Nick Anderer's restaurant in the Martha Washington Hotel will keep it simple this year, serving their crowd-pleasing pizzas with toppings like fontina and mushrooms and wood-fired meats including duck breast and dry-aged sirloin.
Mile End
Price: $65 for family-style meal
The Montreal-style deli will host its annual Chinese Christmas at both locations, with dishes like smoked short rib bao, egg rolls with hot mustard-mango sauce, a whole smoked duck, hand-pulled noodles with chili oil, and more.
Narcissa
Price: $79 for 3 courses
The Standard hotel's vegetable-forward restaurant will serve delicata squash and grilled pork belly for appetizers and entrees such as steamed sea bass and its trademark carrots Wellington. To satiate your sweet tooth, there will banoffee, chocolate gateau, and baked Alaska for dessert.
Nix
Price: À la carte
Head to John Fraser's University Place restaurant for all your vegetable needs. Specials include a winter pot pie with root vegetables and a rum and hard cider hot toddy.
Reynard
Price: $105 for four courses
The Wythe Hotel's handsome restaurant will be open for both Christmas Eve and Christmas Day, when it will serve a prix-fixe menu that starts with a goose consommé soup. Appetizers include smoked haddock with curried rice and kohlrabi with cara cara, entrees mean roast lamb with brandied prunes and goose with bread sauce, and figgy pudding for dessert.
Tuome
Price: À la carte
In addition to regular dishes like its "pig-out for two" with spicy peanut noodles, the cozy East Village spot will serve stuffed quail with squash and cranberry jus, a bouillabaisse with cured pork belly and coconut milk, and chestnut-mousse tart with quince.
Vaucluse
Price: Regular menu on Christmas Eve, $99 for three courses on Christmas
The uptown French restaurant is another spot to consider if you want a low-key Christmas Eve. On Christmas Day, it will serves hors d'oeuvres foie gras terrine and chestnut soup with chicken oyster; main dishes include roast goose and hazelnut-crusted sea bass, and desserts such as a Paris-Brest and chocolate-mousse tart.