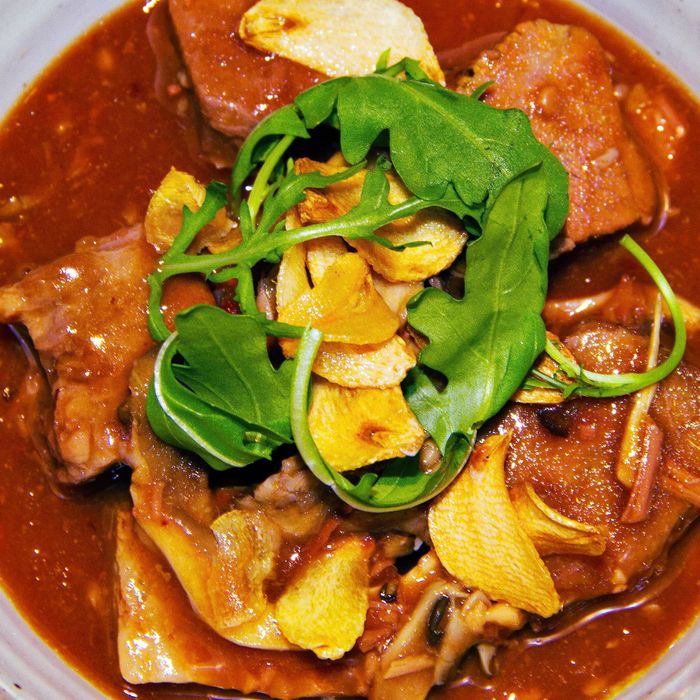 Brisket with foie gras, ginger, and garlic.
Photo: Jemma Hinkly/New York Magazine
Sometimes at restaurants, as in life, the best things are free. Take, for instance, bread — not always free these days, but occasionally great. We're also reminded of the ­attention-grabbing amuse bouche. Or the miniature sweet some restaurants give you in lieu of dessert. And then there's the Italian joint where the meal begins with terrific antipasti, no charge, then goes downhill from there. Whether people like these things because they're really delicious, or simply because they're free is a mystery not easily solved, but like them they do.
Having realized this — that people like free food — the owners of Atoboy, a new Korean restaurant in Rose Hill, have come up with a radical concept: they offer customers a three-dish prix fixe meal based entirely on the usually free Korean side dishes called banchan but — and here's the radical part — they charge $36 for them.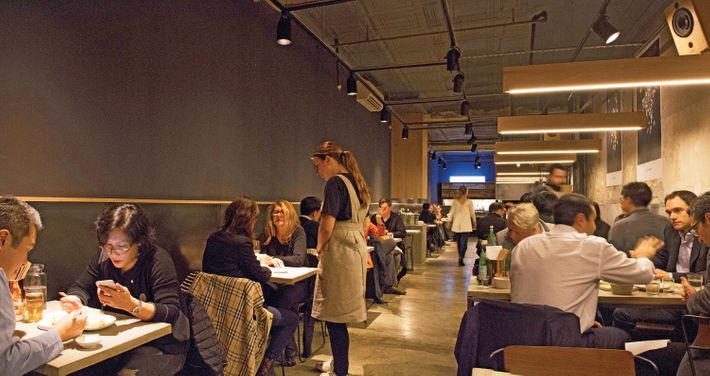 To be fair, Atoboy's dishes are not the banchan you might have had on 32nd Street or in Flushing. Chef-partner Junghyun Park worked at the fine-dining Korean restaurant Jungsik, and his approach combines Western ingredients and techniques with the flavors he grew up eating. His first solo project is proof that we're living in a world of fine-dining food served in casual settings: in this case, a concrete-clad room furnished with neat rows of tables set with copper buckets for storing napkins and chopsticks. The look is part bunker, part refectory, but the service, led by the chef's wife and partner, Ellia Park, is polished and smart. And the food: beautifully executed, gorgeously plated, underpinned by Korean ingredients realigned in such a way as to seem almost new.
Vegetables are a strength — although for a cuisine that prizes seasonality, it's weird to see eggplant and corn still hanging around in December. (Weird yet ­gratifying: That corn, fortified with Taleggio and bacon, makes most mac-and-cheese taste austere.) Sunchoke is cooked two ways — roasted soft, and fried into crispy chips — and deftly paired with oyster mushrooms and pops of fresh orange. Fork-tender carrot "ribs" in a sweet marinade are wonderful, and so is fried octopus with chorizo-spiked kimchee. Mackerel rests in a pool of dashi that's good company for the rice that's included, along with kimchee, in the set price.
Fried chicken is by now a leading Korean export, and Atoboy's is unique and excellent, four fat fingers encased in crisp tempura shells on a slick of ­peanut-y sauce, evoking something you might find served in a paper boat at a Korean state fair. It may not be free, but it's value for money, and a signature dish for this high-low age.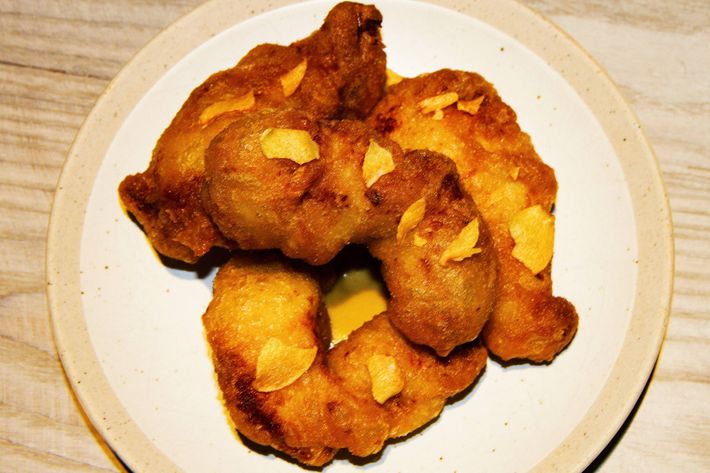 Edda Bar, the basement lounge beneath the Nordic restaurant Aska, is another good place to sample the creations of a sharp culinary mind without losing your chemise. That's where the Swedish-born chef, Fredrik Berselius, loosens his apron, kicks off his clogs, and takes a break from the pressure that comes with slinging pig's-blood pancakes and smoking woodcock over hay for the tasting-menu addicts who gather upstairs in the dining room.
Upstairs at Aska, the 19-course menu will set you back $215, or $145 for ten courses. Downstairs at Edda Bar, a card lists à la carte dishes that range in price from $4 to $18 (service included). So you can't help but feel that you're getting away with something when you descend the staircase and discover that Berselius's idea of moderately priced bar food is not meatball sliders and loaded nachos, but delicate Swedish pancakes topped with gooseberries, dill oil, and nuggets of salted beef dry-aged anywhere from 90 to 200 days. Roll one up like a Persian rug and eat it like a Swedish shawarma. "If you come to the bar, you get a sense of what we're doing upstairs," says the chef. "But it's a more simplistic approach."
Simplistic is a relative term, and if you haven't grasped this fact after you've finished your pancake, you might when your flaesk sandwich arrives. Flaesk is Danish for bacon, here pork belly cooked overnight and shoved into a fluffy house-baked malt roll with fried onions, pickles, and dill mayonnaise. There's more: coppalike pork shoulder, sliced paper-thin and brushed with some fiendish, umami-boosting substance made by curing pine mushrooms. A head of red-oak-leaf lettuce with dabs of creamy smoked hake piped into its creases. Smoked matjes herring and German butterball potatoes buried beneath a pile of grated egg yolk so orange and bright it looks like supermarket Cheddar.
Cocktails are also impressive — try the Edda (like an invigorating Viking martini) — and the space has the feel of a swanky Swedish rec room, dark and moody, a sheep pelt here, a sealskin rug there.
Another good reason to visit Edda Bar is that it's a quick fix for Berselius groupies who don't have time for a tasting menu. But the wait staff down here are so smart and friendly, and the vibe so cozy, you may never want to leave.
Below, more dishes from Atoboy.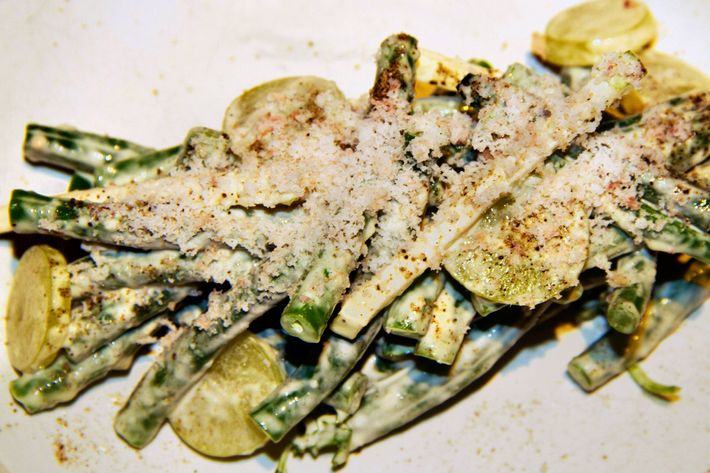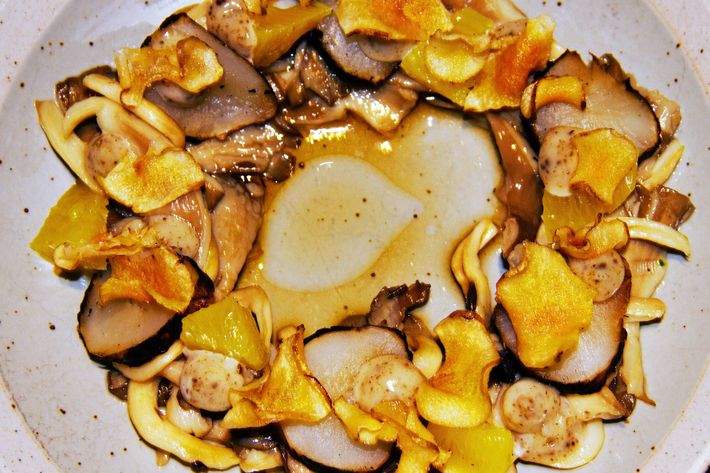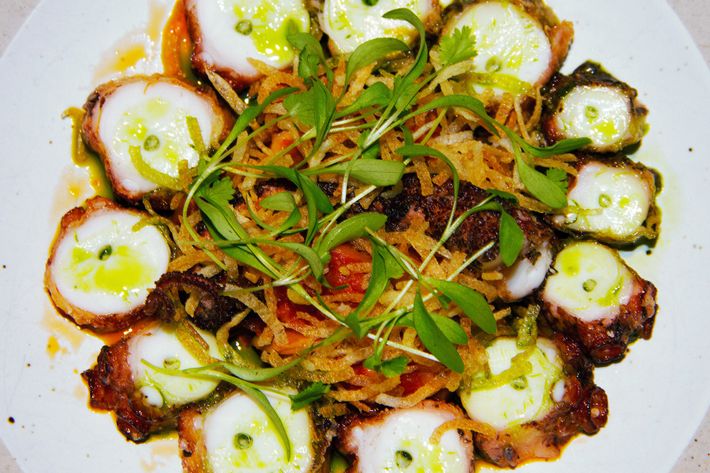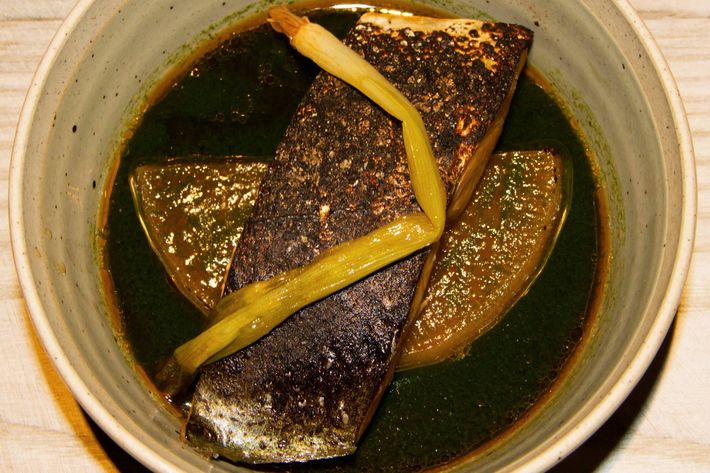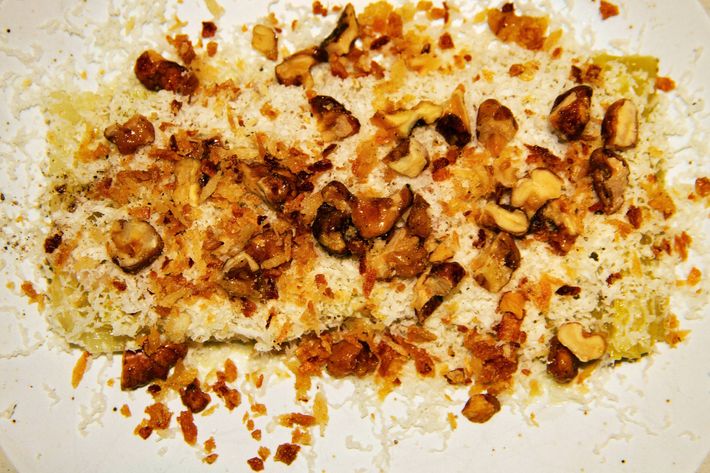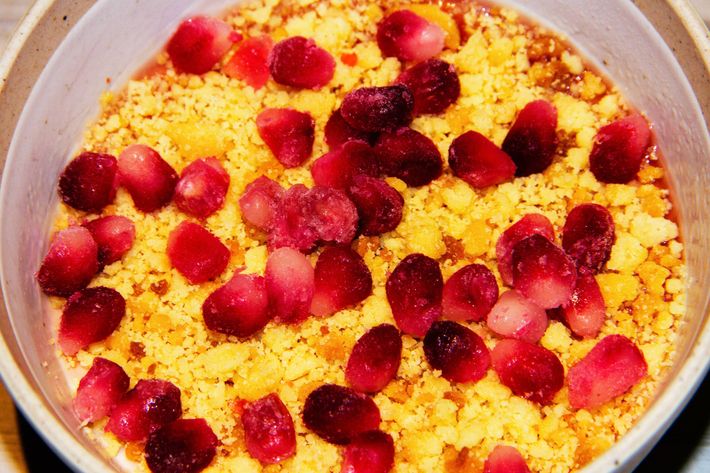 Atoboy
43 E. 28th St., nr. Park Ave. S.; 646-476-7217; atoboynyc.com
Open: Dinner, Monday to Saturday; lunch, weekdays.
Prices: $36 for three dishes.
Ideal Meal: French beans with smoked eel, sunchoke, chicken.
Note: The new lunch service features a six-item, $20 set menu.
Scratchpad: One star for the refined technique, one more for the service, and another for a prix fixe that feels like a bargain.
Edda Bar
47 S. 5th St., nr. Wythe Ave., Williamsburg; 929-337-6792; askanyc.com
Open: Dinner, Tuesday to Saturday.
Prices: $4 to $18.
Ideal Meal: Lettuce, pancake, milk sorbet.
Note: There's a backyard garden for warmer weather.
Scratchpad: One star for the creative Nordic bar food, one for the service, and one for the Scandinavian-rec-room vibe.
*This article appears in the December 12, 2016, issue of New York Magazine.