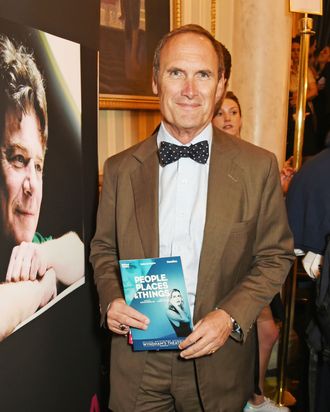 Gill wrote restaurant reviews for the London Times.
Photo: David M. Benett/Dave Benett/Getty Images
A.A. Gill, the celebrated British critic who is perhaps best known in New York as an enemy of Gordon Ramsay's and the man who once compared DBGB's Vermont sausage with cheese to "eating an infected toe," died over the weekend at the age of 62. As the BBC reports, the critic, author, and columnist passed away three weeks after publicly revealing, in a restaurant review, he'd been diagnosed with "an embarrassment of cancer, the full English."
That description, grim as it is, encapsulates Gill's arch, sharp style. He wrote numerous restaurant reviews for the Sunday Times, all of which are worth reading (even if you have no intention of visiting London or its restaurants). In a statement, the Times' editor called Gill "the heart and soul of the paper. His wit was incomparable, his writing was dazzling and fearless, his intelligence was matched by compassion." (Gill's final column for the Times magazine is about his diagnosis and England's National Health Service.)
For American readers unfamiliar with Gill's work in the London Times, that incomparable wit and dazzling writing was perhaps most prominently seen in his writing for Vanity Fair, where he was responsible for the ne plus ultra of devastating Michelin takedowns in 2012:
Food writing is already the recidivist culprit of multiple sins against both language and digestion, but the little encomiums of the Michelin guide effortlessly lick the bottom of the descriptive swill bucket. Take this, for instance, but only if you have a paper bag close at hand: "Can something be too perfect? Can its focus be so singular, pleasure so complete, and technique so flawless that creativity suffers? Per Se proves that this fear is unfounded." That was written in chocolate saliva. Or this: "Devout foodies are quieting their delirium of joy at having scored a reservation — everyone and everything here is living up to the honor of adoring this extraordinary restaurant … Uni with truffle-oil gelée and brioche expresses the regret that we have but three stars to give." That's not a review of Chef's Table at Brooklyn Fare — it's a handjob.
In addition to the food writing, Gill was also a critic of culture and the arts, the author of numerous volumes of travel writing, and a fantastic columnist. (In British Esquire, on the topic of boredom: "Boredom is the echo in an empty box, a single glove, the sound of an abandoned piano. It can also be a calling, a hobby."). In truth, it's difficult to neatly sum up the breadth of topics he covered or amount of exceptional work he produced.
It's probably fairer to simply say he was a cultural hero to many. Fittingly, as people learned of the news this weekend, many in the food world and beyond mourned Gill's passing: