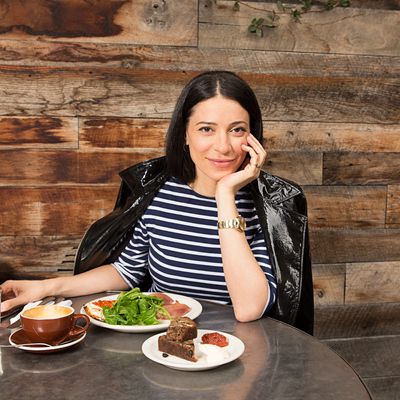 Aflalo at Venice's Gjelina.
Photo: Bradley Meinz
Yael Aflalo, model turned entrepreneur, has captured a certain Instagram-minded crowd with Reformation, her very hip, sustainability-minded clothing line. Her company just moved into a new office, with much better food options including tacos from a former baker at San Francisco's Tartine, but she also had her first kid six months ago. And while that's reoriented her priorities — "You have a baby and all of a sudden you're a different person" — it's also given her, she's happy to report, a license to eat as much as she wants. In Los Angeles, that means bacon, regular visits to Venice's Tasting Kitchen and Gjelina, and the occasional build-your-own sundae.
Saturday, November 26
I was still recovering from Thanksgiving, and probably wasn't feeling my best, so I just had some fruit for breakfast. I usually keep cut fruit in the fridge, you know the kind you get from the market. I went to two Thanksgivings, which was crazy because since I'm breastfeeding I can kind of eat whatever I want and I'm being a little nuts because of that. Like, I'm just going for it. I went to my parents' house first and then I went to my friend's house. So I pretty much had two full Thanksgivings.
Later, I had some leftover pumpkin pie for a snack. I brought a pie to Thanksgiving and everyone else brought a pie. I got it at Erewhon, this market near my house where I do most of my food shopping. I didn't make it. I'm a make-nothing type of individual.
I love pumpkin pie, it's probably my favorite dessert. Pumpkin pie, apple pie, yeah. I find that a good pie is not as sweet as other desserts. I like pumpkin pie, especially because if it's done well it's not that sweet and I love the crust. I like banana cream pie too but that's really sweet so I try not to do that too often. I love dessert. I'm a big dessert fan and I try to let myself have one a day. Like, if it's potato chips or a dessert, I'll probably go for the dessert.
Usually, I wake up super-early and am hanging out with my daughter, she's 6 months old. I went through that whole, "I'm a new person" thing. It's crazy and it's immediate. It's weird, it's creepy. You have a baby and all of a sudden you're a different person, like an hour later. Usually I take her to the park, or bring her along to the supermarket. On Saturday we didn't go crazy because she had been out for Thanksgiving.
But she did come with us to Tasting Kitchen in Venice. It's one of my favorites, my favorite brunch. When I was pregnant I would go there like three times a week because it was like the best breakfast. Now that I'm at more of a steady pace I go there twice a week: once for breakfast, once for dinner.
We actually did the tasting menu, which was the first time I did a tasting menu for brunch. I was already in this, "It's Thanksgiving, let's just do this" attitude. Basically what they have is the pastries and coffee to start off, then the second dish is eggs, then the fried "crust" and waffles, and then also an oxtail hash.
My favorite things were the sticky buns, hash, and the crust or chicken and waffles. It's the best waffles and fried chicken I've ever had. It's not spicy but spiced. There's one piece of white, one piece of dark, and incredible, thick waffles with crevices to put the butter in — they're very deep. It comes with this really great salted butter and I don't know what the syrup is, but it doesn't taste like regular syrup. It's the right combo of sweet and salty.
For dinner, I had quinoa and sweet potatoes from Erewhon. It's kind of like a very high-end Whole Foods meets Dean & DeLuca. Everything is organic. The one by my house is manageable. It's more the size of Dean & DeLuca. And they have a really good prepared-foods section, very top notch. We eat from there quite a bit. It's nice. Everything is organic, everything, you don't have to think about it. Since I had a baby, I'm trying to eat organic.
Sunday, November 27
I went to my parents' place for breakfast. Since I've had a kid I spend more time with my family. I have two brothers and sisters who also have kids who are young babies, so we all kind of hang out. My parents' house is the meeting point. Breakfast was a bagel, cream-cheese, lox kind of thing. We're Jewish. Capers, onions, lemon, that whole thing. That kind of food — I love Russ & Daughters. I lived in New York for six years and I was definitely in that line.
For lunch, we went to Gjelina. I'll get sunny-side-up eggs and then they have a sausage I like and breakfast potatoes. They also have this banana bread that I start with. That's kind of my setup when I go there. Later, for a snack, I had some vegan rice pudding from Erewhon. It's just that she doesn't like dairy and gluten, so I try to avoid it. At this point, when I first had her I was 100 percent, and now I'm 80 percent no dairy/gluten. Which is, you know, it's fine. It was hard at first. Now I manage it, I eat a lot of protein, but I did have waffles. Then I feel bad because her tummy hurts and I'm like, I'm not going to do it again.
Afterward, I hung out with my daughter. I work during the week so during the weekends I really don't do anything but hang out with her, unless it's a wedding and I have to go. I tried to teach her how to crawl or you know, play with dolls, stuff like that. She's 6 months and much more independent. She started sitting, she just started having complete hand coordination. She just started crawling a few days ago, but can only go backwards. It's adorable. So I'll put something in front of her and I'll be like, come and get it. She starts getting really happy and going backward. She doesn't get up, it's like army squats. It's like heartbreaking, it's so cute.
We had takeout from Erewhon again. I really just go to four places. I live in Venice, so I go to Tasting Kitchen, Gjelina, Gjusta, and I go to Erewhon. That's what I do. Usually, they have this trio thing that I like. They have these gluten-free chicken tenders, Brussels sprouts, and yam purée. Chicken tenders are that carryover food from being a child that you can't let go of. I might have had a few little cookies; I have a major sweet tooth.
Monday, November 28
Before work, I went to Erewhon and got an iced almond-milk latte, Duroc bacon, and Greenstorm smoothie, which is the best smoothie I've ever had. I've been really into bacon lately. I went to see a nutritionist who told me that bacon is good and I was like, "All right, let's do it. I agree."
For lunch, I went to Loqui. They're really good tacos, my second favorite tacos in L.A. My favorite tacos are from Escuela. I don't want super-fancy tacos, but I also don't like super-basic tacos. They're good in the medium. They're not mango-cilantro, but they're not nothing. They're in the middle. They have one at Escuela that is ground beef with pickles in it and they have crunchy shells, homemade tortillas, it's really good. At Loqui, they have chicken tacos that are perfect. It's simple: corn tortillas, seasoned meat, and some onions. Later, I had some blueberries for a snack. Those are my favorite.
We've been starting to get back into soup. So for dinner, we got this chicken soup from Gjusta. It's fancy soup. It's skimmed and perfect, with a lot of herbs in and chicken and vegetables, kale and escarole, and then a little bit of baby baguette. Good and cheap. It just started to get cold. Well, not cold. But it dips before 70 and we're like, it's time for soup! It's imitation of seasons. We don't have seasons, but we want to imitate them because it makes us feel more normal.
After dinner, I had this chocolate cupcake that I'm obsessed with called Karma Kake. It's vegan and gluten free. You think it would not be appetizing but it's incredible. It's sort of like a super-dense flourless chocolate cake. It's literally like a chunk of chocolate, that's all it is. I'm pretty sure it's made with coconut cake, so it's rich. It has a cream filling like a Ding Dong, and you're like, "This is incredible." Yeah, I like food. Since I'm breastfeeding, I'm supposed to have 1,000 more calories a day. I love it, I'm taking advantage of it.
Tuesday, November 29
I didn't have bacon and a smoothie today, because I try not to have bacon everyday. I had this other thing called, like, the "Paleo Tartine," my husband thinks it's very pretentious-sounding. It's a big slice of yam. On top of that is sautéed kale and on top of that is a sunny-side-up egg. It's really good, and a way of not having bread in the morning.
Went back to Loqui for lunch. We just moved into a new office. Our old one was very isolated. Here, there are all these restaurants downstairs. The taco place is really easy and really good. It's a new find for me, so yeah I'm probably having tacos three days a week right now. To balance it out, I got a green juice from Juice Served Here.
I don't work that late, usually until four or six at the latest, so I can go home to hang out with my daughter. After putting her to sleep that night, I went out to dinner at Tower Bar with some of the Reformation team. It's one of my favorite places.
I don't like food that's over the top. I'm not a Michelin star, foams, and "things that are trying too hard" type of person. My favorite type of food is food that is really well done and has really good ingredients. Seasoned but not crazy seasoned. I don't typically love unexpected combinations. That's not my thing. You go to Tower Bar and order the roast chicken with mashed potatoes and vegetables or whatever, and it's the best roast chicken ever. But then they also have some throwback stuff that I like. It's sort of a '60s knockoff where they have pigs in a blanket and baked Alaska, and I'm into that. It's feels very golden-era Hollywood. We always get pigs in a blanket and deviled eggs for an app, then I usually get the roast chicken.
But they also have this sundae where they hand you a piece of paper. It's super-fancy letterpress, written out beautifully with a baby library pencil. You build out your sundae from there. You pick your sauces, what kind of ice cream you want, whipped cream, hot fudge, salted caramel, and on Tuesday, there were four grown adults and everybody has a sundae card. Everyone was so happy. I do the same thing every time. I get vanilla ice cream, whipped cream, hot fudge, and Heath bar. Every time I look at the card and stare and think I'm going to get something else, but I don't.
It's also fun there because you'll see celebrities. I know people will always say, "Oh, who cares about seeing celebrities?" I do, it's fun. I've seen Barbra Streisand there. That's incredible. Celebrities like that. Barbra Streisand, Bill Murray. How are you not going to get happy with those two? It's fun. I'm not literally clamoring to go hang out, but when you're having dinner and you hear Barbra Streisand's voice at the table next to you it makes your dinner more fun. I like places where it's not young Hollywood, I don't even know who the young celebrities are. Just Barbra Streisand.