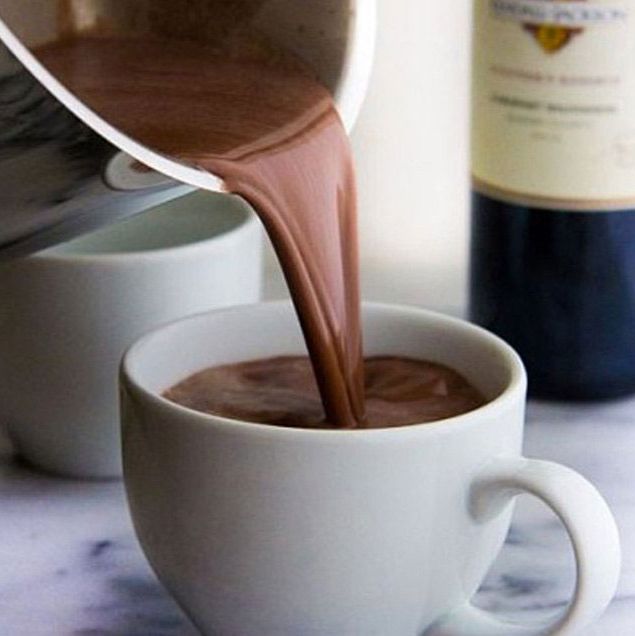 The odd couple.
Photo: Instagram/@tribella_wine
When a throwing a holiday party, there are a few staple cocktails you can rely on: boozy eggnog, hot toddies, Irish cream, punch of any and all varieties, and maybe some mulled wine. You know, the classics your parents snuck sips of during their parents' holiday parties when they were kids. But, little did you know, there was always one drink missing from the pantheon: red-wine hot chocolate.
It's become something of an internet-driven sensation, and while it sounds like a suburban misadventure, the drink works. Sure, you could go super-low-rent and buy a bottle of Two Buck Chuck and some Swiss Miss and call it a day. Or, you could defer to the experts. Namely: Leyenda co-owner and head bartender Ivy Mix, ex–Long Island Bar and Booker & Dax bartender Tristan Willey, and Fort Defiance owner St. John Frizell, whose Irish-coffee bona fides make him particularly qualified for the task. Here, three recipes for your festive bash:

Tristan Willey's Mocha Vino
1 cup whole milk
3/4 cup dark-chocolate chunks or chips (any semi-sweet baking chocolate, broken up, will work)
1 cup red wine, like Grenache, Syrah, or Mourvedre. (Big, round, and deep red wines work best.)
Pinch of salt
Pinch of cayenne to taste (we all preferred a slight spicy heat)
2 cinnamon sticks
Orange slice dipped in cayenne for garnish
Melt the chocolate into the milk over low heat with the cinnamon, cayenne, and salt. Once smooth and warm, add wine and bring up to drinking temperature.
Ivy Mix's Red-Wine Hot Chocolate
For the mulled wine:
1 bottle Malbec
8 ounces Spanish brandy
4 cloves
3 cardamom pods
1 cinnamon stick
1/4 cup sugar
1/4 cup sliced almonds
Pinch of raisins
For the hot chocolate:
1 can coconut milk
5 ounces dark-chocolate coconut chips
4 ounces cola syrup
4 dashes of Angostura bitters
Heat all of the ingredients for the mulled wine together. Once simmering, remove from heat, let cool, and remove solids. Combine the ingredients for hot chocolate and heat until warm. When it is the right temperature, combine with the wine in equal parts.
St. John Frizzell's Vaina Caliente
For the mulled wine:
1 pear, peeled and quartered
1 apple, peeled and quartered
1 orange, quartered
3/4 cup sugar
1/3 cup slivered almonds
1 cinnamon stick
4 cardamom pods, slightly crushed
4 cloves
4 cups red wine (about 1 ½ 750 milliliter bottles)
1/2 cup brandy (Cognac)
For the cocktail:
1 disc Taza Chocolate Mexicano, grated (any flavor; cinnamon is best)
Milk
Green Chartreuse (optional)
For the glögg or mulled wine, combine all ingredients except brandy in saucepan and heat to a low simmer. Simmer for 15 minutes and remove from heat. Strain and set aside. When cool, add brandy. You can make it in advance and store it in the refrigerator, it gets better with age. Heat it to serve.

For each serving of hot-chocolate wine, combine 1 ½ ounce milk, one tablespoon grated chocolate, and four ounces (or half a cup) glögg in a saucepan and heat (or even better, heat in a pitcher with the steam wand of an espresso machine). Pour into preheated mugs, and pour a teaspoon of green Chartreuse into each.