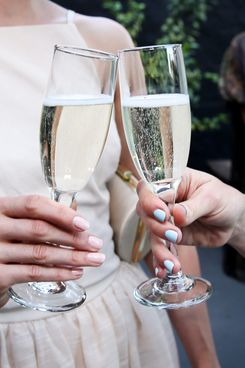 Add reasonably priced sparkling wine to the list of things that might cause cancer. Prosecco, the budget-friendly Italian wine that your aunt absolutely loves, has gotten so hot that suppliers are rumored to be running out. Understandably, producers in Italy are searching for ways to grow grapes faster, and the Daily Mail reports that many have turned to potentially dangerous pesticides.
Tests show the amount of residue that ends up in the bottles themselves is negligible, but locals in Veneto, the main region where prosecco is produced, tell the paper all the spraying going on in the vineyards is "taking a dire toll" on their health, supposedly leading to maladies like thyroid disorders, leukemia, ovarian cancer, and Parkinson's.

Since 2009, production has tripled to keep pace with demand, and the vines now cover 50,000 acres.

Sandra Padovan, 44, her husband Fabio, 60, and their three children live above the hamlet of Pieve di Soligo. When they moved here 20 years ago, green fields surrounded their house; today it is all vines.

"They spray pesticides on the plants once a week but each grower does it on a different day, so every day the air is filled with chemicals," says Sandra. "I can't breathe properly. Many times I have become sick and collapsed because of the pesticides. I can't cook, I can't be a good mother.

"I am worried for the health of my children. I don't know what I will do if they get sick."
Locals blame the pesticides for causing "severe and even life-threatening" conditions. "Prosecco has ruined my life," says one woman, who reportedly can't leave her house without wearing a surgical mask. Another claims she was hospitalized twice in the last two years for breathing and heart problems, and says her symptoms have steadily improved since the next-door vineyard was destroyed. The Mail reports that "like many" in the area, she's afraid to speak out on the record against the powerful prosecco growers.
Most health experts seem to agree that while trace amounts of the pesticides are getting in the prosecco, there's "no risk to consumer health," but that's probably not very comforting for the Italians who live in the (potentially) affected areas.