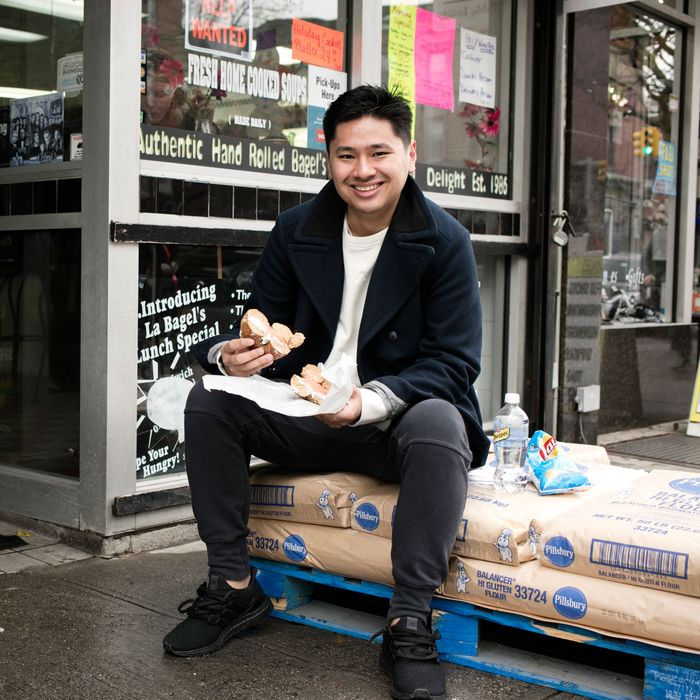 "My second-most controversial food theory," he says of La Bagel Delight.
Photo: Melissa Hom
Pablo S. Torre wears many hats for ESPN: He's a senior writer, a panelist on Around the Horn, and a frequent guest host of Pardon the Interruption, to name a few. His job description doesn't usually include eating pig's feet on air, but last week, that's exactly what he did while co-hosting ESPN Radio's Dan Le Batard Show With Stugotz — punishment for losing a football pool. Fortunately, Torre made up for it by enjoying chicken wings and wonton-noodle soup at Talde, homemade pasta and pizza at Song' E Napule, and shrimp tacos at Colonia Verde.
Thursday, December 1
I blink awake at 5 a.m., having passed out on my couch in Park Slope with my fake Christmas tree's lights still glowing. My wife and I got back from our honeymoon in Italy ten days ago, and I've been on an involuntary Ben Franklin sleeping schedule ever since. I down a vitamin C tablet and a glass of water before retreating into my actual bed for a couple hours. At 8 a.m., Liz uses one of her favorite wedding gifts, a Vitamix, to make me a smoothie with spinach, banana, blueberries, pineapple, cashews, and honey. Never let anyone tell you that intestinal regularity can't be delicious.
At 1 p.m., I head into Manhattan to see the Korean lady in Murray Hill who has been cutting my relentlessly straight, Asian hair for the last decade. (I was born and raised in Murray Hill, which was not always a neighborhood where Bain interns go to puke. It is important that people know this.) On the walk there, I eat a bacon-egg-and-cheese from a bodega on 34th Street for lunch. I knew it would be good because (a) said bodega keeps their napkins in a repurposed Dutch Masters box and (b) I have had precisely zero bad bacon-egg-and-cheeses in 31 years.
Dinner is at Google's offices in Chelsea with my friend Janan, an employee who has warned that, tonight, "dinner options are pretty limited." This might be true by the standards of a corporation with nap pods, but it is extraordinarily false by any other measure. I wind up inside a buffet-style cafeteria, piling a takeout container with two buffalo-chicken sliders, a couple tiny pizza slices, a lamb kebab, and a bao filled with a kind of bean paste. I also scatter sliced cucumbers, radishes, and peppers across the top of this pile, mainly because I'm an adult who needs to keep up appearances.
We intend to take all of this over to a virtual-reality room Janan wants to show me, but it's currently occupied. We bide our time playing ping-pong; shoveling food into our mouths between sets (I could eat 15 of these sliders); and wondering why VR ping-pong does not yet exist. When the VR room finally frees up, I discover that VR ping-pong very much does exist, of course. My virtual opponent turns out to be a disembodied goat-demon skull, and I lose.
Friday, December 2
I wake up in bed. (Progress.) Another vitamin C tablet, another glass of water, and it's time to prepare for my 297th episode as a panelist on ESPN's Around the Horn. Four years ago, when I first started doing the show, I'd get so nervous that I couldn't eat anything until after we finished taping at around 3 p.m. Now I have to eat something, anything, which, today, means grabbing a berry-pomegranate-chia Clif Bar at a deli in Times Square before rushing into the studio. It costs $3, which feels like price-gouging, but such is the price of terrible planning. I eat the Clif Bar in makeup, still bitter about losing to that goat-demon.
After the show, I fully intend on going to one of the 50 Pret a Mangers in midtown Manhattan for lunch and using this space to angle for a sponsorship deal. (Nine out of ten shows, my lunch consists of either Pret's spicy shrimp and cilantro wrap or the avocado and toasted pine-nut wrap; a green juice; and a bag of salt-and-vinegar potato chips.) But today, I end up talking to Around the Horn host Tony Reali and ESPN producer Kevin Wildes in the office for a very long time and I actually forget to eat anything else.
Solution: On my way back to Brooklyn, I get a slice of dollar pizza and slather it in what is obviously watered down hot sauce from a red squeeze bottle. Perhaps my most controversial food theory — which justifies the unyielding march of the admittedly soulless dollar-pizza empire — is that the worst pizza and the best pizza are closer in quality than the worst and best versions of any other food that exists. I have yet to be proven wrong.
Dinner is with my wife at Talde, which would be my favorite restaurant in Park Slope even if its proprietor, Dale Talde, wasn't a member of the Filipino-American Illuminati. I start with a ginger-smash fizz, because at some point in the last two years, I became legitimately convinced of ginger's mystical, stomach-settling powers. Then come the samosas; Kung Pao chicken wings (served with a house-made buttermilk-ranch dressing that's good enough to break my blue-cheese orthodoxy); wonton noodle soup; crab fried rice; and Brussels sprouts. All of it is, predictably, great. The leftovers get wrapped up for later.
It's later. Friday night concludes with me digging into the crab rice and then eating two Andes mint-chocolate things before taking an indecently gluttonous swig straight from the gallon of milk in our fridge.
Saturday, December 3
Breakfast consists of loading peanut butter, honey, frozen bananas, blueberries, spinach, and a heap of flaxseed into the violent smoothie god that is the Vitamix.
Lunch, meanwhile, is where it always is on Saturdays: the La Bagel Delight in my neighborhood in Park Slope. My second-most-controversial food theory is that this particular establishment serves the best bagel in Brooklyn, and the second-best in all of New York City, after the Ess-a-Bagel that closed near Stuyvesant Town (RIP). I pretty much always get the whole-wheat multigrain bagel here — this time with olive-pimiento cream cheese, smoked salmon, tomato, and onion. I also get a seltzer and a bag of salt-and-vinegar chips and consume all of this while catching up with the Bodega Boys podcast and paging through the police blotter in the Park Slope Courier. (More people throw bottles of urine at other people than you might think.)
In the afternoon, I'm back in Manhattan, meeting my family at the Museum of Natural History. I eat a little astronaut ice cream while chasing my 2-year-old niece through a special exhibit about crocodiles.
For dinner, my wife and I head downtown to Song' E Napule on Houston, which has become our favorite Italian restaurant in the city. It's a tiny place: Liz and I have red wine and sit shoulder-to-shoulder in front of the window as the chef, Ciro, sells us on a couple specials. Tonight: scialatelli with an imported sauce made of Italian grape tomatoes and a pizza with burrata, shiitake mushrooms, prosciutto di Parma, and truffle oil. The scialatelli, we discover, can hang with the homemade pasta we had in Italy. And the pizza makes me want to retract my awful pizza theory and apologize to Ciro's face. Dessert was tiramisu; we inhaled it.
Later, back home, I end the night by grazing. You may have noticed that I don't ever really eat a proper breakfast in the morning. Instead, when Liz is asleep, I mostly open up various boxes and bags in the kitchen like some sort of raccoon. My friend "Hawaii" Mike Salman is a talented chef who makes, among other things, an extraordinary habanero honey, so I squeeze a bunch of that onto Cheddar brown-rice crackers. I then sample some Nutella, blueberry preserves, dried-banana chips, dried figs, and shredded mozzarella. Separately. But, like, it's all going to the same place, you know, so, whatever.
Sunday, December 4
I have two bites of my wife's homemade avocado toast and leave the apartment for my standing Sunday brunch in Fort Greene. Erik Rydholm, the executive producer of Pardon the Interruption, Around the Horn, and Highly Questionable, is also — among 20 other impressive things — an investor in the (outstanding) restaurant Colonia Verde. And the place now feels like a second home. C.V.'s wonderful husband-and-wife owners, Felipe Donnelly and Tammy Rofe, even moved a variation on the off-menu dish that Wyatt Cenac and Ezra Edelman kept ordering at our brunch, week after week, onto the menu itself. ("The Wyzra" is two fried eggs with sautéed Brussels sprouts, chorizo, and orange zest.) I retain hope that the act of showing up late and ordering shrimp tacos (which come with refried beans, avocado, and chipotle sauce) can be renamed in my honor.
I can spend an entire day talking to (and about) this group of people, but by 2:30 p.m., I'm racing to LaGuardia Airport to catch my semi-regular flight to Miami to co-host ESPN Radio's Dan Le Batard Show With Stugotz. In the air, I have a bag of sea-salt popcorn and a bottle of water and basically listen to Donald Glover's new album on repeat for three hours.
I'm in Miami for two nights, and I spend the first one inside my hotel room on South Beach. Once upon a time, I'd feel pressure to go out and do something. Now I order room service — a Caesar salad; the seared salmon with corn polenta and cherry tomatoes; some bread; a ginger ale — and watch the Westworld season finale on HBO. The last gasps of Art Basel pulsate from the pool downstairs, but I regret nothing. The robots are my friends now.
Monday, December 5
As a Filipino-American, I begin the day fundamentally unworried about eating any form of pork. Pig face? Chop it up, throw it on a hot plate, and you have sisig, one of my favorite dishes. A hoof or two? The ubiquity of suckling pig — lechón — at family functions inured me to that long ago. Processed mystery meat? Man, the Philippines has a chain of Spam-branded fast-food restaurants. So a couple weeks ago, when it came time to pick my punishment for losing the Le Batard Show's Grid of Death football pool, eating three pickled pig's feet, on air, seemed like the easiest way forward. But not long after showing up to the studio, which is at the Clevelander Hotel, at 9 a.m., I regret everything.
These pig's feet are lukewarm and pickled and sitting in a cheap plastic jar that weighs more than two pounds. Show producer Mike Ryan says he bought it off Amazon. The container looks, up close, like a vat of acid that is still disintegrating human body parts. Two of the listed ingredients are "Blue No. 1" and "Red No. 40." To loosen the lid is to smell Harvey Dent melting into Two-Face. When I fish out my first foot, an act horrifyingly simulcast on ESPNU, it is enormous, unending, a handshake with a corpse drowned in a pool of sticky lava. Everyone in the room starts gagging. Dan — who had gifted us the aforementioned Vitamix — temporarily runs out of the studio, leaving me to reconsider our friendship.
Over the course of three hours, I try various approaches: knife and fork, nibbling, wrenching toes off with my fingers. There is so, so much soft, thoroughly pickled skin and fat. The mouthfeel evokes a certain gas-station cannibalism. I locate the meatiest parts, finally making my way through my third foot right as the show ends. I know that the overall taste will never leave me. I do not vomit, but I want to. I am a monster.
After the show, we Windex the studio clean of the juices. Stugotz mercifully orders me a cheeseburger from the Clevelander restaurant, which I eat, rapidly, while standing in a hallway. A burger has never tasted better. Or worse. I flee for my hotel, take another shower and change clothes.
That night, I join my friend Bomani Jones on the roof of the Clevelander. Bo drives us to Big Pink, further down the beach, away from this place, and we have a lovely dinner on the sidewalk outside. I get the sweet-corn-tortilla omelette and call upon the restorative, probably placebo-driven powers of ginger ale again.
Tuesday, December 6
I'm alive and going home. As a gesture of goodwill to my stomach, breakfast consists of the mango "Health Warrior Chia Bar" that sits in my hotel room's pantry. It costs somewhere between 15 to 45 dollars.
Lunch is a paper cup inside Miami International's Delta Lounge with a little macaroni salad and — in a move that should be familiar to you now — a bunch of carrots mostly ceremonially scattered across the top. On the plane to New York, I wake up an hour before landing and also have two tiny sliders, some potato salad and a startlingly good Dancing Deer Baking Co. oatmeal-raisin cookie. Another ginger ale, too.
Dinner is with Liz at Momofuku Ssäm Bar, in Manhattan, because I am counting on the generous and all-powerful David Chang, who has never failed me, to undo my swine-centric PTSD. And for a couple hours, at least, it works. We demolish the pork-belly buns; sardine on toast; sunflower hozon dip; smoked-liver mousse; chawanmushi (trout roe makes me feel like an emperor); steamed duck dumplings; and, my personal favorite, the honey-crisp apple kimchee, which they serve with jowl bacon, labne, and arugula. Liz washes this all down with a Yuzu Kir Royale (crème de cassis, sparkling wine); I have a Downtown Collins (bourbon, peach, lime, and —you guessed it! — more ginger).
Dessert is us walking across the street in the rain to Milk Bar, where we pick up a bunch of cookies that I will eat later, in Park Slope, alone, like a raccoon. It is good to be home.