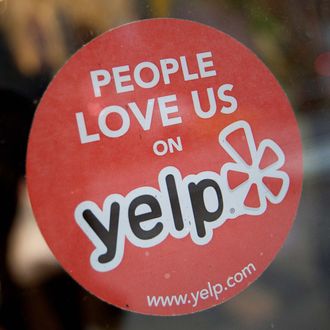 "And if they don't, not much we can do about it."
Photo: Scott Eells/Bloomberg via Getty Images
Congratulations, your right to destroy the soupy guac at Tequila Mockingbird's in a scathing one-star review is now enshrined in federal law. This week, President Obama officially signed the Consumer Review Fairness Act into law, guaranteeing customers won't be sued for Yelping. The act, a piece of legislation Congress actually passed with bipartisan support, is being celebrated as a big win for consumers and a big defeat for businesses that support the so-called "gag clauses" often used to stifle free speech.
Mostly, this situation only relates to businesses that use contracts — pet-sitters, hotels, the "con artist" who installed your floors, etc. — but enterprising restaurants have found ways to make customers sign them, too. Perhaps fancy Charleston steakhouse Grill 225 most notoriously: It was in the news last year for making guests sign a 832-word "dining contract" to get a reservation for more than four people. The contract warned they'd all be fined $50 if anybody at their table "generat[ed] any potential negative, verbal or written defamation against Grill 225."
These gag clauses are now banned under the new law, as is a restaurant or other business's ability to impose penalties of any kind on customers who do post bad reviews. The insanest of these was probably the Union Street Guest House's in upstate New York; it threatened to make a wedding party pay a $500 fine for every bad review guests left on Yelp. Now that Obama's signed the act into law, though, the feds have power to go after companies that try to intimidate customers into shutting up.
Yelp and TripAdvisor both released statements praising Obama's signature. Yelp's says Americans deserve "legal protections when it comes to sharing these honest, first-hand experiences," and also gives a shout-out to Congress for getting something done for once: "In a climate of hyper-partisanship, getting a law passed that will empower and protect consumer speech online is something all Americans should be excited about."