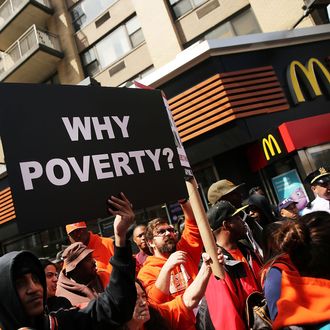 Fair question.
Photo: Spencer Platt/Getty Images
Realizing it's mere weeks until Donald Trump assumes office — possibly with a Labor secretary who values robots more than human workers — Democratic lawmakers are trying to ram through legislation that gives New York's fast-food employees more of a safety net.
The Wall Street Journal reports that as part of a "pre-emptive strike" against the administration, Mayor de Blasio and City Council have proposed no fewer than six separate bills aimed at improving industry work conditions. Per the story, these proposals all "vary in scope and detail," but would mostly target the nightmares workers face with scheduling. Changes outlined include requiring employers to post work schedules at least two weeks in advance, pay bonuses for last-minute changes, and give workers at least 11 hours off between shifts — an attempt to cobble chains' abilities to make employees "clopen," i.e., close and then promptly reopen a store.
The two-week scheduling heads-up and 11 hours off were initially proposed by de Blasio, and his office says he's reviewing the remaining bills. These others would extend additional protections to workers, like by giving them the ability to request time off during emergencies or dibs on unclaimed work hours before employers go out and hire all-new staff. The biggest up-yours to the incoming GOP-controlled federal government, though, is in the last piece of proposed legislation, a first-of-its-kind law that would let employees — a group, you'll remember, that's never successfully unionized — pay membership dues to nonprofits that fight for workers' rights directly from their paychecks.