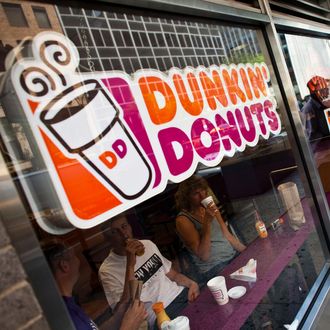 Can't run away from Dunkin'.
Photo: Ramin Talaie/Getty Images
The Center for an Urban Future released its annual State of the Chains report today, and as always, Dunkin' Donuts is the most omnipresent chain in New York. Its growth continues at a dizzying pace: There are now 596 Dunkin' stores in the five boroughs, 24 more than existed in 2015 and more locations citywide than Starbucks (317), McDonald's (217), and Papa John's (57) have combined.
Manhattanites rooting for local businesses could choose to see this year's report as a glass half-full: The number of chains in the borough dropped by a percentage point. Otherwise, it's a good time to be a fan of mass-produced food. Chains' overall gain citywide was 1.2 percent, marking the eighth straight year of an increase. True, Mickey D's shed 15 locations as part of its "strategic" downsizing, and Subway — No. 2 on the list after Dunkin' — shrunk from 445 locations to 433. But it was a pretty good year for Starbucks (12 new locations), Chipotle (nine), Popeye's (nine), Domino's (six), Nathan's (six), and Burger King (four). Dunkin's two dozen new stores should still frighten rivals regardless, though: That was easily the most of any restaurant chain, and honestly it's more than the net sum of locations opened by every other fast-food chain on the list (there are more than 70 of them), if closures count against their total. Consider it a victory for powdered Munchkins and garden-variety coffee.