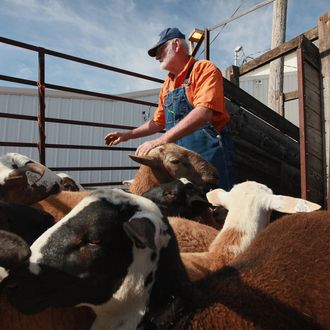 Farmers say it helps "level the playing field."
Photo: Scott Olson/Getty Images
Call it a big victory for the little guy: The USDA yesterday set new rules to end the anti-competitive business practices of Big Meat and Big Poultry that livestock farmers have been complaining about for years. The Wall Street Journal runs through a list of the changes today (they've now entered a 60-day comment period, so they aren't yet set in stone). Under them, the feds will now investigate a company for underpaying or mistreating individual farmers (before, farmers had to prove the actions hurt the entire industry). Another rule protects against retaliation if farmers speak out against meat-packers, and a third lays down a clearer definition of what unfair practices are, so there's less room for confusion. They're rules farmers have fought for since Congress first proposed them as part of the 2008 Farm Bill.
The Journal says they'll affect almost 1 million livestock producers, plus, of course, the big meatpacking companies that rely on their millions of animals — which a lot of times, ironically, are owned by Tyson or Pilgrim's Pride or whoever, and "lent" to farmers. This system has traditionally put most of the negotiating power in corporate hands, meaning the industry has largely gotten to dictate animal-husbandry practices as well as pay.
The meatpacking industry claims it's now possible these contracts could get ruled discriminatory. Predictably, Tyson blasts the move as "overregulation," while chicken's big trade group claims poultry prices will climb to cover the deluge of "frivolous lawsuits" that will surely result. Ag Secretary Tom Vilsack called that theory "absurd" yesterday in a call with reporters, and promised: "As long as I'm secretary, this department is going to be on the side of producers." Unfortunately, he isn't secretary for much longer, and the short list for his replacement runs quite the wide spectrum.