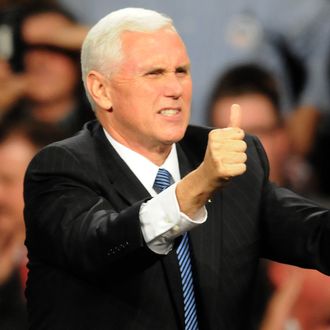 Maybe he's feeling it?
Photo: Steve Pope/Getty Images
Anyone hoping for a week sans #Pizzagate news, apologies — you only made it to Tuesday: NOPE, an anti-Trump coalition based in the same D.C. neighborhood as Comet Ping Pong, has posted an open letter asking Mike Pence to dine with them at the pizzeria besieged by a debacle that somehow began with the insane claim that Hillary Clinton is hiding child hostages in its backrooms. "We invite you to join us for pizza at Comet Ping Pong," their post on Medium reads. "In doing so, we hope that you will help us quell the damaging impact of a bizarre 'fake news' story that has put us all in harm's way."

The vice-president-elect's presence, they figure, will "help bring an end to this madness" that's resulted in, among other things, a man "self-investigating" the pizzeria with an assault weapon, and Comet begging supporters to help pay for hired security. It's worth noting Pence isn't exactly renowned for his ability to resolve pizza-related controversies — his Religious Freedom Restoration Act as Indiana's governor is what emboldened that tiny pizzeria Memories to hypothetically refuse to cater gay weddings, a blow that backfired immensely, then kept festering for months.

It's a rational letter, asking Pence to basically just think of the effects on Chevy Chase, the neighborhood his family has also picked to rent in:

We are a small town in the city, rich with small neighborhood businesses like the Politics and Prose bookstore where children and seniors gather for readings, and Comet Ping Pong which just celebrated its 10th anniversary. Along with Politics and Prose, Comet anchors the business district on our Main Street, Connecticut Avenue. Families come together along the Avenue to buy books, ride scooters, walk dogs, and enjoy meals beside their neighbors.

Now, your new neighbors are hurting. Parents and grandparents are left struggling to explain to our traumatized children why a man would fire a gun in a family gathering place in the heart of the community. Families are frightened for their own safety. Our small businesses are vulnerable. Police now patrol the block. And our small Main Street has been catapulted to the center of a firestorm. Meanwhile, social media continues to fan the flames.
The "simple act of breaking bread" would send "a powerful message" about Trump's tolerance for this kind of crap, they write (hope?), adding: "Last Sunday's assault on Comet ended peacefully. The next attack may not." Their letter went up late yesterday afternoon. So far, no one representing Pence or the Trump administration has responded.