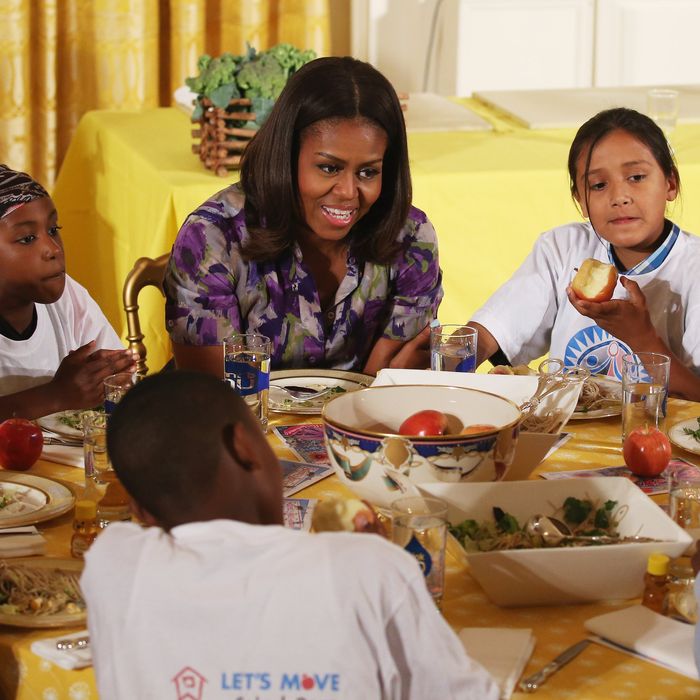 Not hanging up her hat just yet.
Photo: Mark Wilson/Getty Images
The incoming Trump administration can still visit plenty of horrors on the U.S. food industry: disbanding the "FDA food police," dooming fast-food workers to low pay, or even uprooting the White House vegetable garden. But one Obama-era legacy that will be more difficult to undo is the headway the First Lady has made for healthy food. Besides the lasting effects that initiatives like Let's Move had in both the public eye and corporate world, Reuters reported yesterday that the Partnership for a Healthier America, Michelle Obama's anti-obesity nonprofit, will also keep truckin'. The group will continue lobbying Big Food to make products more nutritious even after the White House changes hands.
The First Lady currently serves as PHA's honorary chair, and the group's president and CEO says her legacy "is going to continue for a long time after this." Obama is also expected to stay active in the campaign after returning to private life, though it's not clear in what capacity just yet. (Earlier this year, she just left it at "I will always be here as a partner in this effort — always.")
As Reuters notes, Trump has given health-food advocates cause for concern already. Georgia congressperson Tom Price is his pick for Health and Human Services secretary, the person who gets to help decide federal dietary guidelines, and Price voted for the so-called "DARK Act" that would've prevented states from labeling GMOs ("DARK" stands for "Denying Americans the Right to Know"). Trump's nod for Ag secretary is still up in the air, but that short list is giving people pause, and people in the Trump camp have also blasted Obama-era rules requiring menu labeling and improving school lunches as excessively "burdensome."
Still, the Obamas' former White House chef Sam Kass points out that Michelle Obama's legacy is pretty well entrenched. In six years, PHA has convinced Walmart, Walgreens, SuperValue, and dozens of other corporations to make food healthier, and those companies say they plan to uphold the commitments they made "regardless of any policy changes in Washington."