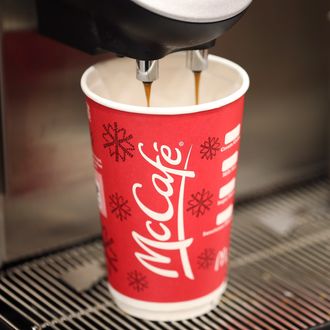 Biodegradable coffee sleeves probably coming soon.
Photo: Richard Lautens/Toronto Star via Getty Images
Sadly, the freedom to enjoy great terrible coffee may soon be a luxury. Bodegas are slowly but surely dying, urns at 7-Eleven now dispense "single-origin" brews, and even Starbucks is doubling down on fancy pour-overs in hopes that people will eventually pay as much as $1 an ounce. But the most telltale sign of the times comes from this new Bloomberg report: McDonald's has now decided to also third-wave-ify its $4 billion-a-year McCafé brand.

The news follows a promise made in October that all McDonald's coffee will be sustainably sourced by 2020, and the revamp will reportedly include "special deals, more seasonal beverages, and increased marketing of the chain's coffee rewards program." This means Starbucks knockoffs year-round, and to accommodate all that espresso-shot pulling, McDonald's is installing new $12,000 machines in stores. That's roughly the price of the original McCafé machines, but it must be because the chain got a deal this time — it tells Bloomberg the upgraded equipment includes legit milk-steaming wands that create "more consistent-tasting drinks" (past frothing generally amounted to a travesty of a process), and sort of vaguely adds that these machines are sophisticated enough to "make a wider variety of drinks."

The changes sound like McDonald's is mass-scaling its first standalone McCafé, which opened a year ago in Toronto with the aim of, to quote official McSpeak, "showcas[ing] the company's passion for elevating the cafe experience" with Americanos and pastries baked in-house. Interestingly, it's left the specific strategy for scaling to people's imaginations. All Bloomberg notes is McDonald's plan to "emphasize its price advantage over Starbucks" by offering $1 drip coffees and $2 small espresso-based drinks at the start of 2017.