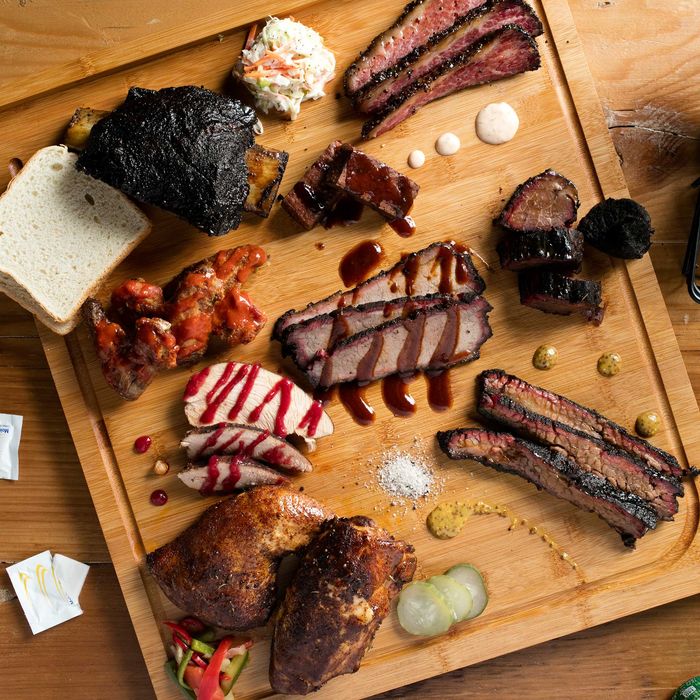 The spread at Main House.
Photo: Melissa Hom
New York, it can't be argued, is no longer the barbecue backwater it was just ten years ago. There's enough excellent brisket and ribs to feed the city's BBQ fiends for a good long while. But while north Brooklyn and downtown Manhattan are the city's current smoked-meat hotspots, plenty of other neighborhoods haven't seen so much as a burnt end. That was the case in Mill Basin, the residential and somewhat isolated neighborhood at the southeast end of Brooklyn — which now houses a certified-Kosher BBQ spot of its own.

After years of barbecuing upstate, local Richie Grin and friends from the neighborhood realized there was an opening to bring a different kind of brisket to the neighborhood. So they opened Main House BBQ, a new barbecue restaurant that, as Grin says, just happens to be Kosher. Grub Street talked to Grin about the restaurant, its origins, and introducing their community to American smoked meats:
How'd this restaurant come about?
So myself and three other friends, we kind of grew up together all in Brooklyn. We all were close to here. And then in the summers, we traditionally went to upstate New York to what we call the country, but is mostly known as the old-school Borscht Belt. And as we got older, we've continued to go there with our children. We developed a bond and friendship up there.
Where we grew up, in this really outskirts part of Brooklyn, Mill Basin, there were never any really good food options, Kosher or non-Kosher. But every Saturday night when we're upstate, all we do is barbecue and hang out. We decided to take that idea and turn it into something and, honestly, we wanted to do it in the place that we grew up in. So that's how the idea of the restaurant came about and the reason why it's called Main House. Because in the community that we go to in the summer, there used to be a main house in the center of that colony. And it was where, every morning when we were younger, we would all gather and figure out what trouble are we gonna cause today. What games are we going to play, and all that. So it was very nostalgic for us to come around to this idea again.
When you say you barbecue, do you mean you smoked meats, or you did "backyard barbecue" grilling?
We would do both. I think obviously when we were younger, we did the traditional put-it-on-the-grill type of thing. But then as we got older, we started smoking overnight. And it was sort of … we still played basketball and baseball and all that, but then it was like, "Okay, what are we doing tomorrow? Okay, let's throw a brisket on the smoker." And it was that idea of being able to just take it to a larger scale, that was the inspiration.
When exactly did you guys first start smoking meat?
I would say it's probably like, five years ago? It's turned into a more serious thing. Personally, it was something I'd been doing as a pure hobby for ten years. But, me and one of the other partners, he's one of the main guys who has been really interested in barbecue for a long, long time. He's traveled to various parts of the country to learn and understand better how it's done in every other region.
So when we came back, I know there's this idea of New York–style BBQ and it played really well with what we wanted to do. There were certain things that we loved about Texas, there were certain things that we loved about Kansas City, and all that. We just thought there's no reason we need to adhere to any one particular region — we don't need to. We don't have any tradition that we need to stick to. But we also wanted to bring in the various influences that we had growing up. We're all of Eastern European descent. We're all first-generation American. All of our parents came over from Eastern Europe, the Soviet Union, Israel. For the most part, about 40 to 45 years ago. So we grew up with a lot of Eastern European and Middle Eastern cooking. We take liberty with that and try to incorporate it into our food.
I think we use Texas as a platform, by which I mean everything we do is gonna be Texas-based because it's so beef-driven, there's no pork, there's nothing like that. It's really just a focus on beef. So in our minds, that is the foundation of everything we do and then, if we like saucy burnt ends, even though that's not a Texas thing, we'll do it. If there are other things that we think aren't even traditional barbecue at all, we'll do them.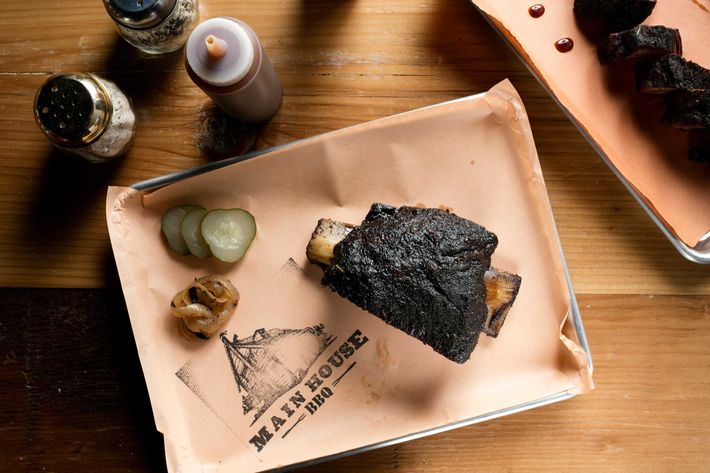 How are you doing that?
One example would be our mashed potatoes. Because we are Kosher we can't use butter or heavy cream, so we have to find creative ways to get around that. We all grew up with schmaltz [chicken fat] in our kitchen. So we're like, let's take it one step further and instead of using dairy products, let's just infuse our mashed potatoes with brisket fat. So we call it schmaltzy mashed potatoes, but in reality it's not schmaltz, it's just brisket fat that we're using.
What made you feel barbecue could succeed down here?
Truthfully, a part of it is, there's really nothing else out there. There's limited competition. But also, because we are a Kosher restaurant, we wanted to be surrounded by neighborhoods that could sustain this business model. So that part of Brooklyn, there are Jewish Orthodox communities very close, as well. So there are a lot of communities, whether in Long Island; in Belle Harbor in Queens; Marine Park, Flatbush, and all these different parts of Brooklyn. It's all in close proximity.
I guess I'm thinking, you could have a lot of customers, because they keep Kosher and the restaurants aren't, who haven't had much barbecue. So maybe there's some element of it being unfamiliar to people?
That's something, truthfully, that we're learning as we go along. People are used to a sort of standard flavor profile, just because there's been so limited options out there. But I have to say, the response has been pretty positive. It's been overwhelming support. People are looking for something different. Barbecue in the non-Kosher world has just blown up, especially here in the city over the past few years. There's no reason why that can't take off in the Kosher world, as well.
Is this the kind of place that you would have wanted to have when you were growing up?
Yeah. That's exactly what it comes down to. And also we're trying to like — this might sound a little cheesy — but you know we have so much fun in the summer on the weekends when we're all together. We want to replicate that all year-round, and obviously it's a very difficult thing to do. I know restaurants — that's definitely not the right way to do that — but that feeling, that comradery, that sense of just having all your friends together and having strangers together over fire is what we're trying to bring the masses to. In the Kosher world at least.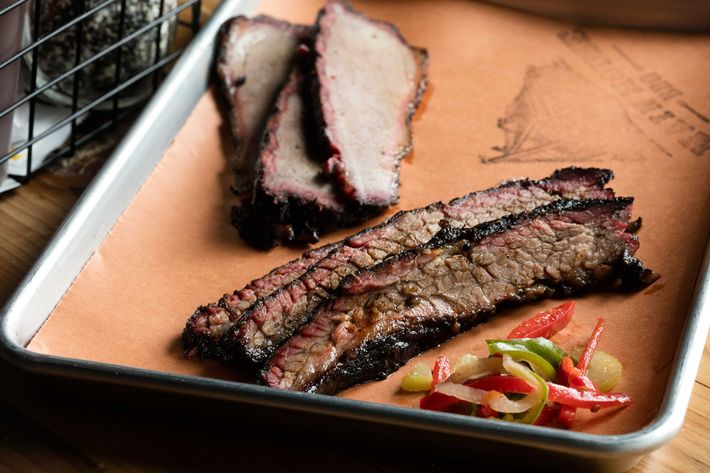 Yeah, you're doing the pastrami, the roast beef on Sundays, the chicken wings with a sticky-sweet sauce. Do you plan to broaden the menu?
For sure. We're starting off with a more focused menu, and the idea is to definitely expand and be able to create and introduce new flavors and ideas once we have the core menu up and running. But you know we want to play with the ideas of doing, like, lamb bacon, and introducing flavors and ideas that people in this neighborhood might not be comfortable with or understand, but using Kosher foods to help bring that flavor profile out. We've had trouble finding a good distributor or casings and that's really been the only reason why we haven't introduced sausages just yet, but we've been playing with the flavors and all that.
How did you meet your chef, Dale Buchheister, who isn't from Mill Basin but Kansas?
We connected at his previous job at Northern Bell in Williamsburg. We wanted to find someone who felt comfortable with various different ideas of what barbecue can be. What attracted us most to Dale was that he worked at various barbecue places that spanned regions. He did a stint at Hill Country, some time at John Brown Smokehouse.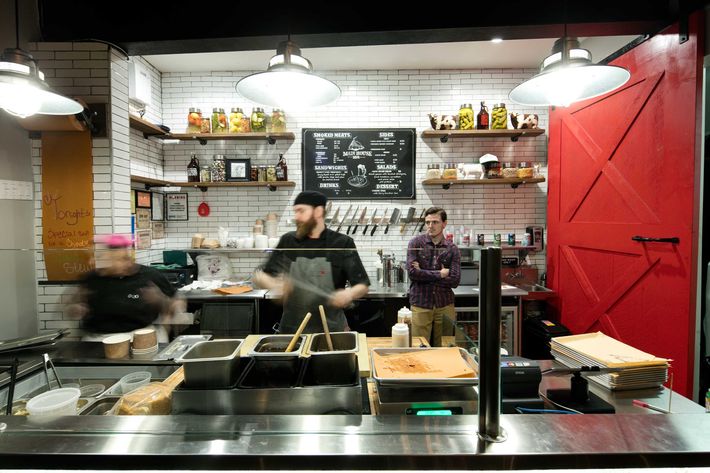 You talked about the lack of good restaurants in the neighborhood growing up. Beyond the nostalgic reference of the Main House, was there a desire to create sort of a community center?
So you know it's funny. Our idea when we were thinking about the restaurant — and this isn't to disparage other Kosher restaurants at all — but having been to probably all of them, I can tell you that it is the most unpleasant dining experience, and that's because while the food may sometimes be decent and edible, there's just like — there's no attention to detail, there's no focus on service. All they try to do is turn tables over.
So when we were building this place we kept going back to the idea of being upstate and having that freedom. We wanted to really create a place where if you want to sit down have two beers on a Sunday and watch a game, we're not going to rush you. We want something spacious that has enough seating for enough people that we're not just trying to pack people in and turn tables over. We want to make sure people are enjoying it — obviously we want to make money. Obviously. But we want to make sure people are enjoying their time there, having a good time, and enjoying the food as well.
Main House BBQ, 6001 Strickland Ave., nr. V. Ave.; 718-673-8773