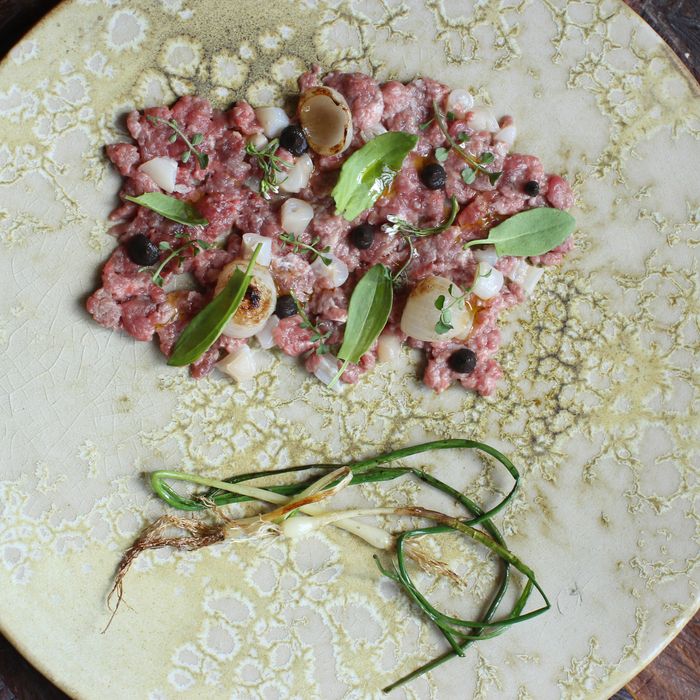 Beef tartare with razor clams, as served at Luksus.
Photo: Melissa Hom
When former Noma pastry chef Daniel Burns opened Luksus in 2013, it admittedly sounded like the ultimate example of a hipster-Brooklyn restaurant: a tiny Scandinavian-leaning tasting-menu spot tucked into the back of a haute Greenpoint beer bar. But Burns turned out stellar food, and, like Fredrik Berselius has recently done with Aska, proved that this kind of Nordic dining can transcend clichés. (Burns was awarded a Michelin star in the process, too.) It's a shame, then, that he's closing Luksus at the end of this month — yet another addition to a long list of great New York restaurants to shutter in 2016.
"It's sad, but I'm thinking about all the good stuff that can happen next," Burns says. While Luksus will close for good, the attached beer bar, Tørst, will stay open and expand into the back room. Burns's partners and kitchen team will stay on for the latter, but he won't be involved.
While Luksus was the first restaurant to earn a Michelin star without a wine menu, the restaurant remained pretty under-the-radar, never receiving a New York Times review. (In a New Yorker profile, Times critic Pete Wells said, "I can't figure out what to say about it.") Even still, Burns explains that this decision is more personal than economical.
"In terms of tasting menus, it can be challenging, but financially, it was feasible," he says. "It's more of a creative choice to try something new, and to celebrate what we did for the time that we did it. We planned to do the tasting menu, and it's worked well, but for me, it just feels like the time has come to make changes."
While Burns isn't sure what he wants to do next, he has a few international collaborations already lined up, like at Omnivore in Paris and Loco in Portugal. He does say that he eventually wants to return to New York; he's just the kind of chef who likes to find something specific and then totally geek out, and he needs time and space to explore. After making dessert at Noma, he headed up Momofuku's research-and-development test kitchen, and then beer became his focal point.
"I go to an extreme level," he says. "To be honest, I've been pretty geeky about ice cream and gelato, so that might be something I look into in the future. But I'm in no rush to open anything straight away. I'd like to take some time to myself."