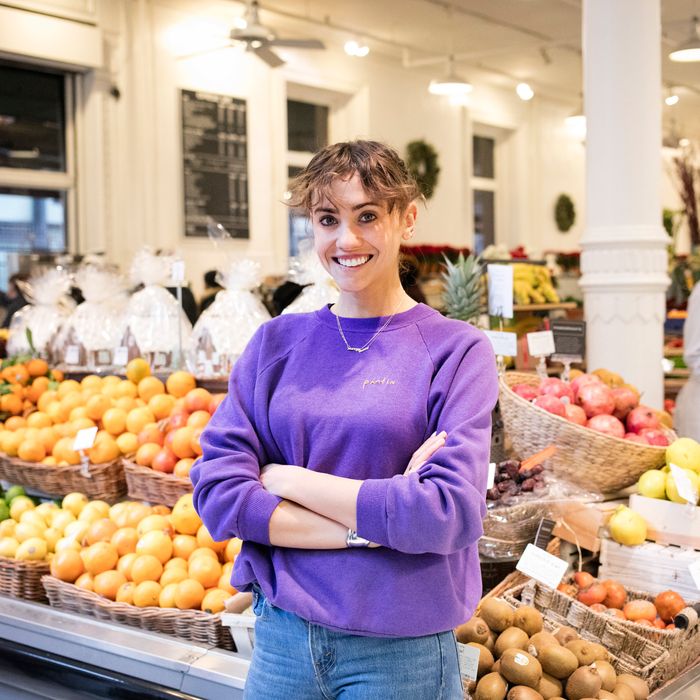 "I like things to be so spicy most people can't eat them."
Photo: Melissa Hom
As the editorial director of Coveteur — a popular platform for fashion and lifestyle stories — Laurel Pantin's job entails attending fashion shows, overseeing photo shoots, and keeping tabs on the office's plentiful holiday snacks (gingerbread cookies, candied popcorn, Canadian potato chips!). But aside from grazing, she sat down for several proper meals this week — at Perry St, Wallsé, Tamarind, Osteria Morini, and Cookshop — and also cooked Tex-Mex. Read all about it in this week's Grub Street Diet.
Thursday, December 8
I have just a tiny shadow of a hangover when I get up. Last night, my husband and I had dinner at Perry St with two of our friends. I ended up having two Tito's martinis on the rocks and a glass of Fernet with my cranberry pavlova (which was delicious, I love meringue and anything that dissolves as you eat it).
Most mornings, I go to the gym and walk on the treadmill as quickly as I can for an hour — usually while watching Drag Race on my iPad. It's my favorite little morning ritual, but lately I've been sleeping eight-plus hours (it feels so good), so I skip my workout, and instead walk to a few pre-fall appointments in midtown from my apartment in the West Village. The first is Creatures of the Wind, which is beautiful, and then Jonathan Simkhai, where I run into my best friend, Emily Holland. Emily and I have a micro-hang while waiting for the train downtown and make plans to meet up later that day.
On the way to the office, I stop at Cafe Bari on Canal and get an almond-milk flat white. I've been trying to wean myself off coffee, because the way I like it best is basically as melted coffee ice cream — tons of half-and-half and 8 billion Splendas. Sometimes if I overcaffeinate, I feel that I'm going to punch through a wall or rip my skin off, so that's also not good.
At noon, I leave the office with our site director and head of technology, Andee Olson, to get lunch. Before we leave, I grab a handful of All Dressed potato chips. Coveteur is a Canadian brand, and we tend to have Canadian snacks in the office. All Dressed tastes kind of like vinegar mixed with ketchup and BBQ sauce, and it's pretty delicious. To be fair, I like potato chips in all flavors.
We go to the new location of Mimi Cheng's, which is great. I get the vegetarian-dumpling bento box, which has a few perfectly chewy dumplings, a side of pickled cucumbers, and pickled radishes — plus their fantastic "secret sauce." I like things to be so spicy most people can't eat them, and while the sauce is nowhere near that spicy, it has a nice bit of heat. I inhale the dumplings and then eat half a Coffee Crisp, which is another Canadian junk-food treat — it's like a Snickers-size coffee-flavored Kit Kat.
At around 2 p.m., Andee comes back from an errand with two family-size bags of Boom Chicka Pop kettle corn — another office favorite — and I have to have a few handfuls of that. A lot of snacking and friendship time happens at Coveteur.
It's the night of Coach's 75th anniversary party and pre-fall show, which Emily and I go to together. We do almost everything together. Before the show, we meet at Eataly and share a cheese plate and a bowl of olives, and each have a glass of Pinot Noir. Usually when we hang out, we share every single thing; we went to Greece together a few summers ago and would literally share a bowl of yogurt.
The set for the Coach show is unbelievable — it's modeled to look like a motel and a parking lot, and after the models walk, a children's choir comes out and sings "Empire State of Mind," which is pretty random but excellent. Also, fake snow begins to fall. I love a good spectacle, and this one is super spectacular. After the show, Emily and I have a few glasses of Champagne. We stay until 10:30 or so. When I get home, I finish half a tin of leftover lentil casserole from Tea & Sympathy from a few nights ago.
Friday, December 9
I sleep until the last possible moment, and spend 20 or 30 minutes flopping around in bed and noodling around on my phone. I have a breakfast meeting at Cookshop at 9:30, so eventually I get up and take a long shower.
I don't usually like having a big breakfast first thing in the morning — I prefer to wait until noon to eat — but our meeting is really fun, and I have a tasty frittata with kale, butternut squash, and some cheese, along with about half a bottle of Tabasco and a hot water with lemon. Kind of my ideal breakfast. At the end, I eat two slices of my co-worker's cranberry-walnut toast with butter and cranberry jam.
After that, I have a photo shoot with Tracy Anderson. On the way back into the office, I run into The Smile to Go because I'm verging on being hangry and it's fast. Our office is across the street, and I eat there two or three times a week. I get their carrot-lemongrass soup, and a little box of kale salad with pomegranate seeds and some sweet potatoes. It's all very tasty, but not nearly enough food, and I go crazy afterward searching for snacks. I have a little chocolate and a tiny cookie.
At 4 p.m., our CEO comes back from a meeting with gingerbread cookies. The best. An hour later, there's a fresh bag of kettle corn, and I find myself eating it by the fistful.
At six, I meet up with Emily for a class at Physique 57. After the class, we walk to my apartment and we have a glass of Monkey Shoulder whiskey on the rocks.
My husband, Justin, meets us and we all go to Wallsé for dinner. Wallsé is one of my favorite places in the neighborhood. It's reliably great. We order a bottle of Blaufränkisch wine, and we all share the special black-truffle-and-cheese spaetzle. Emily orders a beet salad with Concord grapes, and I get a big leafy salad. We share them, obviously. My husband gets a bowl of chestnut soup. Emily and I also get the halibut, which is one of my all time favorite things to eat. For dessert, we get one scoop of fig, one of guava, and one of Concord-grape sorbet (the guava is the winner), as well as an apple strudel and one Fernet each.
Saturday, December 10
I sleep in a bit and then go to the gym to walk. Afterwards, Justin and I have a reservation to tour the Judd Foundation in Soho, something we've wanted to do for a while. Afterwards, we meet up with Emily to go to Walter de Maria's Earth Room (one of the best things I've ever seen) and also his Broken Kilometer.
Then, we all go to Osteria Morini for lunch. We order a bottle of Brunello, some salads, and then rigatoni with mushrooms and tomatoes. We also have some of their delicious warm foccacia. We all sit at the chef's counter, which is my favorite. After we eat, our friend Sean joins us, so we get another bottle of wine. We get a cheese plate and some sorbets for dessert. Osteria Morini is underrated, in my opinion.
Once we get home, my friend Michael comes over and we have a 20-minute mini-hang and drink a million cans of grapefruit LaCroix. Emily comes back over, and we snack on some edamame and try and figure out where we're going to eat dinner.
We branch out and go to Tamarind in Tribeca for Indian food. The space itself is kind of hilarious — I feel like I'm eating at a hotel in Vegas, but the food is fantastic. Sean meets us and we have martinis (Tito's dirty on the rocks) and order tons of food. We share a chocolate cake for dessert, and then go to Ear Inn for a nightcap.
I order a Bulleit on the rocks, but stop at just one. On the way home, I get Lindt cookies and cream truffles from my deli — a very dirty habit. We live near a great deli — they have a diverse set of checkout candy options.
Sunday, December 11
After yesterday's marathon of eating and drinking, I'm feeling a little like I need to get my shit together. I go to the gym to walk, and on the way back get an almond-milk flat white. I have an hour-and-a-half-long work call at noon, so I snack on a clementine during that and drink my coffee.
Justin and I go down to Cherche Midi and have lunch at the bar, which is incredibly pleasant. I order poached eggs on avocado with jalapeño and tomato salsa on country bread, with a side of spinach and mushrooms. Justin gets a burger and I eat half his fries.
After that, we go shopping for some presents and walk back home through Soho, and then it starts snowing! Magic!
I promised Justin I'd make him enchiladas, so we go to D'Agostino to get ingredients. At this point, you may have noticed that I haven't made a single meal at home. I really, really don't like cooking, and we almost never have any food in the house. When I do decide to cook, we have to buy literally everything, so it's kind of a pain. The only things I can make are enchiladas or a taco bar (I love Tex-Mex), so this time it's vegetarian enchiladas. We get broccoli, asparagus, orange bell peppers, peas, corn, zucchini, and jalapeños for the enchiladas, and I decide to make some cauliflower rice in my Vitamix, along with refried beans.
We go home, and I do a few more hours of work before starting in on dinner. While I'm cooking, I listen to a really interesting episode of Love + Radio, but I still don't like cooking and I probably won't do it again for six months. I do make a ton of cauliflower rice and lots of extra veggies for the filling, so I'll eat that all week. My uncle, Bill, in Texas makes this hot sauce that's probably 30 percent ghost pepper — he and my aunt grow them at home — and it's almost inedible it's so spicy. I love it, and a few months ago they shipped me about ten jars of it. I slather it on the enchiladas before baking them, and they turn out really well. Justin eats so much he gets sad.
After dinner, I have a couple of clementines. No matter how much I eat, I always need something more at the end. I like to have a final nibble of something different. I almost always get dessert, and if I don't, then I have to have deli candy.
Monday, December 12
I wake up a bit late and rush to get to our office. We have our Toronto team in town this week, and we have an all-company meeting that I need to be present at, and I'm a tiny bit nervous. I grab an almond-milk latte on my way in, but the second I walk in the office I see someone has brought a massive tin of candied popcorn, so I shovel a handful of that in my mouth. Not the best breakfast.
The meeting goes until 1:30, and I order a kale salad from The Mill with artichoke hearts, sun-dried tomatoes, sweet potato, feta, avocado, black olives, and jalapeños. I don't know anything about The Mill other than I order their salads when I'm too busy to leave the office for lunch. My salad is over too quickly, so I get an orange fizzy water and another handful of popcorn.
I kind of continue picking on candied popcorn and snacks all day. I eat way too much popcorn. At 6:30, I go to a Physique 57 class, which I struggle through.
Afterwards, I head home and eat leftover cauliflower rice and some sautéed veggies with a ton of melted cheese on top, and do another two hours of work before going to see my friend Mikey.
Mikey worked on the new season of America's Next Top Model, so I go to his apartment to watch it with some of his other friends. He has a gorgeous (overweight) bulldog named Barbara. I love Barbara. I bring over a bottle of Champagne and have a glass and two slices of pizza (plus like 16 Ferrero Rocher chocolates — I love deli candy!) while we watch the show. It's so much fun.
Tuesday, December 13
I'm on set all day styling a story for Coveteur. I pick at catering nonstop. It's from Lemons & Olives and it's fantastic. For breakfast, I have some scrambled eggs and about five little toast rounds with avocado and tomato. I keep popping those toast rounds in my mouth until lunch comes, and then it's whole-wheat pasta salad, butternut squash, cauliflower, and Israeli salad — it's all so good that I literally go back for thirds. Then to top it off, I have a slice of chocolate-pecan pie.
I'm on set until about six, when I head back into the city from Brooklyn. I go to the office for about an hour before meeting my friends for dinner. We go to Takahachi in the East Village and get a bottle of sake, shishito peppers, spicy tuna tartare, spinach, and a sashimi platter.
My brother is in town having drinks nearby with some of his friends, so I meet him on my way home and we stop by Tom & Jerry's for a beer. There are four couples aggressively making out in the bar, which is hilarious, and kind of warms my heart (romance lives!). At this point, I'm fully aware I've been drinking every night (with one exception) for the past week (this is not standard behavior!), so I'm a little relieved that the night stops at just one beer.