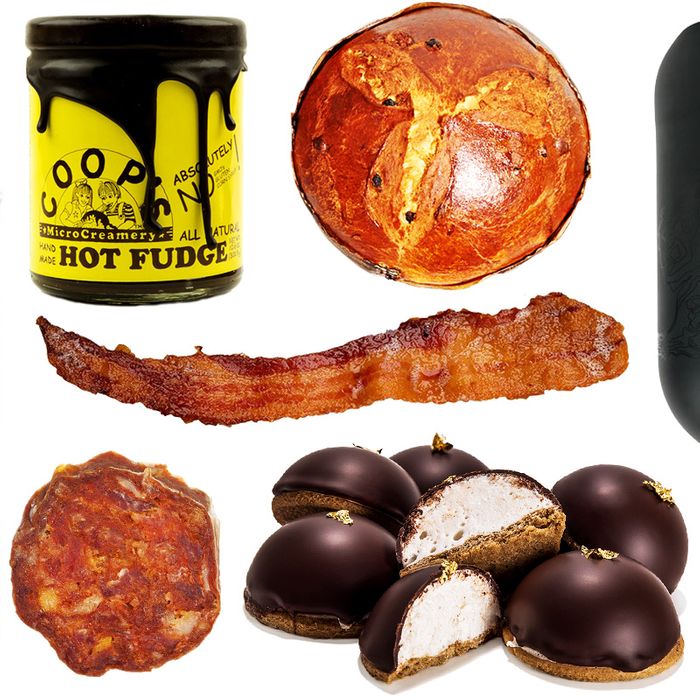 Everyone loves food and booze.
You probably got the memo, but if not: Time is quickly running out before Christmas. It's in five days. No doubt you have a few gifts left to get. Everyone ends up doing some last-minute shopping, but don't let the stress of it seduce you into wasting your money on whatever sparkling wine or not-so-great-looking salami you can grab first. Here, 11 recommendations for last-minute booze and food gifts to get for the holidays:
Panetone gets a bad rap, but when made well it's a worthy holiday sweet. The Brooklyn gourmet deli makes its by leavening the dough for three days, then sprucing it up with candied lemon and orange peel and brandy-soaked currants. Bonus: There's free two-day shipping, so get on it and order yours today.
Upgrade your holiday dessert game without doing any extra work: Just microwave this Massachusetts-made hot-fudge sauce and drizzle it over any and all desserts.
Like its Christmas cousin fruitcake, stollen has a bit of a bad reputation that's not entirely deserved. Zingerman's makes its with butter, rum, fresh and glacéed lemons, oranges and orange zest, cherries, currants, almonds, two types of raisins, vanilla beans, and cinnamon.
Philadelphia's creative charcuterie company produces several kinds of bacon, including this one made by slow-roasting pork belly and given a heady dose of garlic.
The swanky American triple-crème cheese is made with a combination of tangy goat's milk that's buttered up with fatty Jersey cow cream.
The properly fatty, spicy chorizo from the Spanish-style-meats-maker will satisfy any salami snob.
The New York company has been perfecting its pâtés for decades, including this country-style pâté de campagne made with pork and pork liver and accented by spices.
Help your friend upgrade her punch game this year. The spiced rum from this Minnesota distillery is made with Louisiana sugarcane, vanilla bean, warm spices like allspice and cinnamon, and the unusual addition of espresso bean.
Photo: Retouching: Dilek Studio
Everyone gets nostalgic for Mallomars. This bakery doesn't mess with the formula, making its with a speculoos biscuit and vanilla-bean marshmallow dipped in bittersweet chocolate. Take note: Cookies must be ordered before noon tomorrow if you want them for Christmas.
Get your friend a different kind of bubbles with this sparkling cider made with Hudson Valley apples fermented with Champagne yeast (with none of the cost!) and rounded out with pomegranate and hibiscus.
This one is for the Campari lover in your life. This year, St. George — makers of a slew of great spirits — released its very well-received take on the Italian aperitif, which, in keeping with its tradition of California-inspired booze, is made with Seville oranges grown in the state as well as botanicals like gentian root.
If you buy something through our links, New York may earn an affiliate commission.