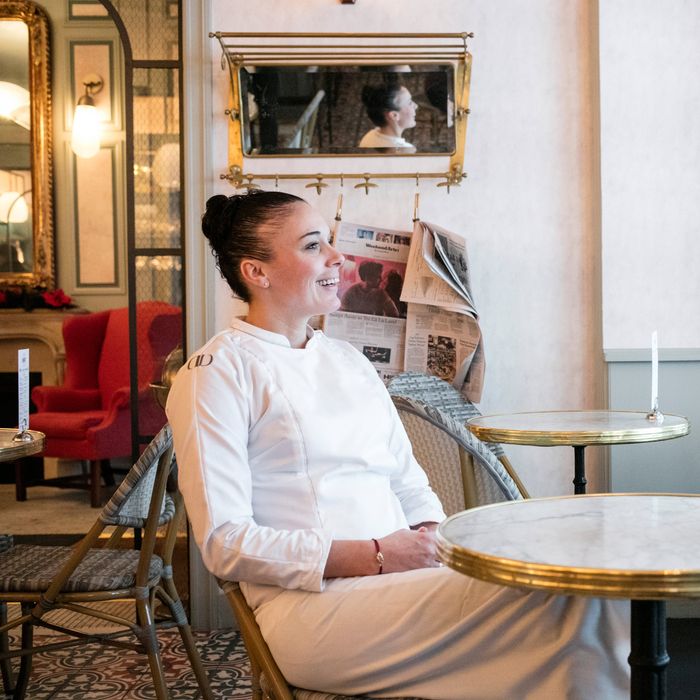 Laetitia Rouabah, taking a rare break at Benoit.
Photo: Melissa Hom
Laetitia Rouabah doesn't see the sun anymore. When Rouabah got to New York, in September, she could still glimpse it in the mornings, but it's almost winter now, so it is still dark — or as dark as Long Island City gets — when she wakes up. It's the dead of night by the time she gets back home. The long hours are the result of her new job: This past Friday, Rouabah assumed her duties as the executive chef at Benoit, Alain Ducasse's flagship bistro, so the sun will have to wait.
The 33-year-old Rouabah is the rare unknown quantity in New York, a city where chefs tend to arrive with a cannonball mentality: the bigger the splash the better. Rouabah, however, has slipped into town almost entirely unnoticed, and is now charged with running the best bistro in Manhattan — an island with no shortage of red banquettes, country baguettes, and blanquette de veau. English still being relatively new for the chef, she speaks in French to describe her new task. "Mr. Ducasse tells us to always push toward excellence. That is what I must do now."
The argument could be made, understandably but perhaps incorrectly, that New Yorkers appreciate real bistros. It is a trend that seems to be perpetually cresting. But the newest wave of exciting French cooking — the food you see at Le Coucou, Mimi, and Le Coq Rico — is not at bistros, though they have been called such. Furthermore, many of the city's most famous bistros are simulacra "bistros," fun but fictive. (It's not surprising that the main progenitor of these picturesque "bistros" is Keith McNally, who began his career in theater.) Meanwhile, Benoit, which occupies the space once home to La Côte Basque, has always been a little bit too real to be real.
It was designed to fit the French idea of a bistro, which differs from the New York idea of a bistro. Here we mistake tradition for comfort, which means a lot of roast chickens and crispy frites. But true bistros can also be ambitious. As Rouabah explains, "A bistro serves cuisine with a base in tradition, born of patience but served with efficacy, and above all made with the best ingredients one can find."
Benoit had, as even Ducasse admits, a rough go of it early on. Two years in, Ducasse capitulated somewhat to the critical pans and replaced the original chef, Sebastien Rondier, with Philippe Bertineau, formerly of Payard and briefly of McNally's Balthazar, who is a hardworking man with sunken eyes, a bad back, and a masterful touch. With Bertineau at the helm, it's been seven years of steady gains. The slow righting of the ship culminated earlier this year, when we named it the best bistro in New York, and the restaurant received a triumphant two-star ode from the New York Times. "He is the restaurant's third chef," wrote Times critic Pete Wells of Bertineau. "With any luck, Mr. Ducasse won't need a fourth for a long time." Soon after, Ducasse took it upon himself to tear the place up and start over again.
He ripped out the dining room, replaced the famous blue sky trompe l'oeil mural with flat white, and turned the dark-stained walls white, too. The fussy lights are gone. Ducasse's plate man, responsible for all the service ware at the chef's restaurants, replaced the sturdy Gallic ones with terra cotta in muted colors, the kind of plates one might expect to find in Bushwick and Greenpoint. It was, in Ducasse's words, Benoit 2.0.
It wasn't clear at the time, but this lightening would also extend to the kitchen. And so it was, during lunch service a few days before Rouabah formally assumed control, she stood at the pass, looking gravely at a plate of beef bourguignon with a thick shimmering layer of sauce covering the meat. "Geoffrey," she said, "red wine becomes a little bitter when it's reduced. Next time, add a splash of port to sweeten it. Manuel, this onion isn't halved. These need to be uniform."
For the last 13 years, which constitutes the entirety of her career, Rouabah has moved through the ranks of the Alain Ducasse empire, so vast that it comprises 26 restaurants in seven countries. Rouabah's last job before this one was running the kitchen at the 80-year-old Allard, which, though bought by Ducasse in 2013, remains a woman-run restaurant and one of Paris's most important bistros. (Ducasse also owns the original Benoit in Paris.) Rouabah has often been called his protégée, for she, like him, is militantly precise with her execution, runs a kitchen with calm but absolute control, and has a deep and vast knowledge of French technique. "He didn't even have to ask me to come here," she says. "He knew I would say yes."
At Benoit, she moves about the kitchen quietly, offering gentle but firm corrections. She wears no jewelry but a small Hand of Fatima her mother gave her, and a thin bracelet, a gift from the staff at Allard. (They also pried from an oven an old Allard sign, which she now keeps in her office.) The rims of plates must be cleaned up to one knuckle, she tells the garde manger, showing how to do it. Sauces, many dispensed from squeeze bottles, must be applied in uniform patterns. Less Pollock, more Lewitt. Excess moisture from the cod must be allowed to drain before it is plated, lest it messes with the intricate lines of the sauce rougaille. Change will come slowly, she admits. "We'll be easing into it. This is my first draft."
Though her remit is to reinvent the menu, Rouabah does plan to keep a few classics, especially during lunch. But even that has been gut-renovated. When she first arrived in the kitchen in September, Rouabah called the restaurant's suppliers for a new-sheriff-in-town moment. "I explained to them Ducasse's vision for naturality," she says. She ended up replacing many of the products and producers, but Rouabah admits she's also trying to learn as much as she can about her new home. On days when she doesn't have English lessons, she visits the Greenmarket. She wants to know more about the farms, and about Americans' tastes. Though she does not yet have a community of chef or civilian friends — "I don't really have time to make friends," she says. "There is too much work to do" — she has been going to restaurants like Blue Hill at Stone Barns, Atrium, and Porter House every week to see what people like.
During a busy lunch service last week, it was difficult to know if Rouabah's changes had registered with the crowd. But it is clear that whoever is doing the cooking is already up to something sly, slightly subversive, and ambitious. Sea bass is ringed with orange-peel-studded seaweed, a side of "torrefied" spelt topped with milk-and-garlic foam. The menu lists hazelnut, foie gras, and mushrooms cromesquis, small, obscure fritters that arrive in an intricately folded napkin and are meant to be dipped in chestnut velouté. These are a far cry from so-called New York bistro dishes, cheeseburgers and "macaroni au gratin."
There are a thousand reasons the latest Benoit might fail. It could be the long shadow of Essex House. Perhaps Ducasse's vision is too far out for Americans to savvy. Perhaps it will be because we prefer our bistros to extend no further than what we already imagine them to be. But there's one person who hopes she can change our minds, and she's put everything on the line to do it.