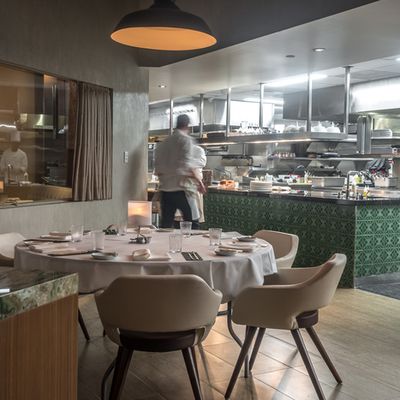 The private chef's table at Gabriel Kreuther.
Photo: Paul Wagtouicz/© Paul Wagtouicz
Are you the "in the know" member of your friend group? Do you get a thrill out of going to new restaurants the second they open, or dining at exclusive chef's tables? Then allow us to introduce you to New York by New York, New York Magazine's premium membership program which we've launched just in time for the holidays. Think of it as a key to unlock special experiences and offers curated by our editors. In a given month, a membership can get you early entrance to the new Museum of Food and Drink exhibit, VIP ticket packages for Hamilton, and the opportunity to rub shoulders with restaurant critic Adam Platt at one of his favorite restaurants while sipping on sparkling wine. Each week, members receive a list of exclusive offers and sales (all editor-approved), plus access to a members-only Instagram account filled with insider tips and intel. Sign up and see what's happening in 2017 (there's bound to be something to delight every New Yorker you know). And while you're at it, why not finish checking off everyone left on your gift list with a $25 three-month gift membership? It's the perfect gift for a discerning New Yorker (who already has a Zabar's mug and a throw pillow in the shape of a pigeon) or someone who loves this city as much as we do.