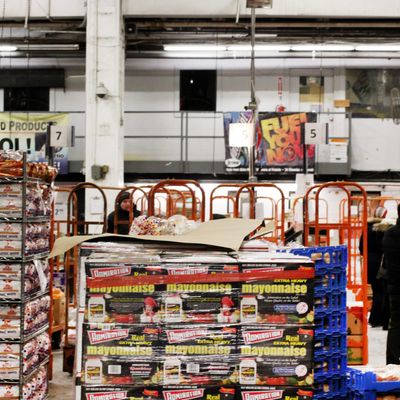 The glamorous side of running a restaurant.
Photo: Chris Crowley
New York's restaurateurs have to deal with an enormous number of headaches: managing constant staff turnover, comforting overly demanding diners, struggling with rising rents, hoping ConEd doesn't turn off the gas, and navigating the terrifying shopping experience at Jetro Cash & Carry, a massive restaurant-supply store in Gowanus, Brooklyn.
When asked to sum up the experience of going to Jetro, Chris Young, who co-owns the Commodore and El Cortez, remembers the time he waited behind a customer paying for $900 worth of items with singles. After ten minutes of counting out the bills, the customer was $3 short. When he demanded a recount, Young offered to pay the difference, which only made matters worse. "He's screaming at me like I had spit in his face," Young says. "Meanwhile the cashier is flipping him the bird behind his back, which is making me crack up and pissing the guy off even more — I made it out without being punched, and that was one of my better experiences there."
Young isn't alone. The Hamilton Avenue store is one of Jetro's 12 locations, but chefs and restaurateurs peg it as a place that is uniquely hectic and abusive. Industry folks around town describe it, variously, as "an absolute nightmare," a "last resort," "a vortex," and "like Oz" (as in the HBO prison series, not Dorothy's fantasy land).
If you don't work in the restaurant industry, you've probably never heard of Jetro, but it's essential to the city's food-and-drink world. If you've ordered chicken tenders at a true dive, bought basically any food item at a bodega, or even used a napkin at places like Court Street Grocers and Mile End, there's a chance it came from Jetro.
Located right next to the BQE, the Hamilton Avenue Jetro is like Walmart from some post-apocalyptic future: The vast warehouse sports concrete floors and dim lighting. It's really cold during the winter. A high-security candy section is actually gated, with a fence that reaches to the ceiling. Shelves, standing what seems like 20 feet high, are stacked with just about everything a restaurant owner could want or need in bulk: tubes of frozen turkey meat, boxes of cookies, vats of cooking oil and mayonnaise, canned beans, and more. There's cheap food — like the plastic-wrapped Daisy croissants you see at bodegas — and high-end options like Acme smoked fish and Manhattan Special soda.
There is also a complete lack of customer service and an atmosphere that could be described, at best, as chaotic. "If your cart is not fully loaded to the top, and you turn around, someone will be unloading it and taking stuff from you," says Emily and Emmy Squared co-owner Matt Hyland, who also says he never goes unless he absolutely has to.
"I was halfway through shopping," recalls Noah Arenstein, an owner of El Atoradero in Brooklyn. "And I went to go grab something from an aisle. When I go back my cart — I'm not talking about a shopping cart but one of those U-boats — it's gone."
In addition to cart thieves, the store is also in a constant state of restocking, so shoppers must avoid the fleet of forklifts that race around the store. "You have to jump out of the way because they're just going," Hyland says. "They're not stopping, they're honking, they'll hit your cart, you have to get the hell out of the way." Keith McKee, whose wife owns the Windsor Terrace café Steeplechase Coffee, says the threat of a forklift accident is so serious that he once had to sign a waiver when he brought his kid with him. "I had to respect that."
And then there are the birds, which roost in the building's ceilings. Hyland says they're the most dangerous hazard of all: "You do get shit on if you're not careful."
Finally, all of the tension that builds during the shopping experience comes to a head in the line to check out. Carts are stocked with so much stuff that jockeying for positioning could mean a difference of an hour or two. The line at the DMV is civilized by comparison: Everyone is willing to push and shove to get what they want. People shout, punches get thrown. "You want a fight?" asks El Atoradero chef Denisse Lina Chavez. "Come to Jetro. It's a good place to find one."
Fights. Errant forklifts. Bird shit. Why do people put up with this place? As McKee, who first went to this location when he was 19, puts it, you can get out reasonably well if you arrive with a plan. The fact that Jetro's cheap is one reason some operators swarm it, but that's not enough for everyone. Instead, the store's main draw is that it has everything a restaurant could possibly need — so it's an excellent last resort, or a place for regular restocking. It's the rare one-stop destination in a city where stores are squeezed for space. When a chef realizes she's dangerously low on cucumbers or that a supplier messed up and the restaurant will run out of napkins during service, Jetro is there — even if the experience is the complete opposite of gently rummaging for veggies at the Greenmarket.
"Any romantic visions of the glamour of owning a restaurant fly right out the window as soon as you pull into that parking lot," Young says. He and chef Stephen Tanner would go somewhat frequently when they opened the Commodore, which was back in 2010, and Young sounds like a man who still hasn't fully gotten over the experience. "We'd have to stop for a couple beers on the way back just to recover."