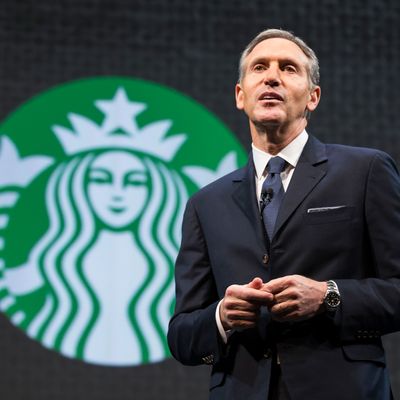 Howard Schultz has helped turned Starbucks into a global coffee force.
Photo: Stephen Brashear/Getty Images
Long live the Pumpkin Spice Latte king. Howard Schultz will step down from his role as CEO of Starbucks next year, the company has revealed. Over two separate tenures as lord of the Frappuccinos, from 1987 to 2000 and again from 2000 through this year, Schultz has grown Starbucks into the monolithic coffee it is today. He'll stay on with the company as its executive chairman, allowing him to transition into a role focused on Starbuck's third-wave coffee ploy — Reserve — and, much more importantly, it's civic causes. This is important, because it was clear to observers that Schultz's efforts to eradicate racism by writing stuff on cups and unify a sharply divided America with green cups only failed because he wasn't able to fully devote himself to the projects.