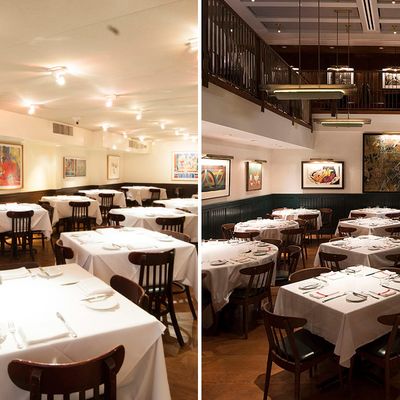 The original Union Square Cafe on the left, version 2.0 on the right.
Photos:: Liz Clayman
Like rainy days and old age, rising rent affects everyone. Nowhere is that truer than the restaurant industry, and even people who run some of New York's most acclaimed, seemingly popular restaurants are not immune to the harsh realities of the city's real-estate market. There are a number of reasons a successful eatery might be pushed out of its home, and often it's as straightforward as a landlord raising the rent to the point where the numbers no longer work for the owner. For some people, that's the end of their restaurant's life. But for another type of operator, it's an opportunity to build the restaurant again, correcting the mistakes they made the first time. It's rebuilt and reborn, back from the dead and hopefully better than it was before — though successfully making a restaurant rise from the ashes presents its own set of unique problems.
Popularity is no guarantee of a restaurant's longevity in New York. Even a spot that's packed every night can't necessarily sustain a major rent increase. "Just because the rent is higher doesn't mean people are willing to spend more money to eat," says Pascaline Lepeltier, a partner and beverage director at Rouge Tomate, which won acclaim, and a Michelin star, after opening in 2009. "It's a very difficult equation." And when Lepeltier and her team saw their restaurant's rent get hiked at its original (popular) location on the Upper East Side, they knew it was time to look elsewhere — reopening in Chelsea earlier this year.
Other restaurants have recently managed a similar feat: August, Bouley, and Aska have been — or soon will be — reborn in another location. The owners of the iconic Four Seasons are constructing a new 19,000-square-foot home at 280 Park Avenue, just four blocks away from the iconic original. And Keith McNally has promised a new Pastis will open very close to the now-closed first location.
In a sense, rebuilding a restaurant is the same as building an entirely new restaurant, but more complicated. Instead of starting fresh, owners have to try and glean what made the first version such a success, and re-create that to a point where returning customers will feel at home in a brand-new space. The most prominent example is Danny Meyer's Union Square Cafe, which existed for more than three decades on 16th Street and will reopen this month a few blocks to the northeast.
Meyer's team, and architect David Rockwell, have worked hard to capture what made the first space so inviting. "The memorable part wasn't any one piece of the design, it was the net sum of the experience," Rockwell explains. When his group set out to create the new restaurant, "we tried to x-ray the experience of Union Square Cafe. Instead of moving from high-concept to detail, we started with the details." Rockwell's staff made an eight-inch-thick pile of sketches capturing the minutiae of the original restaurant, from the high-contrast wainscoting all the way down to the umbrella stand.
"It's not a re-creation," Rockwell explains, but is instead "a portrait of the original" Union Square Cafe. In the new location's vast openness, Rockwell kept the feel of a series of the original's interconnected rooms by creating different levels, divided by a staircase and custom lighting, with a layout that's true to the "space and scale" of the original. The (restored, reframed) artwork has even been placed in the same relation to the tables, so, Rockwell says, "a customer can ask for 'that table by the Frank Stella'" and know what to expect.
The transition isn't always seamless. Some owners move neighborhoods, and new clientele can change things substantially. After ten years on Bleecker Street, the popular date spot August, "the lease came due and the rent basically tripled," says Randy McNamara, who oversees hospitality for August's parent company. They knew they had to move elsewhere, eventually identifying a space on Lexington and 61st Street. August was moving on up to the East Side. "Although we kept the name, we couldn't duplicate the vibe," McNamara says. The neighborhood was "radically different" and nearly everything had to evolve — the look, the menu, and even the prices. The new spot couldn't accommodate a wood-burning oven, a signature of the original August. The UES customers were much more concerned with light, diet-friendly foods.
Rouge Tomate faced a similarly daunting move. Their new space in Chelsea, two carriage houses that date back to the 19th century, was relatively inexpensive in part because it wasn't designed to be a restaurant. "We had to do everything from scratch," Lepeltier says. "We had to be visionary." The old place was huge and airy; the new one was more rustic, with exposed brick and reclaimed wood. Instead of forcing their original vision, they embraced their new surroundings. They took their favorite elements from the first restaurant — like their open kitchen and focus on wine — and changed everything else. It worked out. Lepeltier also says the restaurant's new diners are "more downtown, more ready for what we are trying to do at the restaurant — organic wine, sustainable, healthy food."
In many ways, the vicious nature of New York real estate is the reason that successful restaurants have to relocate in the first place. But the city is also uniquely suited to the idea of reinvention. We are constantly seeking out things that are both new, and comforting. A new version of a favorite restaurant manages to satisfy both cravings at once. Dining in a great restaurant is an "ephemeral experience that doesn't last forever," Rockwell says, "yet you create these deep memories." For a restaurateur looking to revive a closed restaurant, the trick is tapping into that collective memory and pulling out the parts that will resonate.