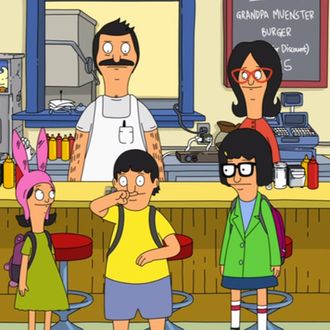 Any Bob's Burgers fans who wonder what Bob Belcher's pun-tastic burgers taste like IRL can find out this week, thanks to an official Bob's Burgers pop-up. Alvin Cailan, mastermind behind California's Eggslut, has installed a burger counter at Unit 120, his "culinary incubator" in L.A., as part of the event's ten-day run, which has signed the show's production company as a sponsor, and even snagged creator Loren Bouchard's explicit support:

Fast Company's Neal Ungerleider visited the space, and he reports the setup is half Bob's Burger–themed art gallery, half burger stand with a different chef in residence every day. The menu isn't technically Bob's from the show (so, alas, no Gourdon-Hamsey burger), but Ungerleider notes each day's special is appropriately cheeky, like the Winter Is Cumin burger, or the Mustard on the Beet that Cailan served opening day:
The burger shop's lines are already long, but there's plenty of pricey burger art to peruse while people wait. For the pop-up's remaining days, visitors will get to try Bob-inspired creations from the people behind hot spots like Wexler's Deli and L.A.'s own forthcoming NoMad.