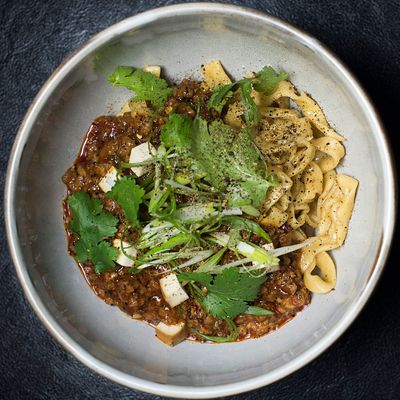 Stay warm with mapo lo mein.
Photo: Liz Clayman/Liz Clayman
Winter seems to have finally arrived: Tomorrow, temperatures are expected to suddenly drop down into the teens, with snow a possibility over the weekend. (Yes, you can blame the polar vortex.) Per the annual routine, New Yorkers will have forgotten what winter — a real thing that happens every year — is like and have a collective meltdown. One way to buttress yourself against the cold: Eat things like noodle soup and roast-beef sandwiches that will make you feel a little warmer inside. Here, ten new ones to have on your radar for this upcoming cold spell.
Mapo Lo Mein
Where: Chinese Tuxedo
Price: $23
The new contemporary Chinese restaurant on Doyers Street takes soul-satisfying mapo tofu and subs out the tofu for lo mein noodles.

East Coast Fish Muddle
Where: Black Walnut
Price: $22
At his modern American restaurant, Southern-minded chef Rob Newton goes way back with his East Coast fish muddle, a seafood and salt-pork stew.
Roasted Short Rib
Where: Loring Place
Price: $30
Along with his usual repertoire of pizzas and vegetables aplenty, Dan Kluger's serving a winter-worthy roasted short rib with sharp horseradish gremolata and potato purée.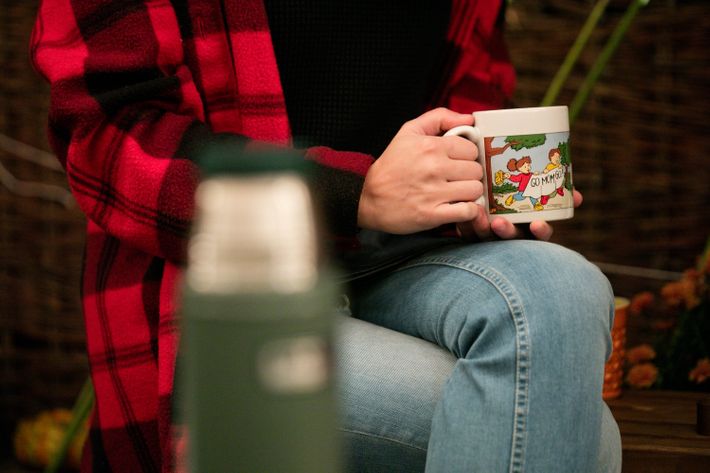 Lamb Porchetta
Where: Olmsted
Price: $23
The Prospect Heights hot spot subs out the traditional pork for gamy lamb in its porchetta, cooked until the skin is lacquered and deep brown and served it with a fennel salad. Get some hot cocoa for dessert.

Coconut-Crab Curry
Where: Fishcheeks
Price: $22
Though the dish comes from tropical southern Thailand, this spice-inflected coconut-crab curry, with an abundance of sweet briny crabmeat, will make you forget there's even a thing such as windchill.

Rabbit en Cocotte
Where: Italienne
Price: $33
Stew isn't the sexiest dish — it's definitely the least sexy — but it's a workaholic during the winter. Head to the restaurant's casual taverna for its take on the French dish, made here with rabbit raised in pastis and served with thumbelina carrots and Tropea onions.
Braised Chicken Thighs
Where: Hart's
Price: $24
The dimly lit room here is cozy enough to warm you up, but provided you need something extra, you can't go wrong with the braised chicken thighs with prunes and olives served over polenta.
Spicy Roast Beef
Where: Sunday in Brooklyn
Price: $12
Roast beef is the kind of thing you want to eat whenever it so much as flurries. For its new lunch menu, the Williamsburg restaurant enhances that appeal by sandwiching it on brioche with pickled peppers, cheddar, black-pepper mayo, and crispy potatoes.

Biscuits and Gravy
Where: Gristmill
Price: $11
When it feels arctic, the first step outside is often the hardest. (Next hardest is not turning right now.) If you're in Park Slope, encourage yourself to emerge from your blankets with the flour-obsessed restaurant's biscuits with sausage gravy and fried egg. Then go back to sleep.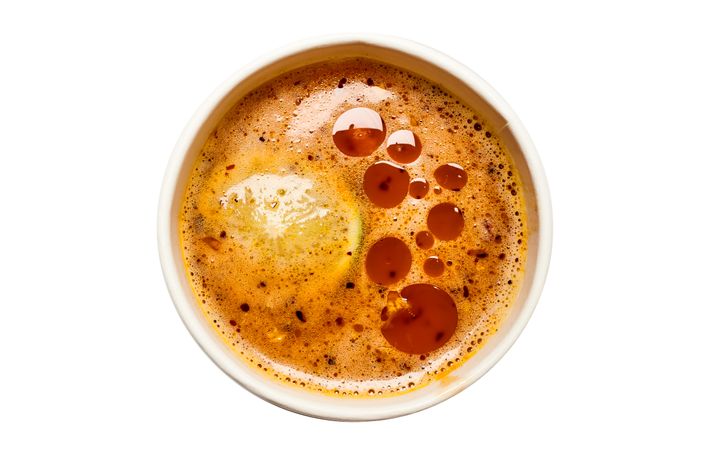 Danzi Noodles
Where: Win Son
Price: $15
For its take on the classic Taiwanese noodle soup, the east Williamsburg restaurant uses South Carolina shrimp, pork, and its version of superior broth, made with pork neck, roasted chicken bones, ham, and mushrooms.
Tom Yum Broth
Where: Brodo Broth Shop
Price: $7 for a small, $10 for a large
Whatever you want to call what he's serving — broth or soup — winter is the prime season for Marco Canora's Brodo. Go classic with chicken broth, made with egg yolk and spices to liven it up. Or, hit up this nouveau version, fortified with chile oil and coconut milk.