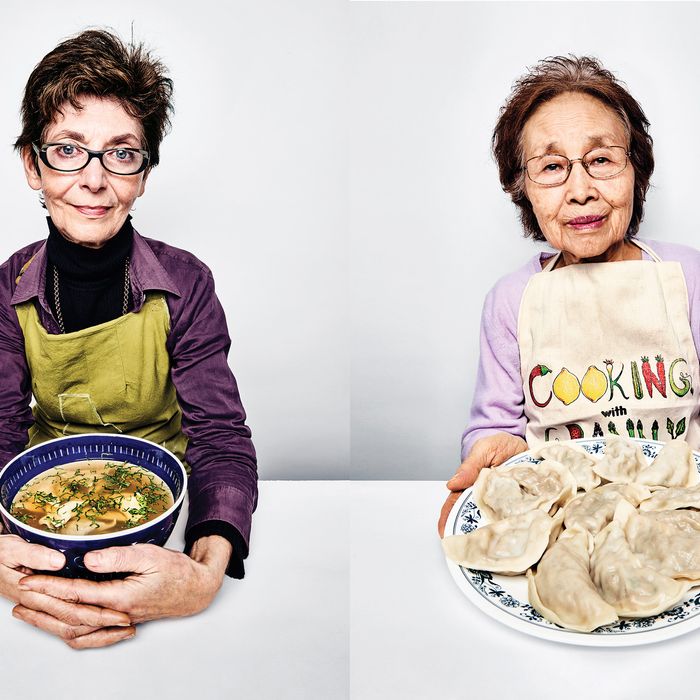 Anna Gershenson and Sanok Kim.
Photo: Bobby Doherty/New York Magazine
We brought two longtime dumpling-makers together — Anna Gershenson, a Latvian immigrant and kreplach fanatic, and Sanok Kim, a mandu expert from Korea — to talk craft and compare each other's creations.
Who taught you to make dumplings?
Anna Gershenson: I learned myself. My mom used to make them, and I helped her when I was growing up. But then I found a recipe here in the United States, somewhere, a long time ago. I didn't have the recipe from home, so I looked it up — I can't remember exactly where I found it, but I wrote it down, and it's on this old, old card. I think I make better dumplings than my mom. I have this very special gift that I know how to flavor food. Everybody calls me the "queen of flavor."
Sanok Kim: I learned through my mom too. We ate a lot of dumplings in my family growing up. I've been making them for my family, my kids and grandkids, for a long time. Most of our family is still in South Korea — I'm originally from North Korea — and I came over here to take care of my daughter's children. She and her husband were really busy, so my grandchildren would spend weekends with me, and we would cook and make dumplings. It was a way of connecting my grandchildren with our home. I have what's called in Korea "grandma's touch" — your hands can just feel it. And it's important to taste as you go along.
Anna: I would say the same thing. It comes from within. You just know what to do.
Sanok: At this point, I can close my eyes and make them: I can scoop the exactly right amount of the filling with a spoon, press it into the middle of the wrapper, and pinch it closed around the filling. No problem. It'd come out just as well.
What's the key to your dumpling technique?
Anna: I think that it's important to make the dough thin enough but not too thin.
Sanok: It's important the meat isn't dry, which is why I mix beef with pork. If you have dry meat, that ruins the whole thing.
Anna: I agree that matters, but I achieve juiciness by different means — by adding fat. When I make the chicken broth, I skim some of the fat off the top to add to the mixture.
Anna: Jibang [the Korean word for fat or grease] is important for me too. But I get enough from the pork.
What do you think of each other's dumplings?
Anna: With my dumplings, I tend to use just meat and not much else. The filling in these, I think, is on the simpler side. I do think the tofu and vermicelli help, because they make the stuffing more moist because the ground beef itself isn't the juiciest meat.
Sanok: The soup, that looks like anchovy broth. What is it made out of? Oh, chicken. The broth is not what I'm used to having in a dumpling soup. In Korea, we would make it with beef bones that we simmer for a while and add some pieces of beef to. It's a little mild for me, for what I'm used to. But the dumplings are savory, tasty, and soft. They're good. Me, though, I prefer a thinner wrapper — it's a little on the thick side. But for a chicken dumpling, it's surprisingly tasty! I would never make dumplings with chicken — I never have. It's just not the Korean way.
*This article appears in the December 12, 2016, issue of New York Magazine.