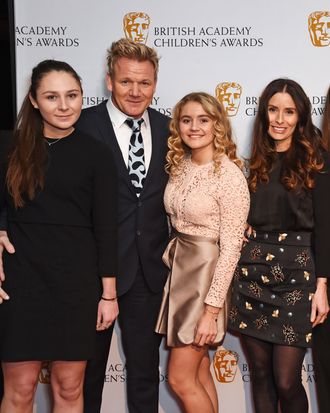 The Ramsays.
Photo: David M. Benett/Getty Images
Soon you will be able to cook like shouty celebrity chef Gordon Ramsay's daughter. The celebrity-chef kid Matilda "Tilly" Ramsay has gotten into the family business with her own YouTube series called "Cooking Club" and a CBBC show called Matilda and the Ramsay Bunch. She's also appeared on Masterchef Junior and cooked with culinary icons like Cookie Monster. And next year, the 14-year-old will be publish a cookbook tie-in to the Ramsay Bunch, featuring 60 of her recipes, as well as tips from her father.
The Ramsays are already playing up a family rivalry, with Tilly dissing her dad's cooking skills. Could this be the beginning of a coup? Probably not, since it seems the younger Ramsay is a chip off the old block.